Happy Monday! How was your weekend?
I spent most of Saturday at a much-needed detox workshop. I signed up for it right before I left for my vacation as a way to set an intention for the new-year and to sweat out all of the indulgent food & drink I'd been enjoying over the past month.
What I got was much, much more.
Instead of being a longer, most intense yoga class (which I thought I signed up for), I got an emotional/mental/spiritual detox full of intense yoga poses, inversions, and letting go. It was so incredible and exactly what I needed to start my 2014. That's what I love most about yoga, you give and take exactly what you need in the moment. I noticed myself thinking over and over again, "this is exactly where I need to be."
MY LATEST VIDEOS
What comes to mind when you hear the word detox? Typically, I roll my eyes when I hear anyone talking about detoxing, cleansing, juice-fasts. I'm all for clean-eating, but can we stop pretending that drinking juice for a week is going to "clean" out your system?
If you're like me and ready to get back on a healthier track, here is a roundup of the 7 most viewed vegan & gluten-free recipes from 2013.
vegan, gluten-free, soy-free, sugar-free

This is one of my favorite salads from 2013. Refreshing, juicy pomegranate paired with nutty quinoa and crunchy vegetables. I make a big batch of this to enjoy for lunch over the week, it keeps for 3-4 days in the fridge.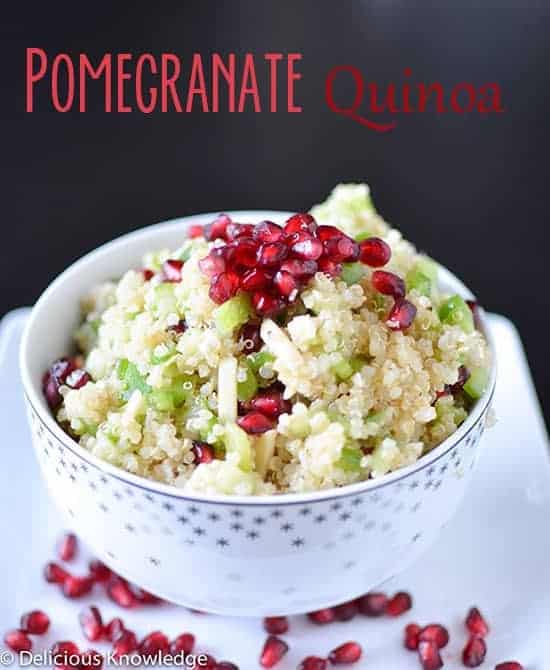 vegan, gluten-free, grain-free, soy-free
If you haven't fallen in love with kale yet, try this recipe. The secret is slicing the leaves into small slivers, bite-size ribbons to absorb the spicy peanut dressing.
3. Raw Zucchini Noodles with Pesto
raw, vegan, gluten-free, soy-free, sugar-free
This is my favorite way to enjoy zucchini noodles. If you haven't prepared them before, I've included a step-by-step tutorial. I love this for a light dinner or lunch, but feel free to add more protein with beans or grilled tofu.
raw, vegan, gluten-free, grain-free, sugar-free, soy-free option
I love, love, love this smoothie. Sweet, tart, with a little bite from the basil. Full of greens and antioxidants, this is a delicious, unexpected combination. Make it with or without the protein powder, depending on your needs.
5. Spaghetti Squash with Ratatouille Sauce

vegan, gluten-free, soy-free, sugar-free
While I love eating clean meals like salads and smoothies, this squash dish is comfort food at it's detox best. Filling & nutrient dense, this is dinner when you are trying to cut back on calories.
vegan, gluten-free, soy-free
I call this my power salad because I swear I feel magical after eating it. Shredded raw collards tossed with quinoa, black beans, and a lemon tahini dressing. If you want to start eating more greens in the new year, try this salad! Roll the collard leaves up like a cigar and slice into thin strips, this helps cut down on some of the bitter of the green!
I could eat asparagus all day long. It's one of my favorite vegetables that I enjoy hot, room-temperature, or cold. Fresh tarragon is essential for this dressing. Try it on steamed asparagus, Brussels sprouts or kale. A delicious way to add more green into your life!
What are you looking forward to in 2014?