Hi friends! How was your weekend? We've jumped into Fall with both feet and it feels awesome. Having a baby makes me appreciate the little things, like a season change, so much more.
This is our third time in two weeks going apple picking; I can't get enough of him crawling through the fields, grabbing apples and giggling uncontrollably as we get on the tractor to head out. I will do anything for those giggles, even if it means driving 45 minutes to Eckert's to do it.
While we have a few apple farms close-by, there's something magical about Eckert's. They have the cutest country store, lots of activities for kids and rows and rows and rows of apples for picking. BL was working this weekend, so my good friend and her daughter joined us for a fun morning.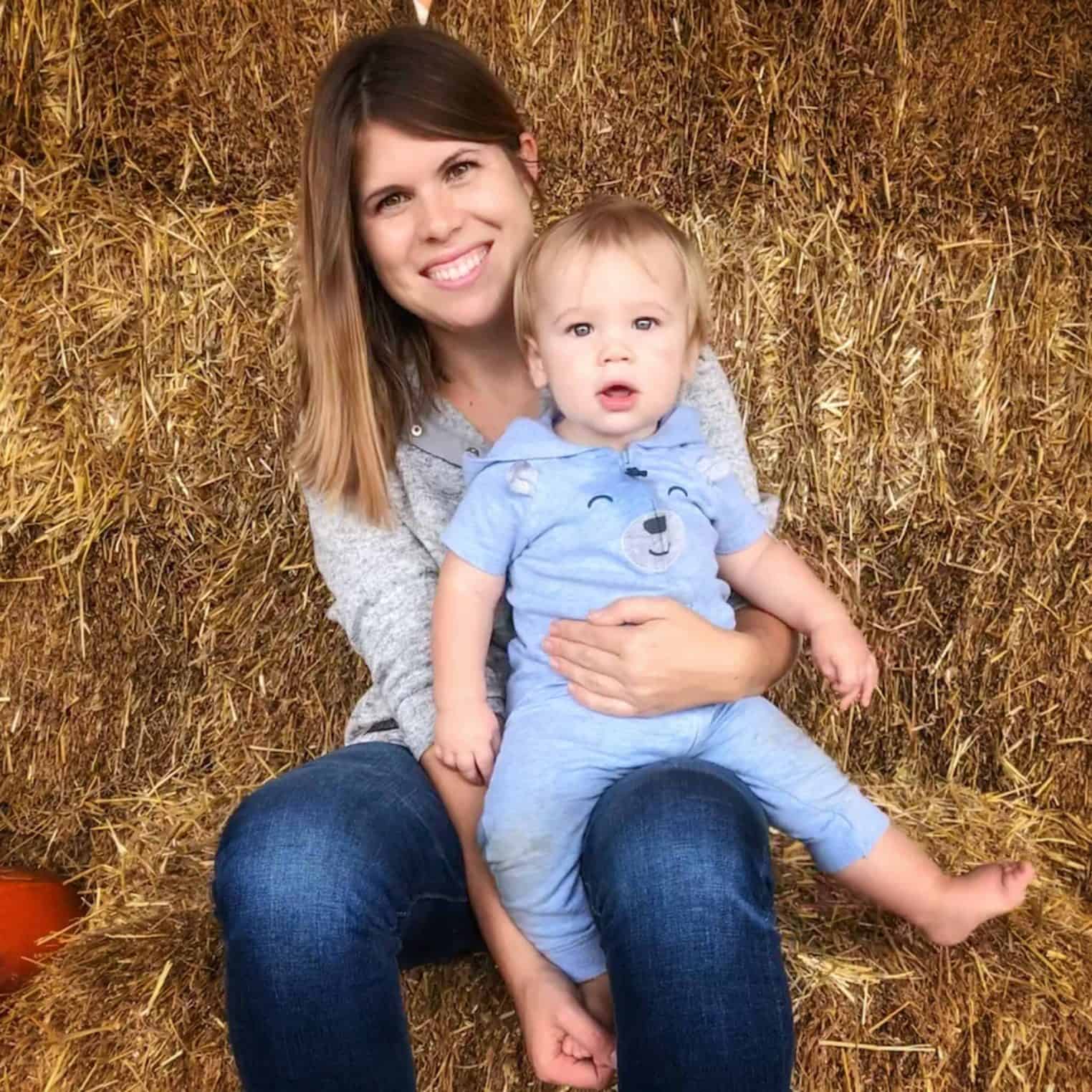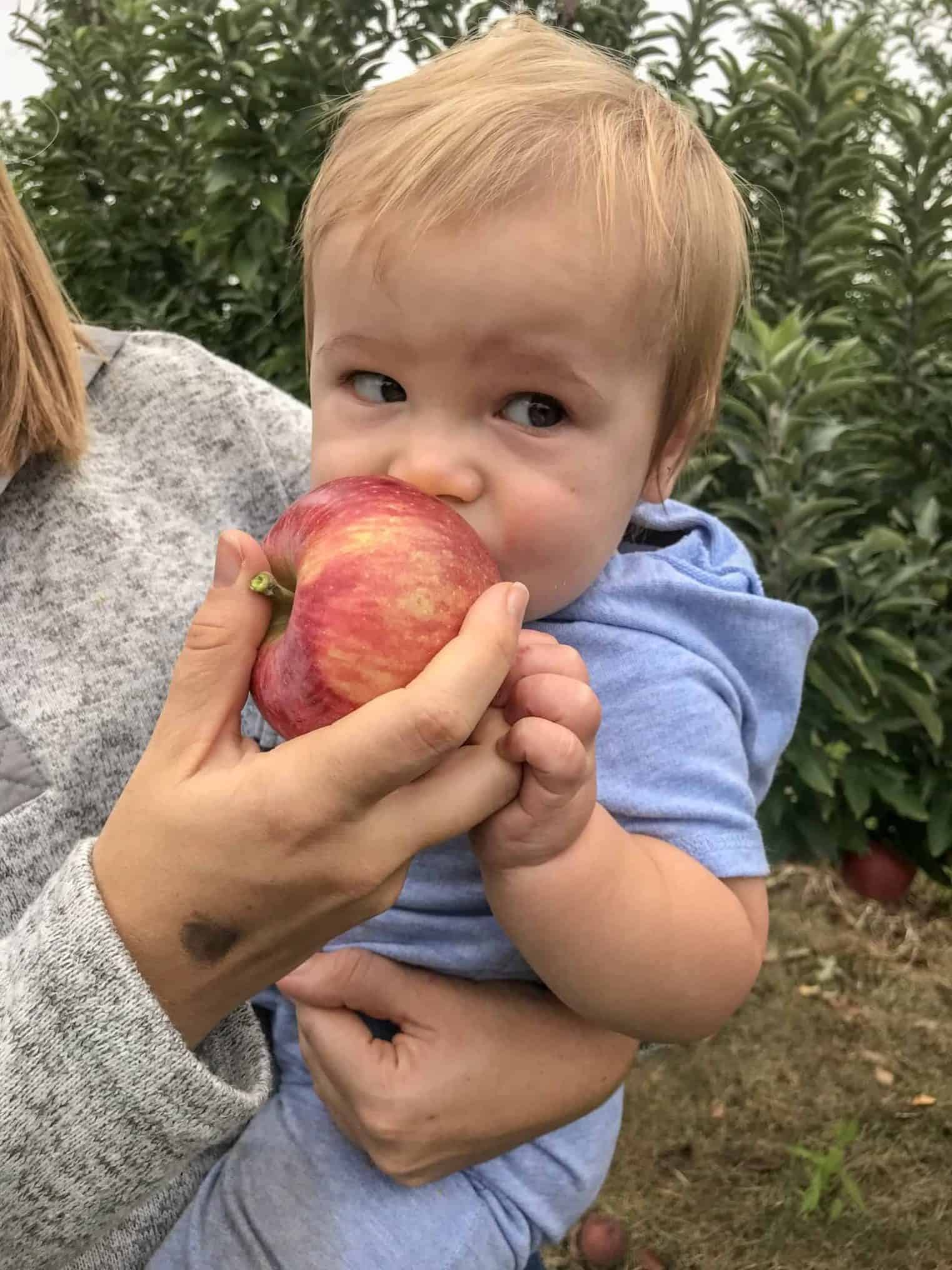 I cannot believe my baby turns one next week. Time is a funny thing. In some ways, I feel like Vander's been in our life forever and I can barely remember what it's like to not be his mama and in other ways, I feel like I was just pregnant with him, anxiously counting down the days.
MY LATEST VIDEOS
I know everyone with kids feels the same way because anytime we go to the store, someone stops to say 'hold them tight. The time goes by so fast.' To which I usually just nod in response because I get so teary-eyed every time I think about it. Sweet baby; I want you to grow up, but also- I don't.
Trying to savor all of the moments as I can, even the ones that make me rip my hair out with frustration.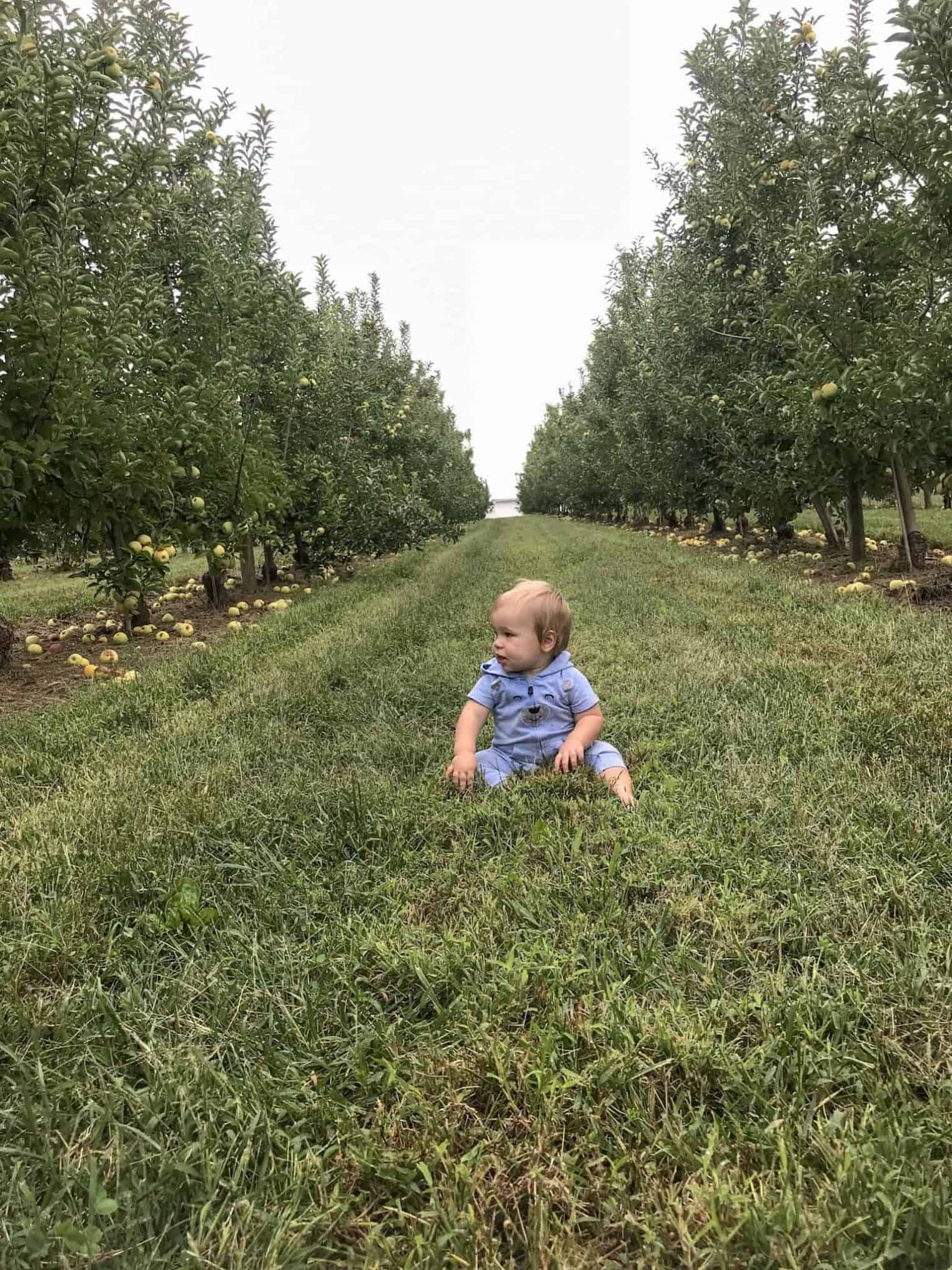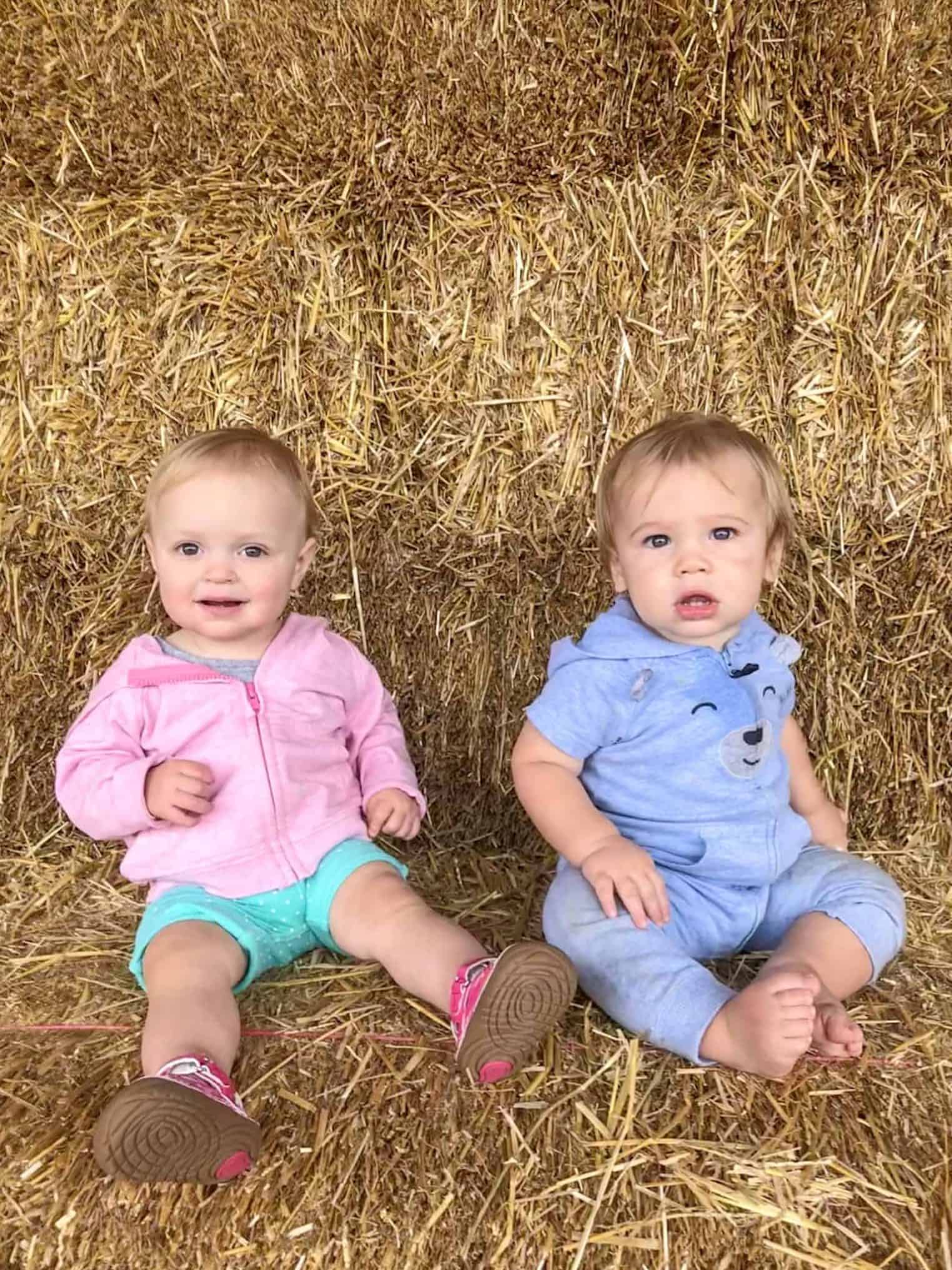 We couldn't leave without grabbing a few pumpkins to take with us. I know it's a little early, what with it not even being October yet, but since we were already out at the farm I wanted to stop by the pumpkin fields.
Pumpkins make great drums! I think Van spent the entire time on this large pumpkin, banging away on it. That kid's got rhythm in his bones. Obviously, that one came home with us.
Which also makes me think of one of my favorite holidays– Halloween! I figure I've got one more year (maybe) before Vander wants a say in what we go as, so I've gotta make the most of it. I know it's ridiculous to spend money on a costume that he will wear for 56 minutes tops, but I literally cannot help it. I spent almost all of Friday night searching for family costume ideas. Anyone know what they are doing yet!?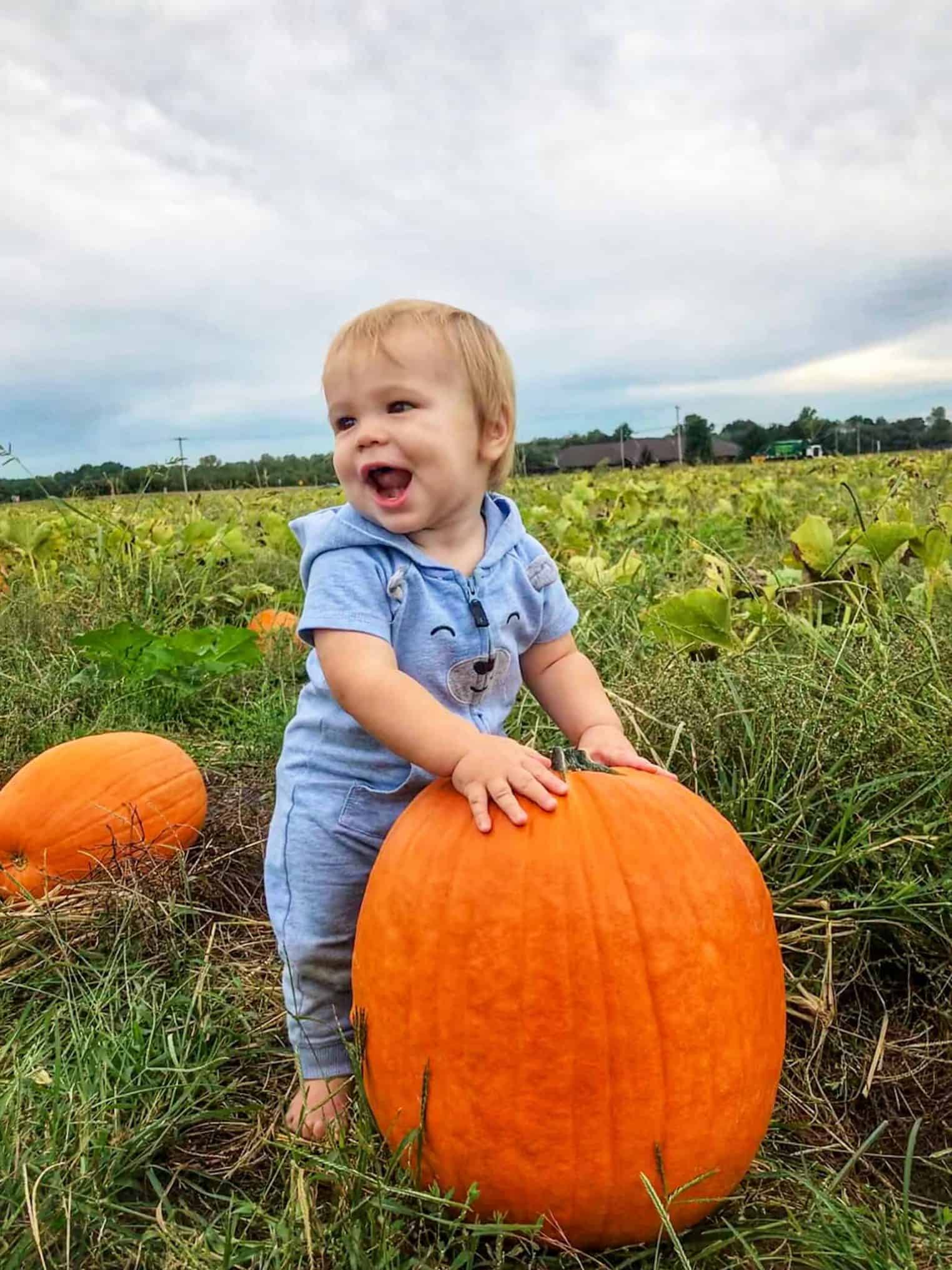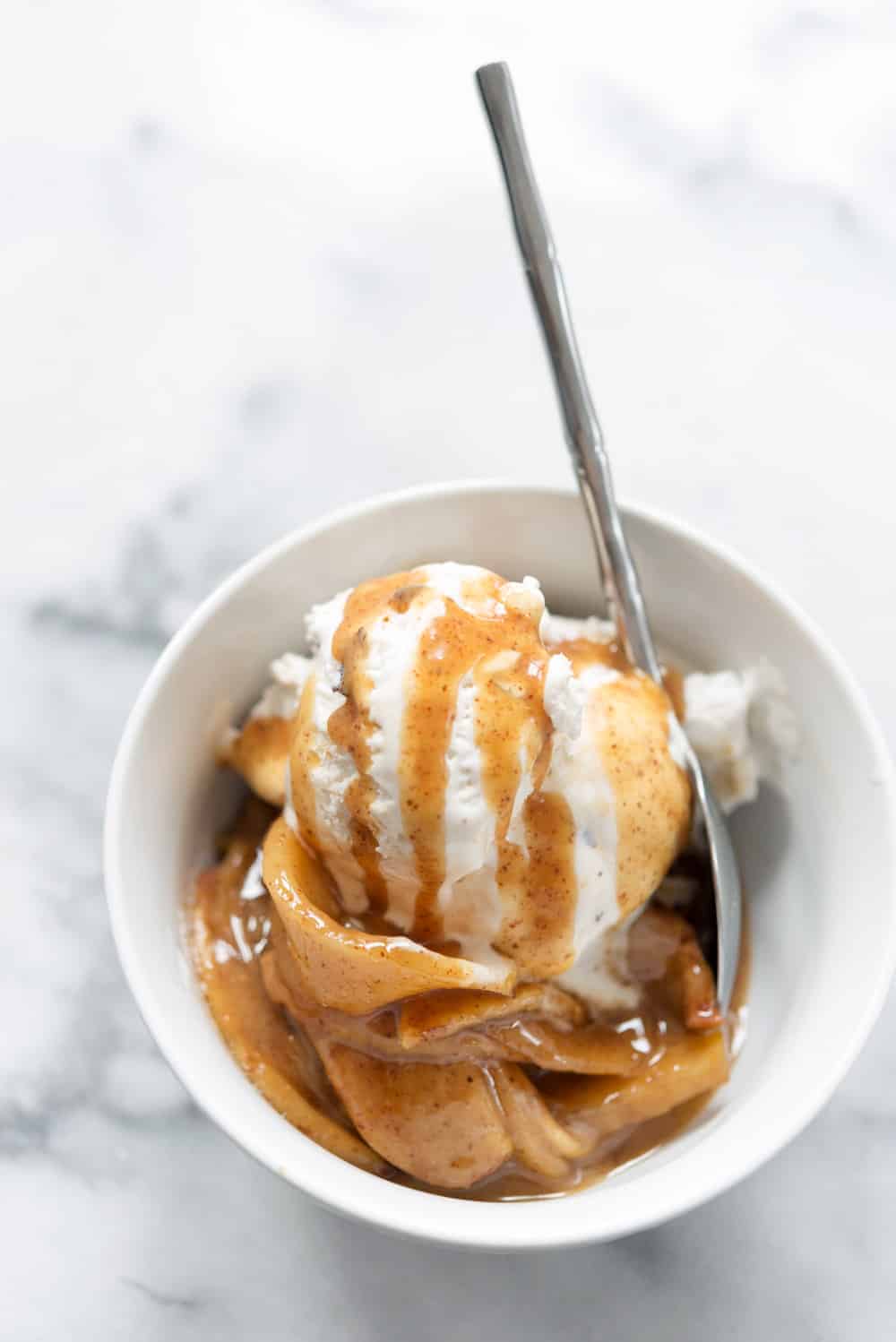 So, what did we make with all of our apples!? This salted caramel apple sundae! Seriously, if you make one dessert of mine this Fall make it this one.
Soft cooked apples covered in a vegan salted caramel sauce, then topped with our new favorite frozen dessert, the salted caramel swirl by So Delicious. If you follow me closely, then you might remember me talking about how much I loved their new dairy-free mousse a few weeks ago on my Instagram stories.
While I love eating dairy-free, I'm also not shy about the idea that many of the dairy-free options on the market are less than great. Not So Delicious! It's one of the few brands that I consistently recommend over and over again because they are so yummy. Have you tried them? Which one is your favorite?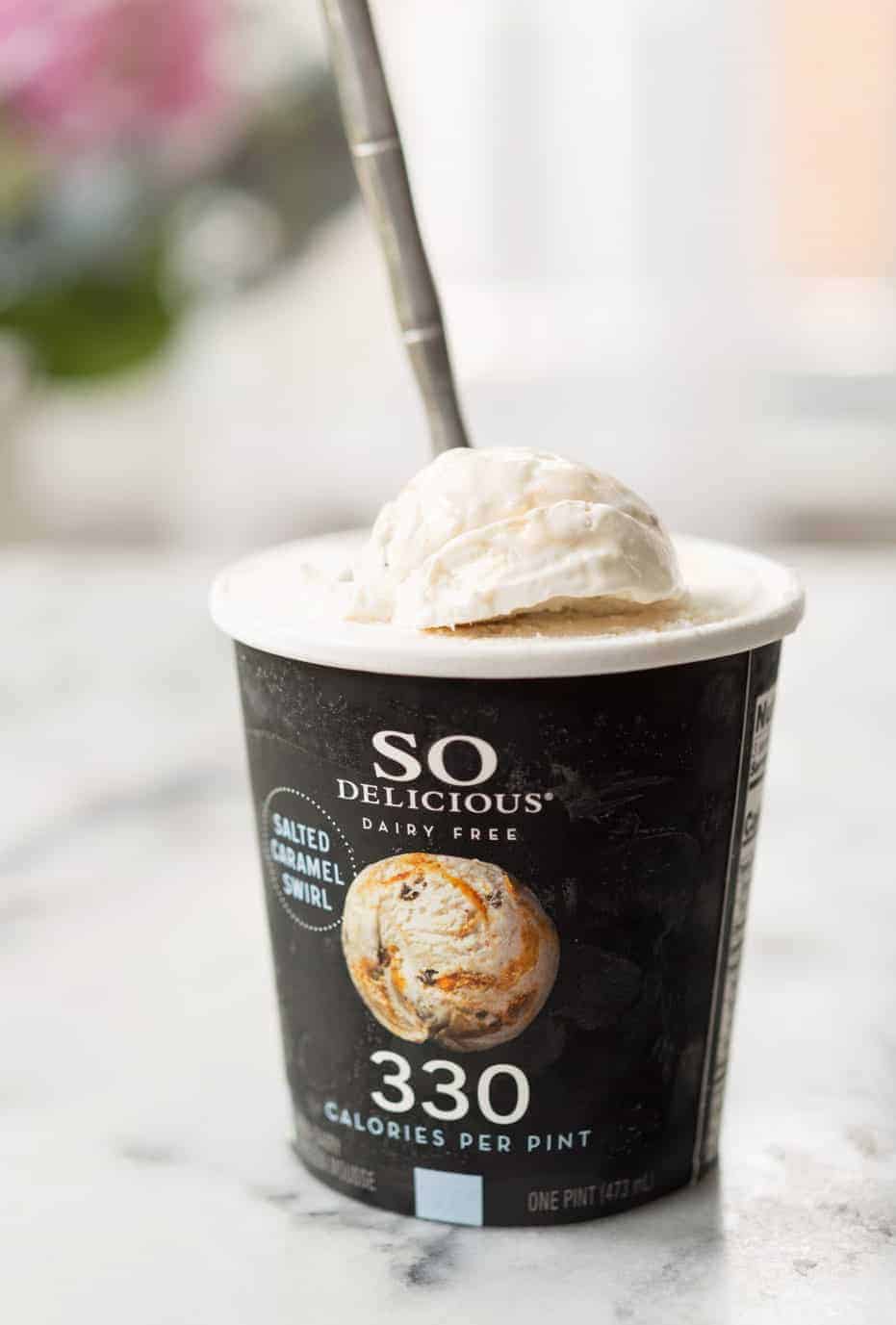 While I don't get too concerned about calories, each of their mousses are less than 330 calories per pint! Which, is a good thing if you are BL and rank frozen dessert as one of your top 3 foods. He has been so excited since we found these– the salted caramel swirl and peanut butter swirl are his favorites.
Salted caramel apples and salted caramel swirl mousse were made for each other. At first I thought it was going to be too decadent, but after eating a bowl so fast I barely come up for air, I realized that it was perfect.
You can see if your store carries them by using the store locator here.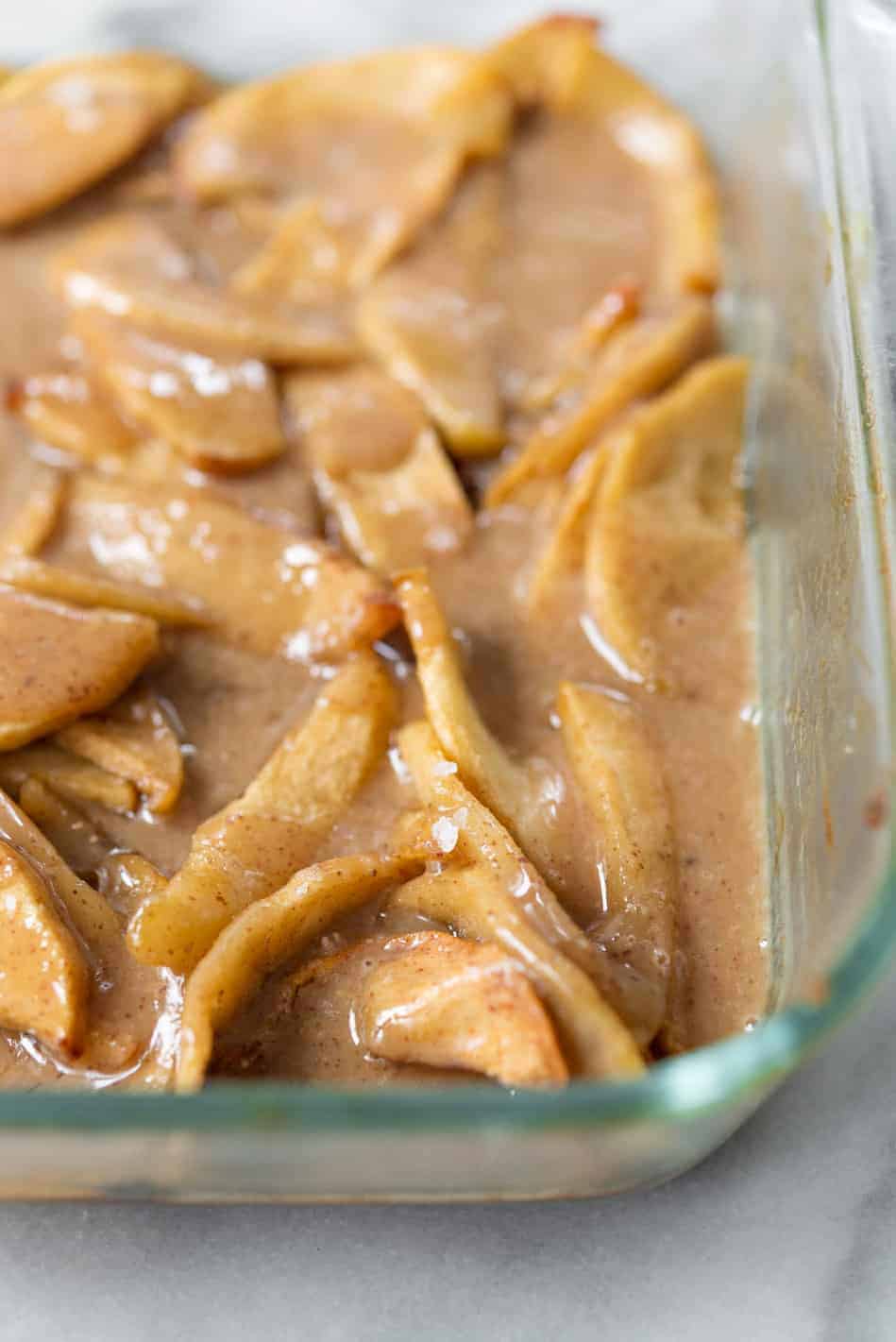 Print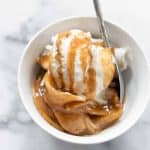 Vegan Salted Caramel Apple Sundaes
Author:

Prep Time:

15 minutes

Cook Time:

45 minutes

Total Time:

1 hour

Yield:

4

servings

1

x
Category:

dessert

Method:

Microwave, Oven

Cuisine:

Dessert, Vegan, GlutenFree
---
Description
Salted Caramel Apple Sundaes! Vegan sundaes! Warm salted caramel apples topped with vegan salted caramel mousse. A must for fall!
---
Scale
Ingredients
Salted Caramel Sauce: 
1/3 cup

coconut oil

1/3 cup

100% pure maple syrup

3 tablespoon

s almond butter
pinch sea salt
Baked Apples: 
4

apples, peeled, cored and thinly sliced (the more uniform, the better)

1 tablespoon

fresh lemon juice

2 tablespoon

s brown sugar

1 1/2 teaspoon

s pumpkin pie spice (or

3/4 teaspoon

s cinnamon,

1/4 teaspoon

grated ginger and

1/8 teaspoon

grated nutmeg)

1 tablespoon

cornstarch

2 tablespoon

s water
1 pint So Delicious Dairy Free Salted Caramel Swirl Mousse 
---
Instructions
Preheat the oven to 350 degrees F.
Add apples to a 8×8 baking dish and top with lemon juice, sugar, spices, cornstarch and water. Toss to combine, then cover with foil. Bake for 30 minutes, then remove foil and bake for an additional 10-15 minutes until apples are very tender.
After removing foil from the apples, make the caramel sauce. Place the coconut oil and maple syrup in a glass bowl or measuring cup and microwave for 1 minute. Whisk in the almond butter until fully incorporated.
Pour 1/2 of the caramel sauce over the cooked apples and sprinkle with a pinch of sea salt (I used this flaked sea salt.)
Let sit for 5 minutes, then spoon into bowls and top with the salted caramel swirl mousse and more caramel sauce, if you prefer! So good you guys.
---
Keywords: vegan, glutenfree, dessert, dairyfree, caramel, apples, salted caramel