It's been a little over a month since we returned from our Europe trip and I'm already longing for the opportunity to go back again.  While we enjoyed some pretty incredible food in every place, our time in Florence was hands down some of the best food I've ever eaten.
And that says a lot.
One of our favorite places was a tiny trattoria that we stumbled upon for lunch the first day. There was no menu, or English for that matter, just a chalkboard at the front of the restaurant letting you know what was cooking. Since we were in Tuscany, I quickly scanned for pappa al pomodoro or pasta fagioli, two rustic soups that I planned on eating at just about every meal.
While those didn't disappoint (thankfully they were both on the menu and of course we tried them), the real star of the meal was a simple spaghetti with Arrabbiata sauce. A last minute order, mostly to appease BL, became the best pasta dish I've ever had. If you know my grandmother, you know that's quite a compliment.
MY LATEST VIDEOS
The foodie/perfectionist/Italian in me was determined to recreate it as soon as we got home. Four tries later, I present to you a spicy, warm sauce that's worthy of any Tuscan trattoria.
Al Tranvai, thank you for one of the best meals of our trip and the inspiration to continue to hone my Italian skills. I tossed the warm pasta with roasted zucchini before topping it, a great way to add another vegetable to the meal and decrease the calorie density of the dish.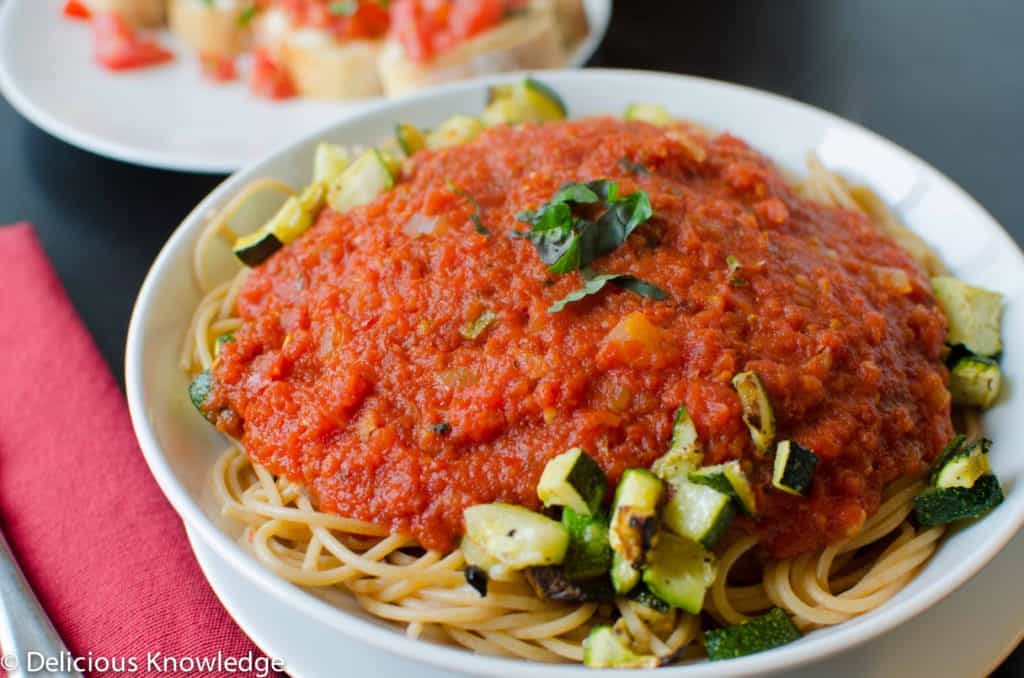 If you try this recipe, let me know! Leave a comment, rate it, and tag your Instagram photos with #delishknowledge . I absolutely love seeing your creations. Happy cooking! 
Print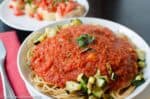 Arrabbiata Sauce over Roasted Zucchini Pasta
---
Description
Arrabbiata Sauce over Roasted Zucchini Pasta For the Sauce
---
Scale
Ingredients
1

medium white onion, chopped

5

cloves garlic, finely minced

2 tbsp

. brown sugar

1/2 cup

red wine

1

small can tomato paste

1 1/2

–

2

tsp. crushed red pepper

2

large cans crushed tomatoes (you want good sauce? Use good tomatoes!)
fresh basil for garnish, optional

1

lb. zucchini, chopped

1 tsp

. olive oil
Salt/pepper to taste

1

lb. pasta of choice
---
Instructions
In a large skillet or sauce pan, heat 1 tbsp. olive oil over medium heat.
Add onion and garlic and saute about 5 minutes taking care not to burn the garlic.
Stir in the wine, sugar, basil, red pepper flakes, tomato paste & small pinch of salt and black pepper.
Stir together and let cook another 5 minutes until liquid has reduced. Add in the crushed tomatoes and bring to a boil. Reduce heat to medium and simmer for 30 minutes, stirring occasionally.
Combine the chopped zucchini in a large bowl and toss with olive oil, salt and pepper. Preheat the oven to 400ºF and arrange zucchini in a single layer on a baking sheet. Roast for 30-40 minutes until golden brown, stirring once at the halfway point.
While the zucchini is cooking, bring a large pot of salted water to a boil. Cook the pasta to al dente, drain (do not rinse) and combine with roasted zucchini. Top with sauce and serve.