Think you hate brussels sprouts? Guess again. These baby cabbages are nuggets of health: high in vitamin K and C and a superfood in cancer prevention.
It seems they are also making a comeback. Scanning restaurant menus as of late, I have noticed quite a few of our favorite places featuring Brussels Sprout specials. It also seems that every time I see brussels sprouts on a menu I also see the words bacon and/or pancetta.
WHY? Green vegetables don't have to be coated in bacon fat to be delicious, and this recipe proves it. If you love that smoked meat flavor try smoked paprika instead. Rich and complex with smokey overtones, this is everything that bacon wishes it was. If you're looking for a beefed up vegetable dish minus the cholesterol and saturated fat, then try my version.
If you haven't tried the sprouts since your toddler days, I suggest you try them again. Not only will you add a new superfood veggie to your repertoire, but you'll also earn cool points impressing your friends. Even my used-to-hate all vegetables sweetie loves them and that's saying a lot.
MY LATEST VIDEOS
Bacon-Less Brussels Sprouts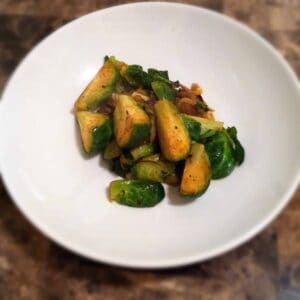 Ingredients:
1 lb. brussels sprouts, quartered
1/2 onion, thinly sliced into 1/2 moons
1/2 tsp. smoked paprika
1/8 tsp. cayenne pepper
1 tbsp. neutral oil
salt/pepper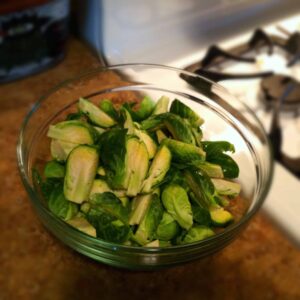 Heat 1 tbsp. oil on medium-high heat. Add onions and cook for 10 minutes until golden brown. If onions stick, add 1 tbsp. of water to the pan.
Add brussels sprouts and cook for 10 minutes until tender. If the brussels sprouts stick to the pan, add a bit of water to release them. Add the cayenne pepper, smoked paprika, and fresh cracked pepper and salt.
Per serving (4): 85 calories, 4g fat, 12g CHO, 5g fiber, 4g protein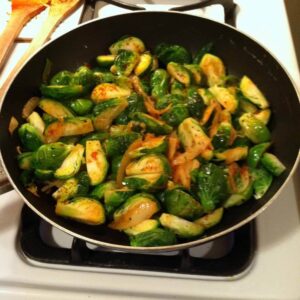 Then eat! Seriously, this is one of my favorite side dishes. Some nights I make an entire batch for dinner. Nothing is better than knowing you are filling your body with delicious, cancer-fighting foods.