Comfort food time! I made this dish a few days ago for dinner and I already want to make it again. Slightly cheesy, full of vegetables and whole grains, this was so delicious. While I usually eat kale raw in salads, I forgot how much I enjoy it cooked as well. Butternut squash is almost vanishing from the grocery stores, so if you can't find it then substitute another type of squash or carrots.
If you are superwomen, they you can try to make your own gnocci but there are a lot of great grocery store brands that you can purchase. I found whole wheat gnocci at Trader Joe's, they work perfectly here.
Bakes Gnocci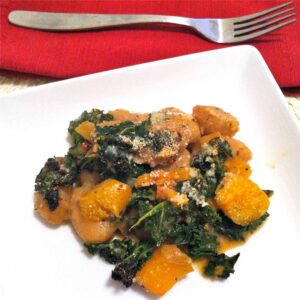 2 cloves garlic, minced
1 tbsp. olive oil
1 onion, finely diced
2 cups of butternut squash, cut into bite size pieces
1 bunch kale, cut into bite size pieces
1 package whole-wheat gnocci
1 tbsp. crushed red pepper
1 tsp. thyme
1 cup vegetable stock
2 tbsp. nutritional yeast
2 tsp. Earth Balance butter
2 tbsp. parmasen cheese or soy parmasen
Preheat oven to 400 degrees F. Heat 1 tbsp. olive oil over medium heat. Add the onion, a pinch of salt and cook for 10 minutes until soft. Add the garlic, sweet potatoes, thyme, nutritional yeast and red pepper. Cook for an additional 5 minutes. Add the the vegetable broth and bring to a boil. Add the gnocci and cook for an additional 2 minutes. Stir in the kale until it just wilts, about 1-2 minutes.
MY LATEST VIDEOS
Pour the mixture into a casserole dish. Dot with 2 tsp. butter and sprinkle with the parmasen.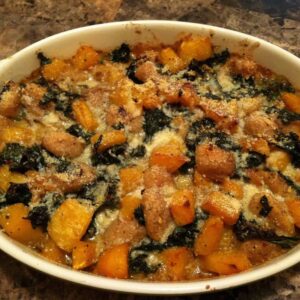 Place in the oven and cook for 10 minutes.
Serve and enjoy!