A few times a month I teach a course on healthy cooking and current nutrition topics. I love showing people unique but do-able ingredients, like this quinoa. This seed has become more popular lately but unless you know what it taste like, I understand that it might still be foreign.
My cooking section focuses on the deliciousness and ease of plant-based cooking. I don't ever expect anyone to switch over to a vegetarian diet but eating meatless a few times a week still produces great benefits, especially for heart and colon health. It doesn't stop there, a recent report came out showing that eating meatless 1 day a week has more of an environmental impact that eating locally grown foods!
I made this salad at an event last month and it was a big hit. If you've been following my recipes, you know what a fan of these dishes I am. I usually make a grain salad a week and eat it for lunch over the next few days. It's a perfect mix of complex carbohydrates, protein and a little fat to keep me satisfied and focused in the afternoon.
Black Bean and Mango Quinoa Salad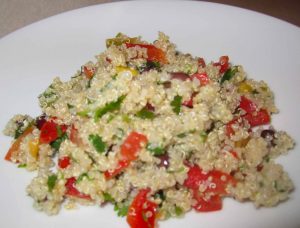 Ingredients:
MY LATEST VIDEOS
1 red pepper, diced
1 mango, peeled and diced
1 bunch cilantro, finely chopped
1 can black beans, drained and rinsed
1 jalapeno, minced
1 cup quinoa
Lime Dressing:
2-3 large limes, zested and juiced (about 1/4 cup juice)
3 tbsp. good quality olive oil
1 tbsp. cumin
1 tsp. cayenne pepper
salt/pepper
Cook the quinoa:
Rinse the quinoa before cooking. This is important to remove any "bitter" taste once the quinoa is cooked.
Place quinoa in a pot and add 1 1/2 cups water and 1 tsp. salt. Bring to a boil then cover the pot and reduce heat to medium-low. Cook for 15 minutes until water is absorbed. Remove from heat and let the quinoa sit for about 5-7 minutes. Fluff with a fork like you would rice. Don't use a spoon as the quinoa will clump and become mushy.
Add the cooked quinoa to a large bowl and add the rest of the ingredients. In a smaller bowl, whisk together the dressing ingredients. Pour over the quinoa salad and toss.