This burger is all about summer!
I love bean burgers but BL often finds them too mushy. The key to this one is baking it first and then lightly frying for an outside crunch.  I topped the burgers with fresh mango slices, tomatoes, thinly sliced red onion and a yogurt-basil sauce. Make extra of the sauce- it was perfect on sandwiches throughout the week!
Black Bean & Mango Burgers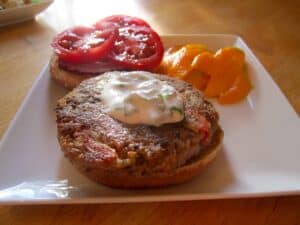 Ingredients:
1 cup cooked brown rice
1 15 oz. can black beans, drained and rinsed
1 tbsp. cumin
1 medium yellow onion, minced
1 red pepper, diced
1 tbsp. oil
3 garlic cloves, minced
Flour
MY LATEST VIDEOS
Creamy Basil Spread:1/3 cup soy yogurt
2 tbsp. fresh lemon juice
7-8 large basil leaves, finely chopped
1/4 tsp. salt
fresh ground pepper
Fresh mango slices
Thinly sliced red onion
In a sauce pan, heat 1 tbsp. oil with a small pinch of salt. Add the minced onion, cumin, garlic and cook for 5 minutes, stirring often. In a food processor or with a fork, mash the beans until a paste forms with some beans left whole.   Add the beans, rice, and chopped pepper to the pot and cook an addition 5 minutes until thickened.
Preheat oven to 350 degrees F. Remove the bean mixture from heat and let cool slightly. Add a tbsp. or two of flour if the mixture is having a hard time staying together. Measure out a scant 1/2 cup of mixture and form into a patty. Continue to make the patties until the mix is gone.  Bake for 15-20 minutes and remove from oven. Heat a skillet pan to medium-high, either coat with cooking spray or add 1 tsp. oil to the pan.  Lightly dust each patty with flour and add to the pan, cooking  2-3 minutes per side until crispy.
To make basil spread: Combine yogurt, juice, and salt/pepper. Whisk with a fork until combined. Add in basil and lightly mix together. 
To serve: Place patty on 1 side of bun. Add basil yogurt,  fresh mango slices and thinly sliced red onion.