Chipotle Tempeh Tacos! Sauteed tempeh with a spicy chipotle sauce.
Topped with a quick mango-pineapple-avocado salad. 
Welcome to California, where it's currently 77 degrees outside, and I'm sitting on our porch in shorts and flip-flops enjoying a giant glass of Sauvignon Blanc while getting ready to chat with you about these tacos.
Oh, I'm sorry- did I just rub it in?
I know most of the country is worried about snow, ice, mittens and piping hot bowls of chili, but here on the West Coast, I'm all about sunshine, palm trees and these summery tacos.
Ironically, BL and I chat about moving to the East Coast at least 16 times per week, but after seeing the relentless storm photos on Instagram today, I'm all like – Hi! We are never, ever, ever leaving this paradise.
And since it feels like summer, I'm ready to venture into summer with my taste buds.
I go through this dilemma every time we change weather- fall, spring, summer, winter- which food season do I actually love more?
While I get downright giddy over the thought of pumpkin muffins, Christmas cookies, and apple everything, deep down I favor the spring/summer months. Mostly because of garden fresh tomatoes, and of course, tropical fruit.
When we were in Jamaica this past year for the holidays, I swear I ate at least 4 mangoes a day, and really, that is no exaggeration. Fresh fruit just does it for me. Mango, pineapple, watermelon, I'm not picky- but I want it, and I want it all- now! So, when dreaming up these spicy, chipotle tacos, I knew I wanted a tropical salsa to pile high on top.
To start, I'm using my favorite secret weapon- fire roasted tomatoes. I love the depth they give sauces and soups, especially when paired with chipotle peppers, like this dish.
I chose tempeh as the base because while lentils will always be my #1 choice for tacos, both BL and I were getting a little tired of the constant lentil taco rotation. Taco flavors must be rotated! So, tempeh tacos it is. 
Tempeh is actually BL's favorite meat alternative, mainly because it most closely resembles the texture of crumbled, ground meat! Each serving of tempeh contains 19g of protein, 82% DV for Manganese (needed for brain function and bones, just to name a few), copper and fiber.
While it's an optional step, I like to slightly steam the tempeh before cooking. This allows the tempeh to 'open up' so the sauce can really get in. The tacos will still taste great without steaming the tempeh, but if you've got a little more time, I recommend doing it.

Even if you're not currently basking in the warm sun, I know that you are going to love these tacos. They are smoky with just the perfect punch of spice that needs cooling down with the crunchy shredded cabbage and mango-pineapple-avocado salsa.
Here's a little secret for my salsa: I used frozen fruit! Yup, it's true. I would rather take the extra steps of thawing and drying than dealing with an underripe, unsweet tropical fruit this time of year. Trader Joe's has a great selection of both frozen mango and pineapple chunks. Just toss into a colander, run a little cold water over, and let dry. Then, toss with fresh avocado and a squeeze of lime juice!
If you really want these tacos to be speedy- you could leave out the fruit all together and just go with avocado slices or guacamole. That's the beauty of tacos! Anything (and everything) goes.
If you try this recipe, let me know! Leave a comment, rate it, and tag your Instagram photos with #delishknowledge . I absolutely love seeing your creations. Happy cooking! 
Print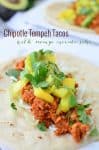 Chipotle Tempeh Tacos
Author:

Prep Time:

15 minutes

Cook Time:

15 minutes

Total Time:

30 minutes

Yield:

8

tacos

1

x
---
Scale
Ingredients
1

14.5 oz. can diced fire roasted tomatoes

2

garlic cloves

1 tbsp

. brown sugar

1

lime, zest and juiced

2 tsp

. oregano

1 tbsp

. chipotle peppers in adobo sauce

2 tbsp

. oil, divided

1

8 oz. package tempeh

1

mango, chopped

3/4 cup

chopped pineapple

1

avocado, chopped

1 tbsp

. lime
cilantro, for garnish
Tortillas, for serving
Shredded cabbage, for serving
---
Instructions
Place the tomatoes, garlic cloves, brown sugar, lime zest and juice, oregano, chipotle peppers and 1 tbsp. oil in a blender or food processor. Pulse a few times to combine, you want it to be saucy with a bit of texture.
Set up a steamer and lightly steam in the tempeh for 15 minutes (optional, but allows the tempeh to soak up more sauce).
Let cool slightly and finely crumble.
Heat the remaining 1 tbsp. oil in a medium sauce pan and add the crumbled tempeh. Cook for 3-4 minutes until golden brown and crisp.
Add the sauce, and let simmer for 5-10 minutes until all sauce is absorbed.
While tempeh is cooking, toss together the chopped mango, chopped pineapple, chopped avocado with lime juice and a pinch of salt. Stir together.
To serve, place the shredded cabbage and chipotle tempeh mixture on tortillas and top with salsa
---