I've been in a breakfast rut lately. Maybe it's due to the fact that my food preferences are all over the place (thank you, pregnancy hormones) or that I wake up completely starving; either way, my breakfast choices as of late are pretty eye-raising. Yesterday, I wolfed down toast with avocado, tomato, cheese and so much sauerkraut, while the previous day I enjoyed a bowl of leftover couscous, plain yogurt, cucumber and tomatoes.
Gah. It's become almost comical lately, the food pairings that are coming out of my kitchen. Don't get me wrong, I'm loving them, but they aren't exactly normal breakfast food. At least, that's what BL reminds me whenever I ask if he wants whatever I'm making.
I've been thinking a lot about what meals are going to look like come next month, and I keep going back to the idea of batch cooking. I've never really been good at this concept, though try as I might every few weeks or so. I think having a newborn and limited time on my hands will force me to think more outside the box on quick meals, while trying to maximize time in the kitchen as much as possible.
MY LATEST VIDEOS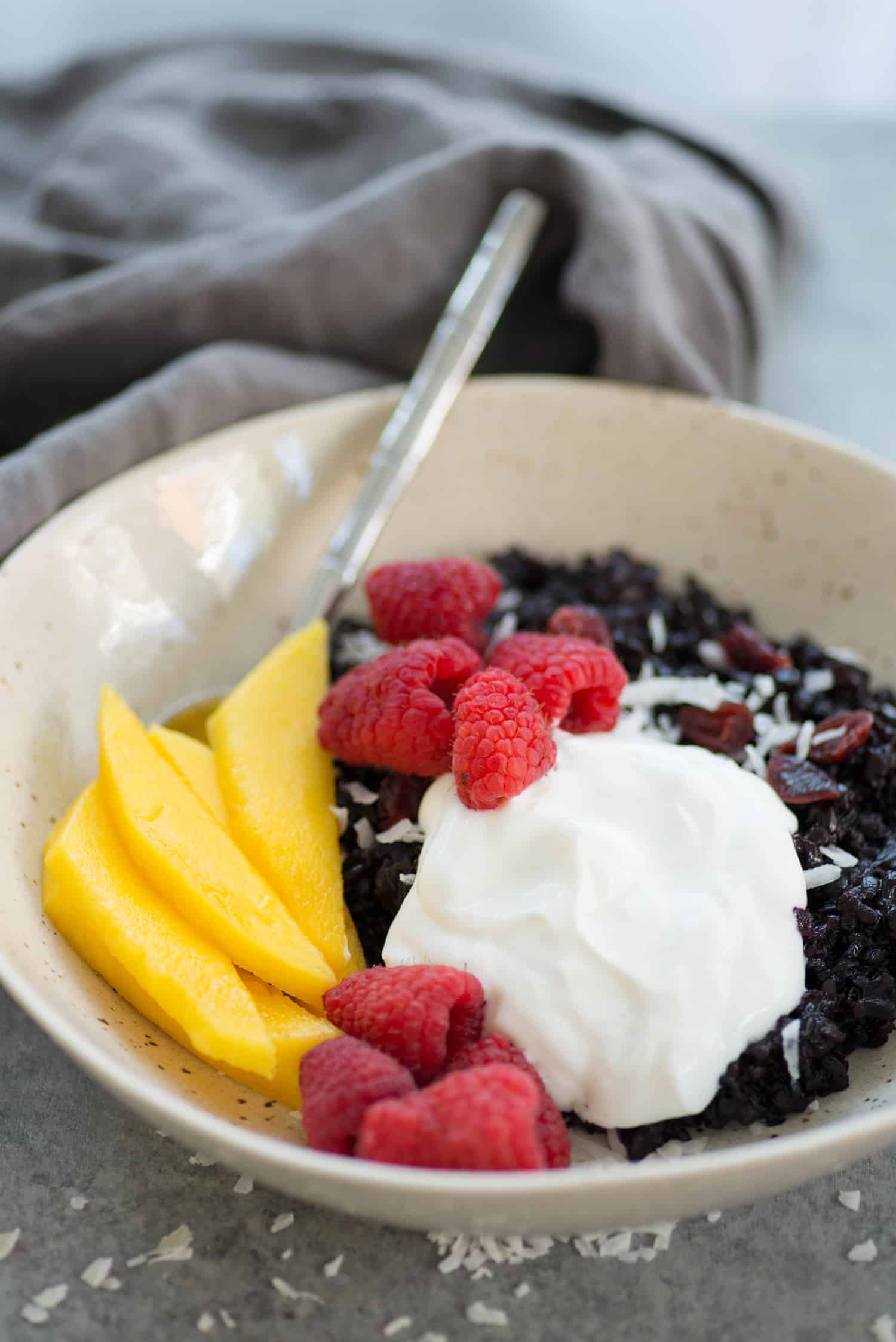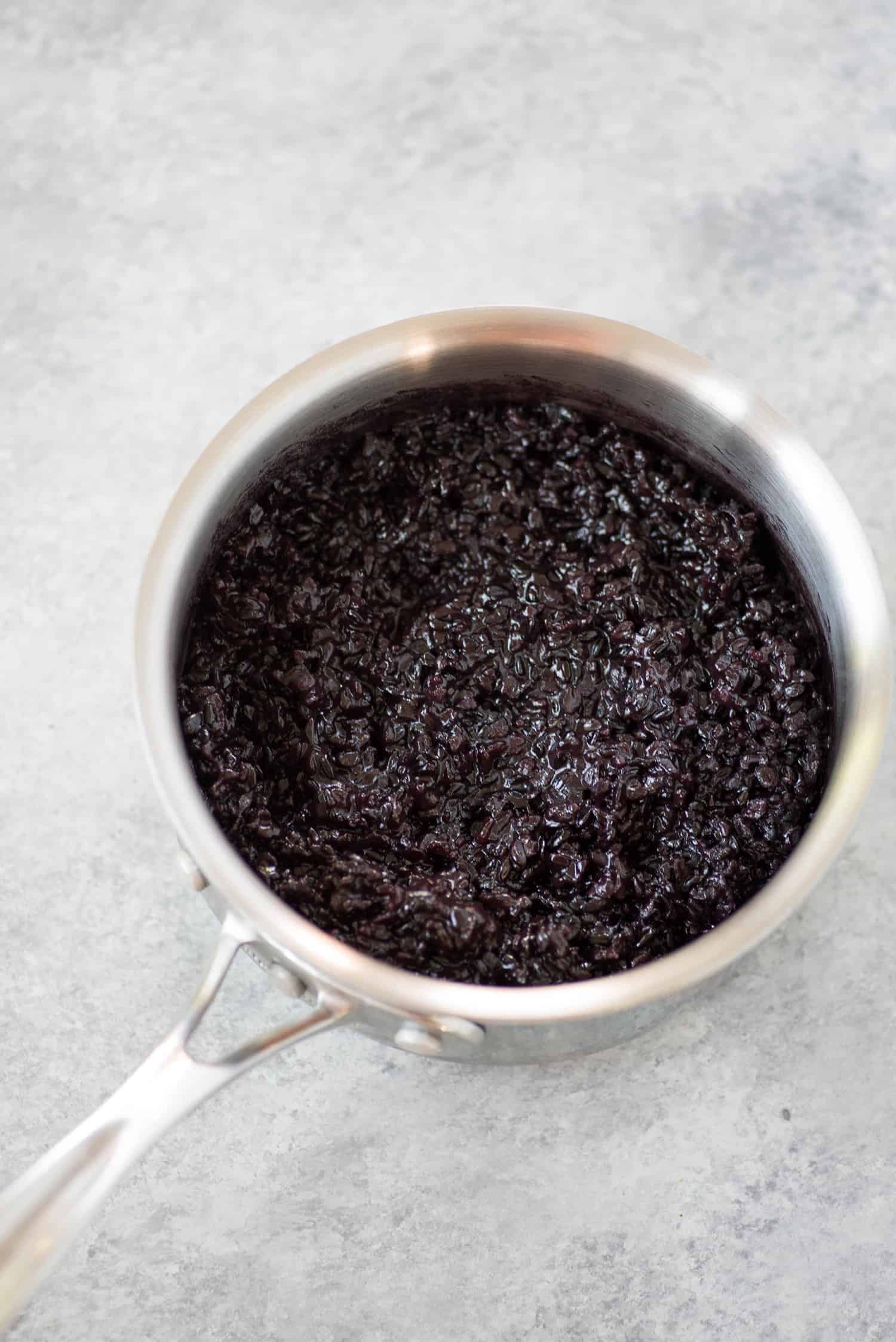 That's where these breakfast bowls come in. As you can see from above, I've been really into some kind of grain in the morning, though not your standard bowl of cereal or oats. Usually I'll take whatever leftover grain that we had from the night before and start building a quick meal to satisfy me upon waking.
These coconut black rice bowls are reminiscent of sticky rice with mango, though not as dessert-like. For inspiration, Dannon asked me to participate in a 'Secret Ingredient' challenge; where they would send a mystery box of ingredients to my house, and I had to choose three in a new and unique recipe.
This is what I was sent: canned white beans, roasted red peppers, lavender extract, black rice and dried sweetened cranberries.
Maybe it's pregnancy brain, but I sat with these ingredients for what seemed like forever before coming up with my idea. I tried out a burger patty using the beans, peppers and rice, but ended up not loving that. So, back to the drawing board I went. After rummaging through the fridge one early morning looking for fuel, I had the idea to combine cooked black rice in a sweet yogurt breakfast bowl.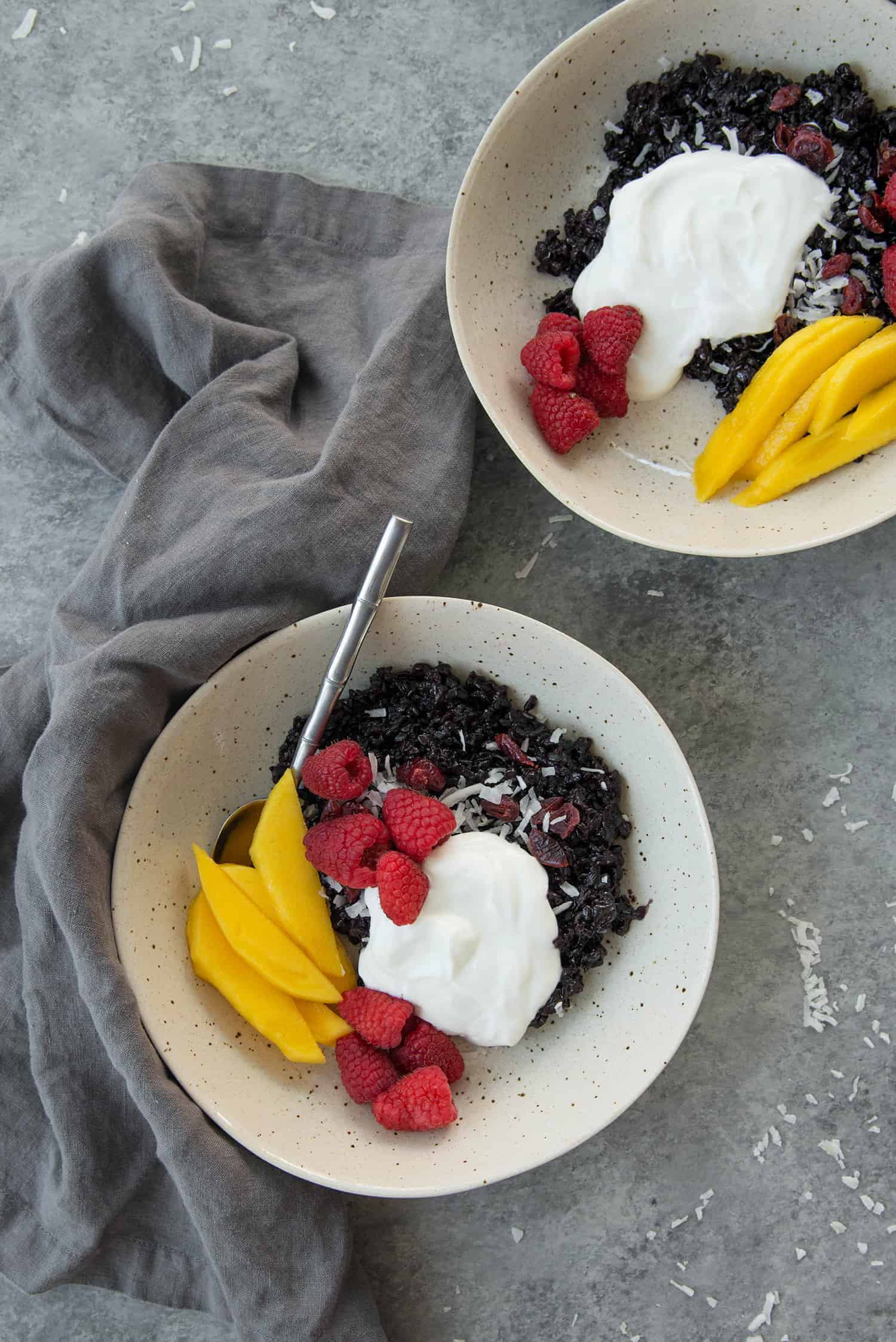 In a way previous life, before this blog and way before BL, I dated a chef who taught me the amazing combination of cooking rice in coconut milk. Wow. Talk about flavor. While I use this trick often with jasmine rice and coconut milk, I had a feeling it would work with black rice as well. Spoiler alert- it does.
For the purpose of the challenge, I added in a drop of lavender extract at the end of cooking, along with some pure maple syrup for sweetener. While the lavender tasted great with the maple and coconut undertones, please don't feel like you need to run out and grab it for this recipe. If you have some, awesome. If not, omit it or sub in vanilla extract instead.
Once the rice was cooled, I topped it with Light & Fit vanilla greek yogurt, fresh mango slices, raspberries, toasted coconut and, of course, dried cranberries- the third and final secret ingredient for this challenge.
The sweet rice, cool yogurt and pile of fruit feels like the most delicious breakfast (or snack) option for these hot summer days. It's also an easy way to add in yogurt; a nutrient-dense food that's a good source of protein, calcium and Vitamin D. It's also incredibly versatile, enjoyed as a smart snack, convenient breakfast, delicious cooking ingredient or dessert. While I love the Light & Fit vanilla flavor here, feel free to dollop on your favorite flavor.
I love that Dannon encouraged me to think of new and unique ways to use these ingredients; it's always fun to be pushed to think outside my normal box. It's also a great way to be reminded that healthy choices don't have to be boring. With a balanced variety of delicious choices, Dannon Light & Fit has better for you options that that also fit your active lifestyle.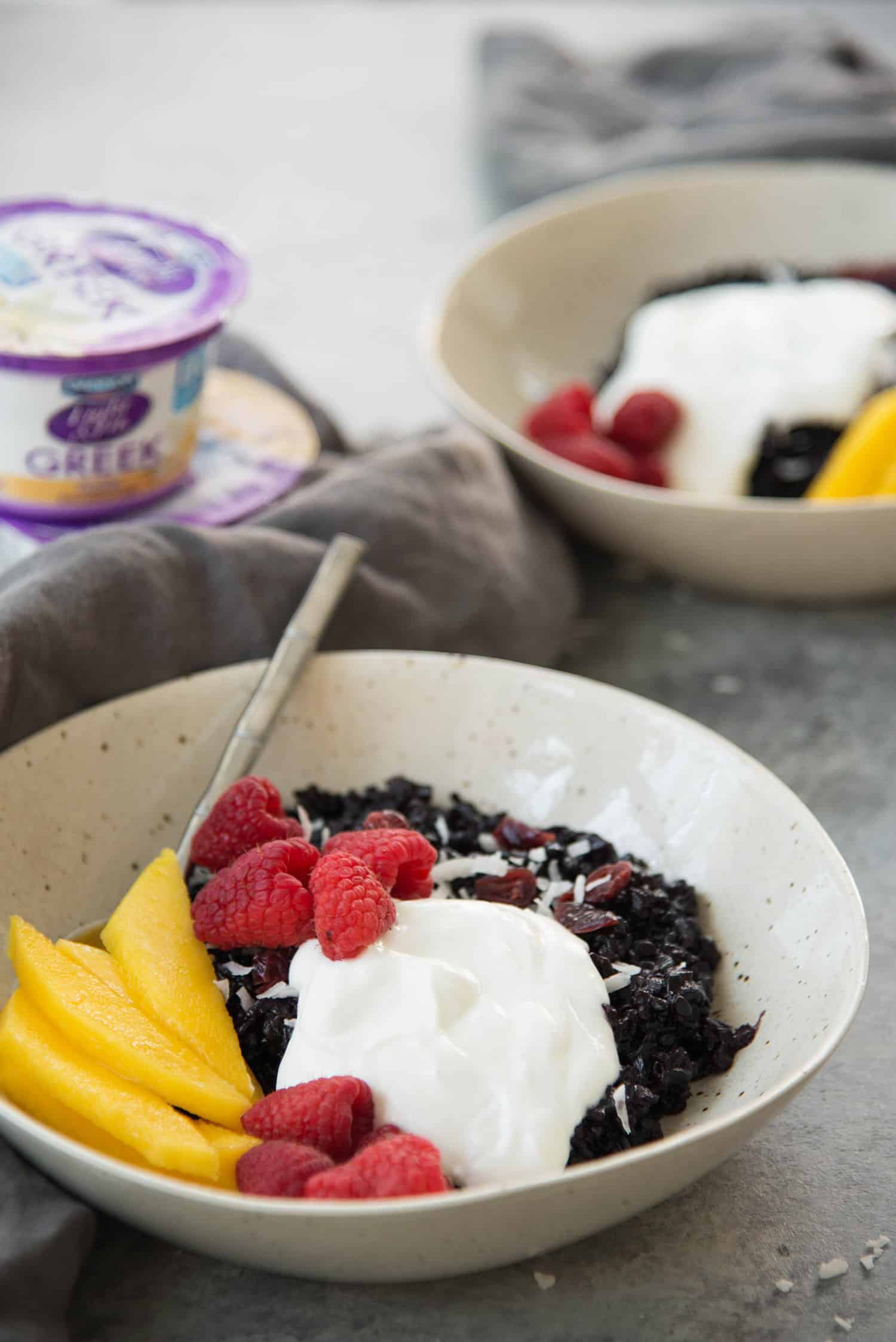 Thanks again to Dannon for sponsoring this post! Grab more delicious recipes (and see what other bloggers came up with in the Secret Recipe Challenge) by following them on Instagram.
If you try this recipe, let me know! Leave a comment, rate it, and tag your Instagram photos with #delishknowledge . I absolutely love seeing your creations. Happy cooking!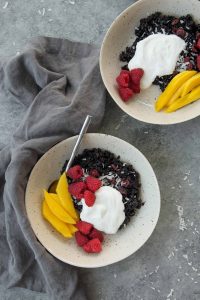 Print
Coconut Black Rice Breakfast Bowl
Coconut Black Rice Breakfast Bowls! Sweet black rice porridge topped with yogurt, fresh fruit and toasted coconut.
Ingredients
Coconut Black Rice Pudding
1 cup black rice
1 (15 ounce) can light coconut milk
½ cup water
pinch sea salt
1-2 drops of lavender extract (optional, see notes)
2 tablespoons of maple syrup
1 5.3oz container Light & Fit Greek Nonfat Yogurt, vanilla flavor
Fresh mango slices, for topping
Toasted Coconut, for topping
Fresh raspberries, for topping
Dried cranberries, for topping
Instructions
Combine the rice, coconut milk and water together in a medium saucepan over medium-high heat. Bring to a boil, then reduce heat to low and cover until rice is cooked through and water is absorbed, about 15-20 minutes. Check around the 15-minute mark, adding a splash or two of water as needed.
Stir in lavender and maple syrup, then season to taste for desired sweetness. Let cool if serving immediately, or transfer to a container to place in the fridge until ready to enjoy.
To serve, divide rice into bowls (this recipe makes enough for 4 bowls) then top with yogurt, mango, coconut, raspberries and dried cranberries.
Notes
I used the lavender as it was part of the "Secret Ingredient" challenge. However, feel free to omit if you don't have it or substitute in vanilla extract.