Have you had deviled potatoes before?
In hindsight, I probably should have put these out before Easter last weekend, but we can still eat deviled things all year long, right?
The first (and only) time I had deviled potatoes was back in my California days, at one of my favorite vegan restaurants, which has sadly now closed. On Sundays, they had an all-you-can-eat brunch, which more often than not felt like a clean-out-the-kitchen group meal and not really breakfast. Unless your brunch usually includes lots of salads, sandwiches, pastas and desserts. I'm not complaining; I loved seeing what I'd find on the menu each week- a definite departure from the ordinary. Plus, brunch always included mimosas.
Anyways, potatoes! I'd never seen anyone devil a potato before and I was in complete awe. So I ate at least 8 of them to try and figure out their secret. Creamy in texture to a deviled egg, but with a bit more bite. I filed that idea away in my recipe brain and brought it out last weekend for my own Sunday brunch.
MY LATEST VIDEOS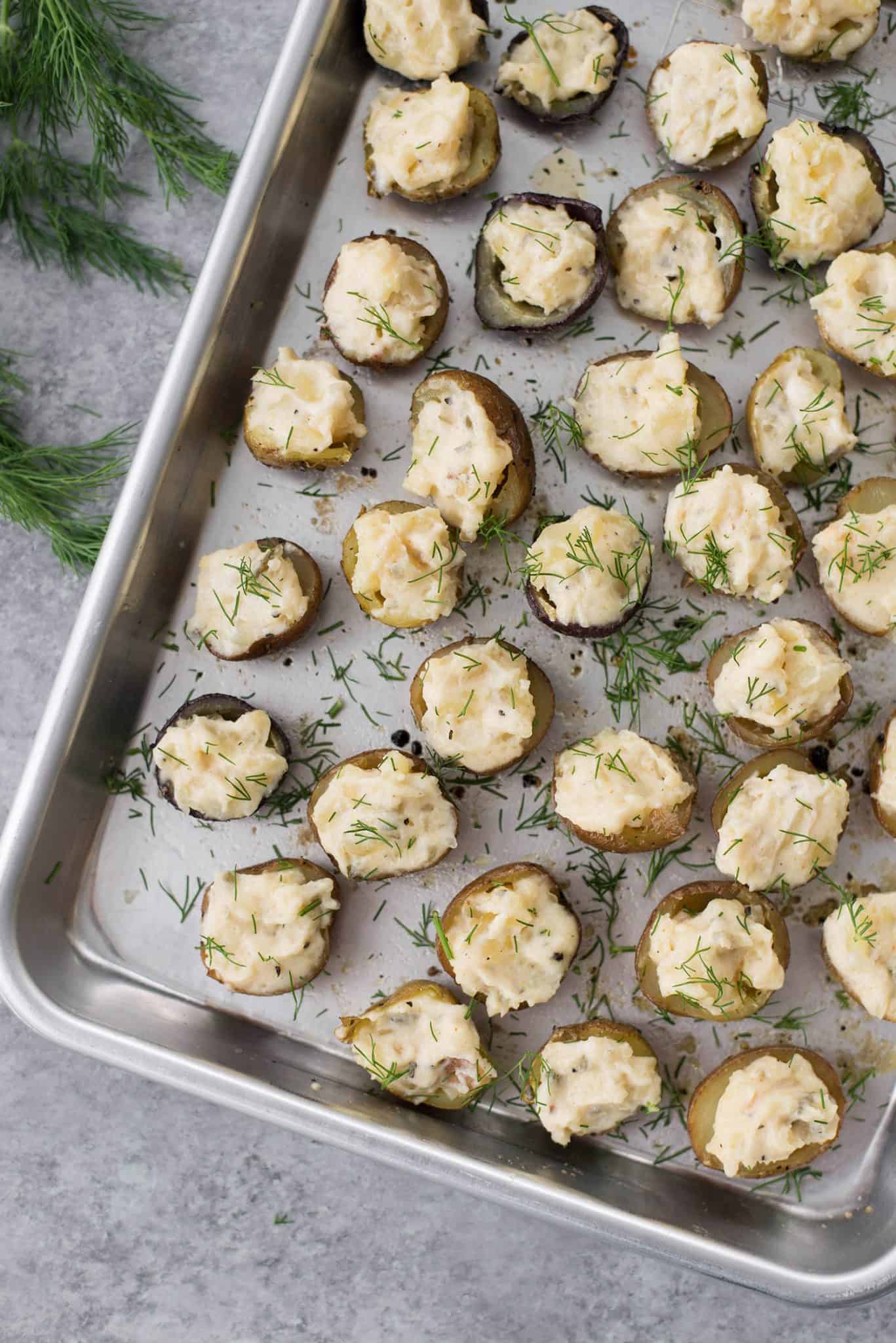 The Little Potato Company's taters are the perfect size for this appetizer.  Bite-sized already, you don't need to do much to them to create a yummy deviled vessel.
First, roast 'em. I toss the potatoes in a bit of olive oil and salt and pepper, then place them on a baking sheet until crispy. Truth be told, I do this almost weekly for a side-dish. The thin skins crisp up perfectly, while the inside stays nice and creamy. Gosh, I love these potatoes so much, I was almost tempted to put the roasted potatoes on a platter and call it a day.
Almost.
Scoop out a bit of the filling and then add to a bowl along with a dollop of mayo (dairy-free for vegan version), relish and seasonings. I like dill in my deviled eggs, but you could go the smoked paprika route if you wish.
Mash, then refill. I didn't worry too much about making them look pretty, that's not my style. Rustic, as we all know, is how I like to describe my cooking.
Rustic = obviously homemade.
If you're looking for a unique take on a classic appetizer, this is it.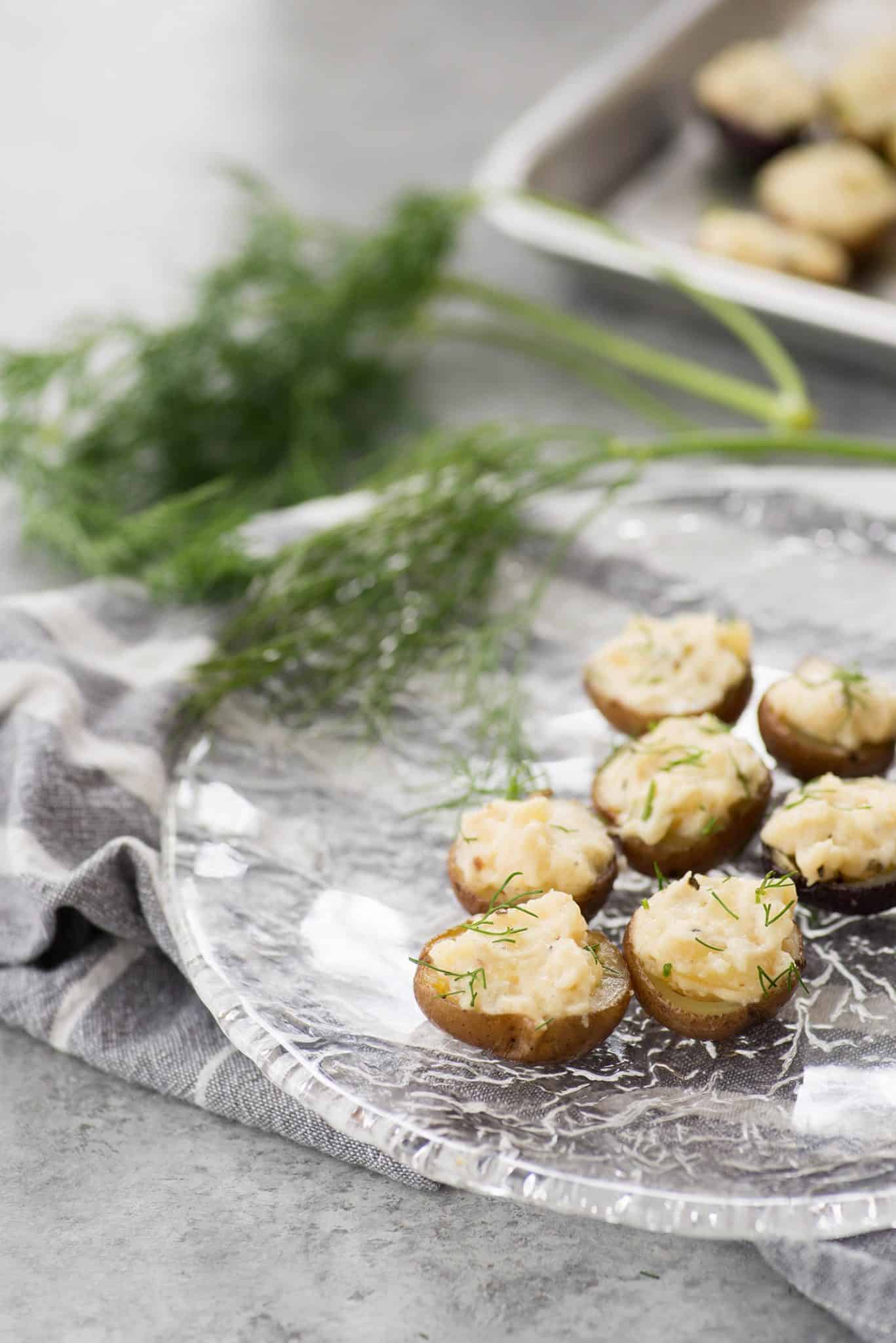 Are potatoes healthy?
It's a question I get all the time from clients, especially when I recommend adding in more potatoes to their diet.
Potatoes tend to get a bad rap, mostly because they are often eaten deep-fried with a side of ketchup. And nutritionally, french fries aren't the same. Potatoes, like these creamers from The Little Potato Company are packed with vitamin C, potassium and vitamin B6 plus fat, sodium and cholesterol free. For those of you who count calories, they provide only 110 per serving.
Now that it's 2017, can we begin to agree that carbohydrates aren't bad for you? Because, they aren't. It's what most of the world lives on. Diets high in complex carbohydrates, like those found in whole-grains, vegetables, fruits and potatoes are associated with a lower-risk of heart disease, diabetes and some cancers. Complex carbohydrates also contain fiber, an essential nutrient in satiety, lower LDL cholesterol levels and GI health. That's part of what makes complex carbohydrates so incredible, the addition of fiber changes the way we metabolize and absorb them.
So, enjoy. I know I will.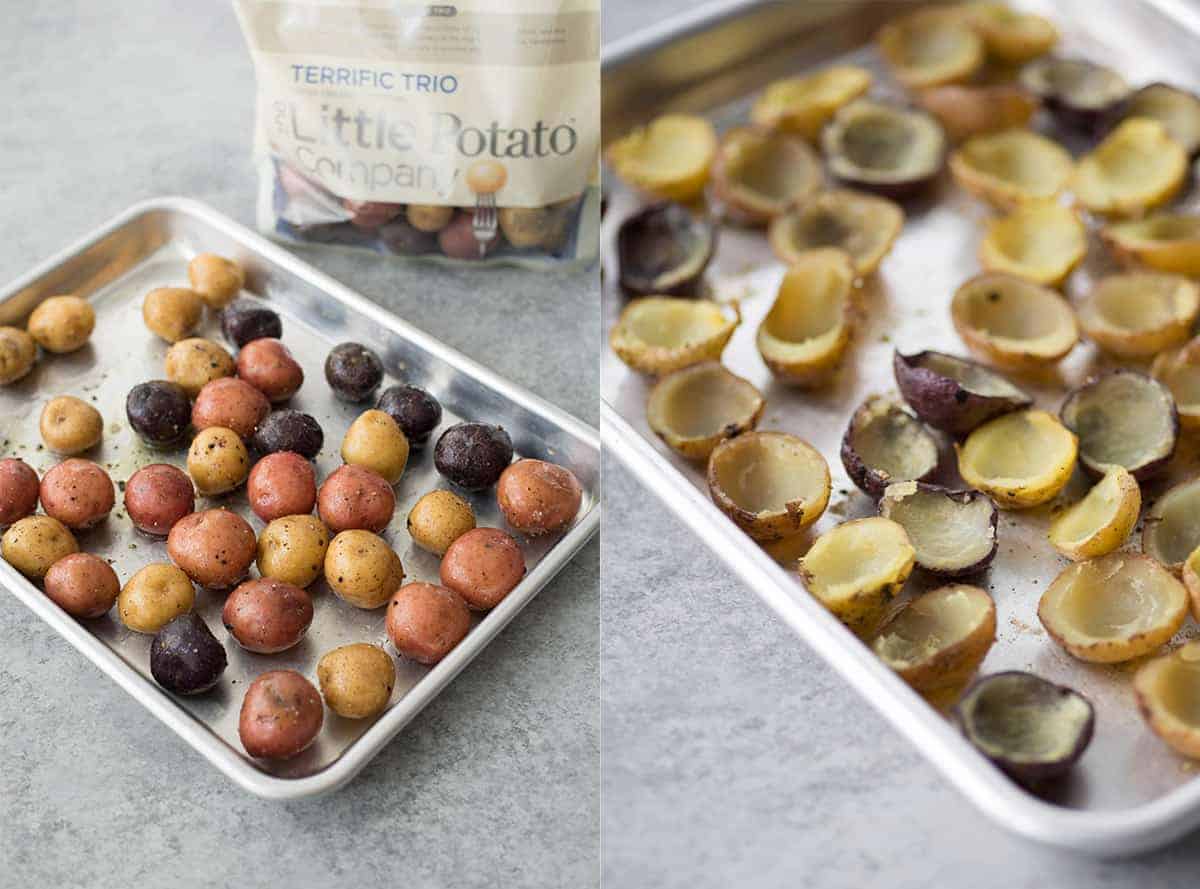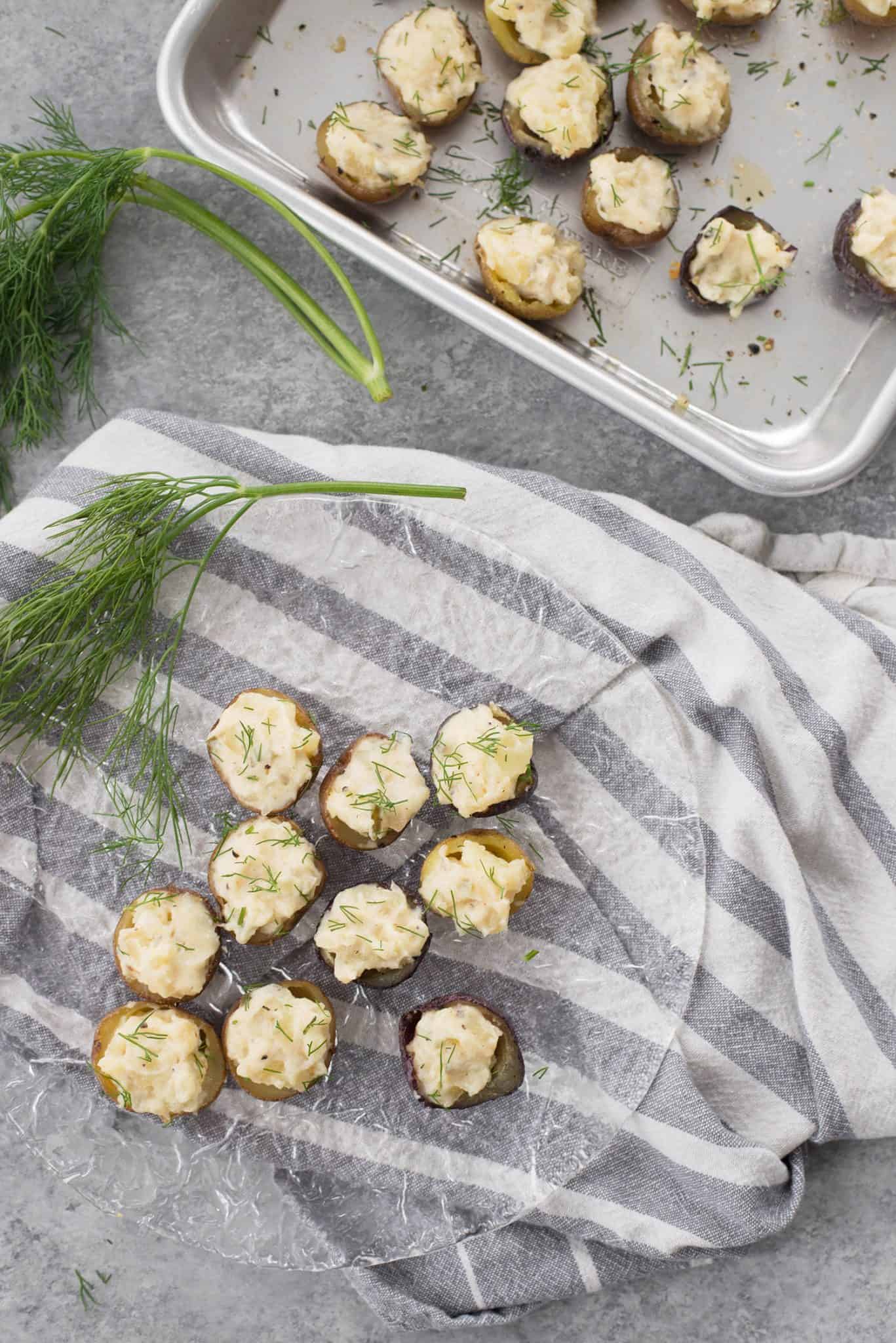 If you try this recipe, let me know! Leave a comment, rate it, and tag your Instagram photos with #delishknowledge . I absolutely love seeing your creations. Happy cooking! 
Print
---
Description
Deviled Potatoes! These mini potatoes are the perfect Spring appetizer. Crispy potato shells stuffed with deviled dill potato filling. Vegan and Gluten-Free. 
---
Scale
Ingredients
1.5

pound bag The Little Potato Company Terrific Trio

1 tablespoon

olive oil

1 teaspoon

kosher salt 

1/4 cup

vegan mayo (I like veganaise the best) 

2 tablespoon

s relish 

1/2 teaspoon

apple cider vinegar

1 teaspoon

dijon mustard

1/4 teaspoon

smoked paprika
fresh dill, chopped 
---
Instructions
Preheat oven to 350 degrees F. Toss potatoes with olive oil and sprinkle with salt and pepper. Place on a baking sheet and roast for 30-35 minutes until just tender. 
Remove potatoes and halve lengthwise. Carefully scoop out a circle of potato and place in a large bowl. Place shells back on baking sheet and cook another 10 minutes to crisp the shells. Let cool. 
Add the mayo, relish, vinegar, mustard, paprika and pinch salt and pepper to the potato pulp and mash well until combined, using a electric mixer or potato masher. Season to taste with salt and pepper. 
Spoon a dollop of the mixture back into the potato shells and garnish with dill.