Life is definitely laughing at me. For years, I have praised to family and friends the beauty of California. Gorgeous summers that last until Thanksgiving; warm, but doable weather. Peer pressure to pick up from the East Coast and come out west. Don't let rain and dark clouds ruin a pool day, join me where sun shines 300 days strong.
Well, I've officially been defeated. Either that, or I am quickly getting old.
Summer, it's been real but I'm done. I cannot handle one more day of 100°+ weather. Heat that forces me to either head indoors or sweat it out each time I step outside. Weekend runs that must be finished by 8AM or else it's too warm to continue. Ugh, give me Canada and a North Face. I am ready for fall.
I know. Enough complaining about hot, cloud-free days. But, if this is the future, I am more than terrified. It just might be enough to move me back East, a good 10 degrees cooler on most days.
MY LATEST VIDEOS
Luckily, I have summer produce to keep me company. If my kitchen is going to be a sauna, amazing things better come out of it.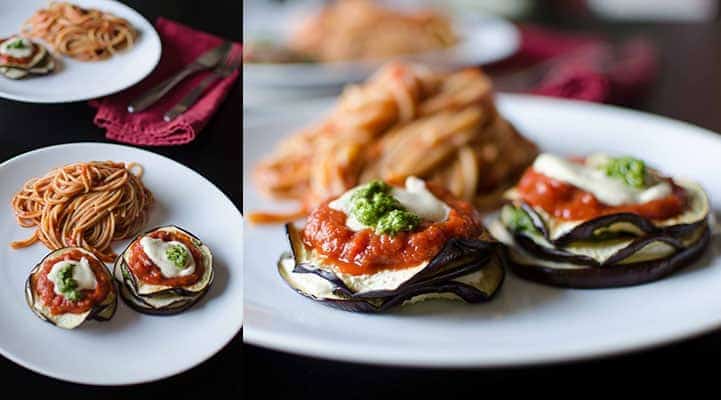 I'm a total sucker for eggplant, the epitome of a love-it or hate-it food. I, love it. BL, hates it. (Story of our relationship, but I digress.) Eggplant Stack is one of my top 5 favorite things to eat, but a bit too warm and comforting when it's 105° out.
Let's lighten things up a bit then, shall we? Grilled eggplant rounds filled with garlic cashew cream and basil macadamia pesto, topped with a spicy red sauce.
OK summer, you win.
If you try this recipe, let me know! Leave a comment, rate it, and tag your Instagram photos with #delishknowledge . I absolutely love seeing your creations. Happy cooking! 
Print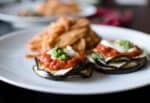 Eggplant Parmasan Stack
Author:

Category:

dinner, main, entree
---
Description
Grilled eggplant rounds stacked with macadamia basil pesto, spicy red sauce, and garlic cream sauce. Vegan and gluten-free.
---
Scale
Ingredients
Basil Macadamia Pesto
Garlic Cashew Creme
Spicy Red Sauce
---
Instructions
For the eggplant:
Slice eggplant into 1/2″ rounds. Place on a baking sheet lined with a paper towel.
Sprinkle salt onto both sides off eggplant and let sit 30 minutes to allow excess moisture to be pulled out of the eggplant.
Rise each slice off and towel dry, set aside.
Make the pesto:
In a food processor or blender, add the nuts, and garlic cloves.
Pulse a few times until a fine crumb forms.
Add the basil and nutritional yeast. Pulse to combine.
Turn the food processor to on, keep the blade running and slowly drizzle in the olive oil until a paste forms.
Season with salt/pepper to taste.
Make the Garlic Cashew Creme:
Drain cashews and add all ingredients to a blender. Puree until very smooth, about 3-4 minutes. It should be pretty thick, like a creme. If you want it thinner, add more water.
Heat the grill or grill pan to medium-high heat. Lightly spray eggplant slices with cooking spray or olive oil.
Place garlic creme and spicy sauce in separate sauce pans to warm.
Grill until tender, 3-4 minutes each.
To assemble:
Place eggplant stack on plate, top with a dollop of cashew creme and pesto, continue to alternate layers until you have 3-4 stacks.
Top with spicy red sauce and another dollop of cashew creme and pesto.
Enjoy the dog days of summer!