The final gift guide in my 2014 series (cookbook pairs & unique foodie gifts), this one focuses on fun gifts that are $15 and under. Perfect for white-elephants, friends, teachers and stockings.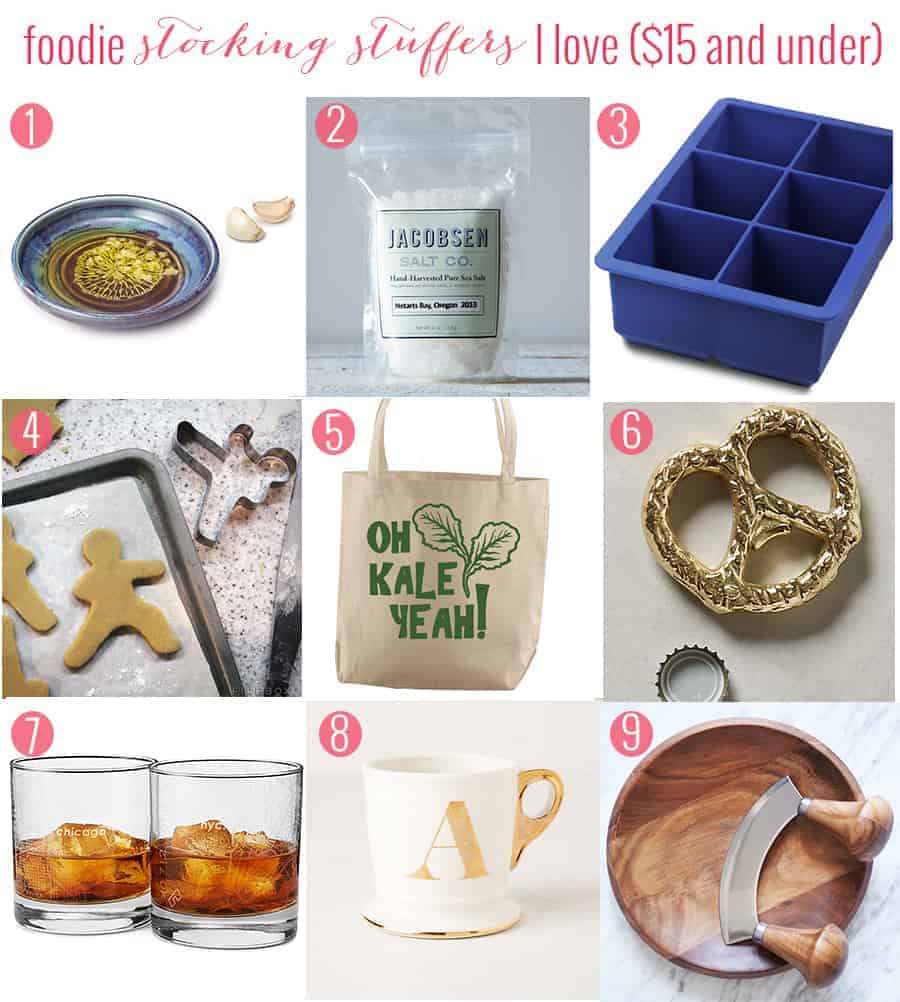 1. Garlic Grater and Oil Dipping Dish ($15) My sister brought me back something like this from France, and it's become one of my favorite things to set out for girls' night. Grate the garlic, top with olive oil and dip with crusty italian bread!
2. Jacobson Salt Co. Flake Finishing Salt ($12) I'm a sucker for good quality salt, and this is some of the best. Just a pinch can totally transform a dish.
3. King Ice Cube Tray $8.50 (13 colors) If you love cocktails then this ice cube tray is a must! Makes 6 giant cubes, perfect for a drink you don't want watered down.
4. Ninja Cookie Cutters ($12) Because gingerbread ninjas > gingerbread men.
5. Oh Kale Yeah to Market Bag ($15) I adore this bag! For the friend who loves vegetables as much as you do!
6. Pretzel Bottle Opener ($10) I scooped up this bottle opener a few weeks ago and think it would be the cutest gift. Pair with a 6 pack for a hostess gift that's not a standard bottle of wine.
7. City Map Glass ($12.50) I'm a sucker for anything city-themed and these glasses are no exception.
8. Golden Monogram Mug ($10) If there's one thing I love more than a pretty mug, it's a monogram. Pair this with a bag filled with homemade hot chocolate mix.
9. Mezzaluna Chopper ($10) One of my favorite things on this list, especially for the price! Makes chopping smaller items, like herbs, a breeze.