The holidays are in full swing! We kicked off the celebration with our annual cocktail party on Saturday (full details and menu later this week), and spent most of yesterday laying on the couch, drinking hot cocoa, and watching our favorite Christmas movies. A lazy sunday that involves holiday cheer might be the most perfect day, ever.
As I finish up my own holiday shopping, I wanted to share with you some of my favorite things- and a few I am planning on gifting to others. First up, gifts for the baker. To the person who is always bringing in goodies to the office, is constantly pinning sweet treats, or dreams of sugar plums- this is my gift list for you.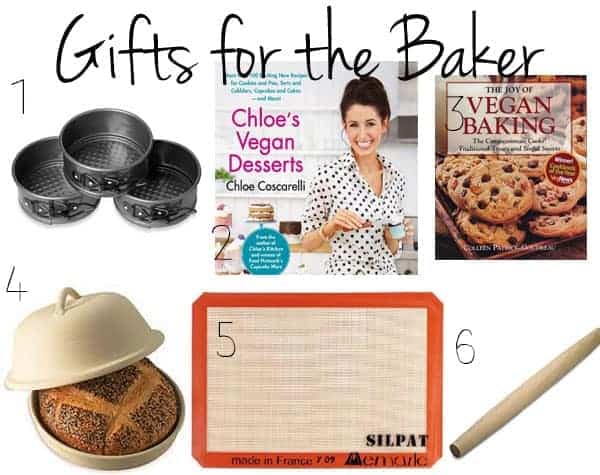 1. Wilton Springform Set
: Perfect for Chambord Tarts & Pumpkin-Chai Tarts! This was one of those items that I never thought I would use as much as I did, a random purchase a few years ago at a closeout store. I love the various sizes depending on if I am planning on dessert for one or many.
2. Chloe's Vegan Desserts
: One of my absolute favorites, Chloe kills every recipe. I made the pecan bars and double crust fudge bars over the weekend.
3. The Joy of Vegan Baking:
: Another winner. For anyone who is experimenting with vegan baking, this is my go-to primer.
4. La Cloche Baker
: I've shared my love of these bakers in the past, a foolproof baker for crispy crust and chewy insides. Try it with my no-knead bread recipe.
5. Silpat Non-Stick Baking Mat
: A classic non-stick baking mat for the win! A wrap these up with a big bow for cute stocking stuffers.
6. Maple French Rolling Pin
:A classic shape that fits well in drawers.