This one's for you Barbara! The "official" DK recipe… even though I tweak it each time I make it!
Miso Salad Dressing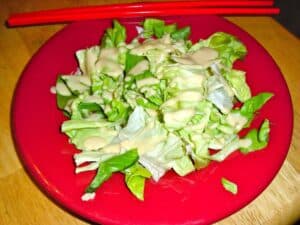 3 tbsp. miso
3 tbsp. mayo
2 tsp. toasted sesame oil
2 tsp. ginger paste (you can also use ginger juice from fresh ginger, but the paste in the refrigerated section is great in a pinch)
2 tbsp. mirin or rice wine vinegar
Combine all ingredients in blender or food processor. Toss with your favorite salad. Great side dish for my Tofu with Sesame Soba Noodles.