Polenta Pizza! Healthy, gluten-free take on pizza. Creamy polenta crust topped with sauce, veggies and vegan parmesan cheese. A must-make!
It's pizza time! I don't know if it's possible to make pizza more Italian, but we're doing it. I swear I'll stop talking about my trip to Italy at some point, but today is not it. I re-fell in love with polenta while I was there, after having the most incredible bowl of warm polenta with spaghetti sauce in Florence. So simple, so delicious. I mean, it's basically a bowl of creamy grits with homemade tomato sauce, of course I would love it.
Well, this pizza is my spin on that. A polenta base with marinara sauce, peppers, mushrooms and vegan parmesan. It's a fun, gluten-free spin on pizza, perfect for weeknight meals.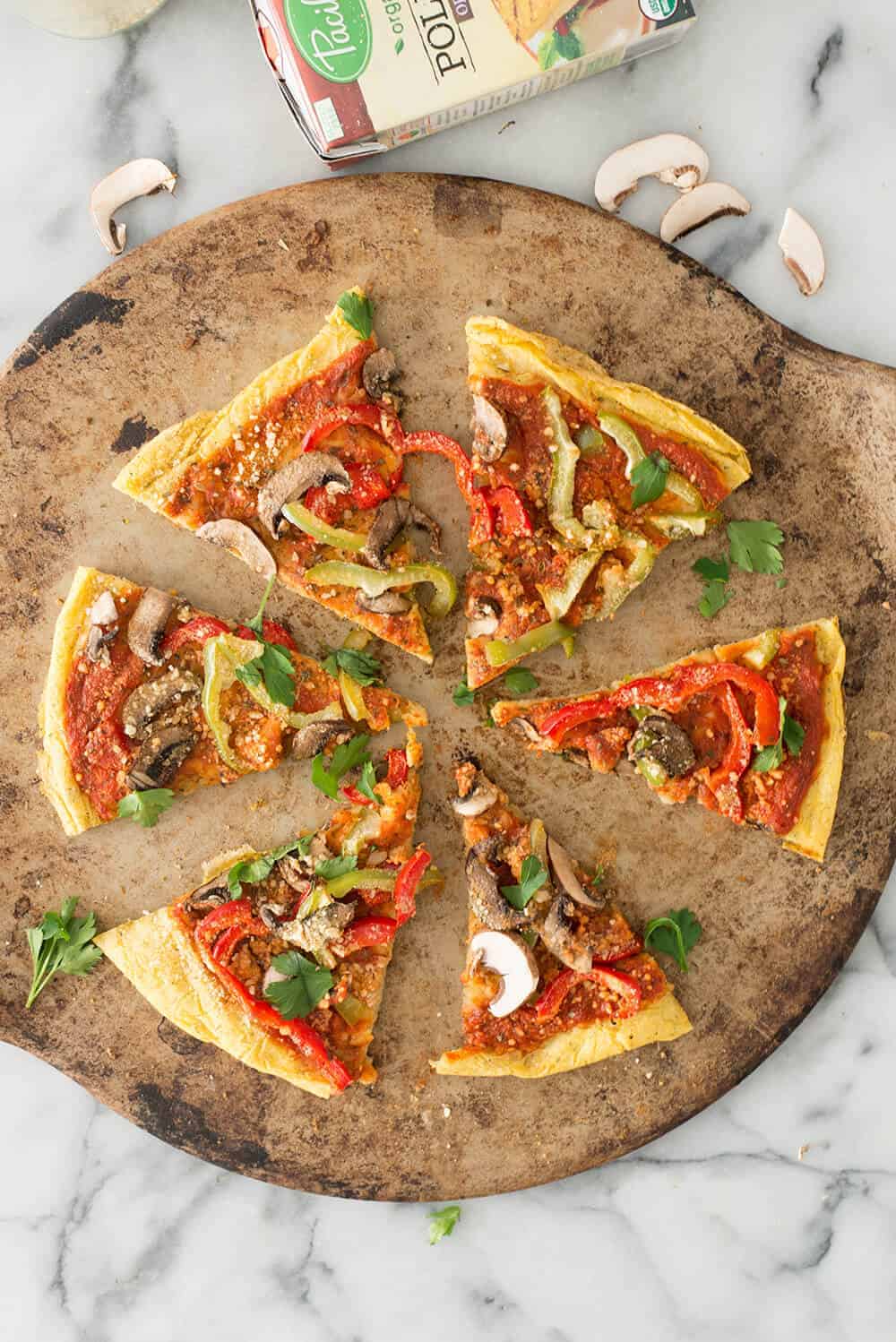 Pacific Foods makes polenta pizza super easy. I love that it comes in block form, a perfect base for bruschetta or toppings, or cubed to create a creamy bowl. For this crust, I blended the polenta with a bit of spices to create a simple base for endless toppings.
We all know how I feel about Pacific; if I were to write out my food philosophy, it would match almost word for word what Pacific states. Simple ingredients, sustainability sourced, organic, GMO-free, and without unnecessary additives and flavors. Yes, yes, yes. I can get behind all of that and why I feel so good adding in their foods to my meals.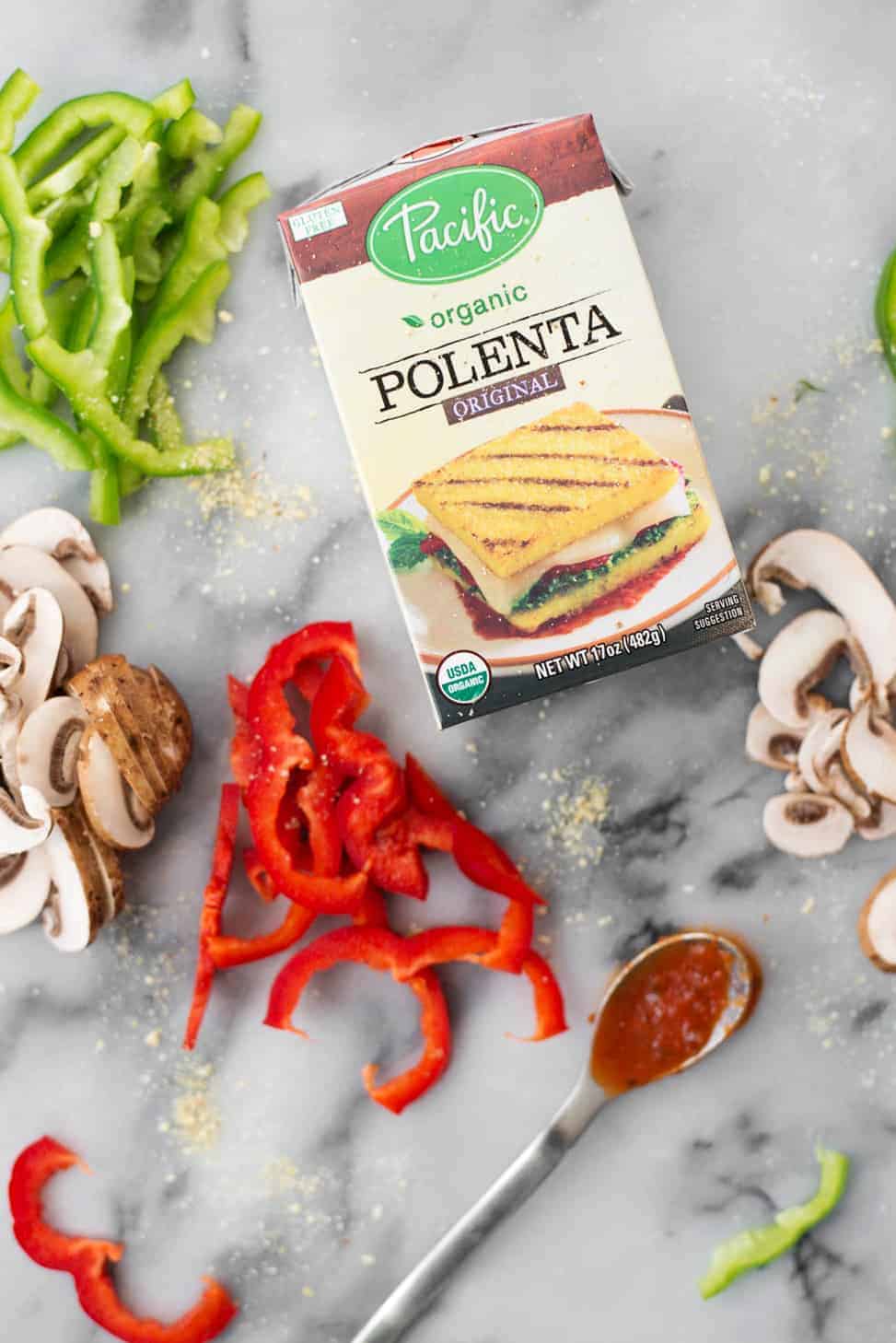 However you take your pizza, try it with this gluten-free polenta crust next time. Ready in 30 minutes, no need to wait for dough to rise! Bake, top and serve.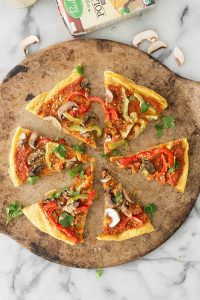 Print
Gluten-Free Polenta Pizza
Yield 8 slices
Polenta Pizza! Healthy, gluten-free take on pizza. Creamy polenta crust topped with sauce, veggies and vegan parmesan cheese. A must-make!
Ingredients
Polenta Crust
1 package Pacific Foods original polenta, drained and quartered
1 tablespoon olive oil
1 tablespoon arrowroot or cornstarch powder
1 teaspoon garlic powder
1 teaspoon dried basil
¼ cup vegan parmesan (I love my homemade version featuring almonds, cashews and nutritional yeast)
Toppings
1/3-1/2 cup pizza sauce
½ cup sliced bell peppers
4-5 cremini mushrooms, sliced
½ teaspoon dried basil
½ teaspoon dried oregano
1/8 cup vegan parmesan (same recipe as above)
Instructions
Preheat oven to 450 degrees F.
Place the polenta, olive oil, arrowroot, garlic powder, dried basil and parmesan in the base of a food processor. Pulse until combined; mixture should form a loose, stiff ball.
Lightly spray a round pizza stone or pan (or line with parchment paper). Place polenta dough on top and roll to 1/4-1/2" thick. For ease, I placed plastic wrap over the polenta before rolling, as it will be sticky. Alternatively, you can use your hands or a wet spatula to spread the mixture around.
Place polenta in the oven and bake for 15 minutes. Remove from oven and top with pizza sauce, leaving a slight border. Layer on the toppings, then sprinkle with the parmesan cheese. Place bake in the oven and bake for an additional 15 minutes.
Remove from oven and let rest for at least 5 minutes before slicing.  Slice into squares or slices and enjoy! 
Courses dinner
Cuisine Italian