What my baby wants, my baby gets. And if it's my baby's birthday then he only wants one thing: fruit pizza. Year after year, I try to get creative with other special desserts to celebrate but they always get shot down. I am only slightly embarrassed that this is BL's favorite dessert I make… it is so simple but I wanted to share it because it gets rave reviews each year. Plus, summertime is here and you can only have apple pie so many times.
Happy Birthday BL Fruit Pizza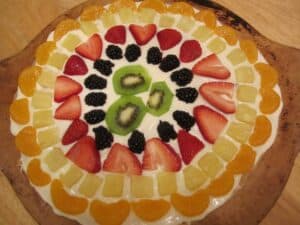 Ingredients:
1 recipe sweetheart shortbread cookie, or your favorite cookie dough.
1/4 cup non-hydrogenated margarine or shortening, softened
1/4 cup cream cheese (I use Tofutti brand)
1 1/2 tsp. pure vanilla extract
2 cups confectioners sugar
1/4 cup apricot jam
Fruit! use whatever kind you like, I used BL's favorites: kiwi, pineapple, strawberries, mandarin oranges, and blackberries. You could do just 1 type of fruit or mix it up.
Prepare your cookie dough mix as your normally would, but shape it into a large circle to mimic a pizza crust. It will really spread in the oven, so make sure you have room on your pan to allow it to cook. A pizza stone works great. Cook according to your directions, remove, and let cool slightly. Carefully transfer to a platter to decorate or you can keep it on the stone.
MY LATEST VIDEOS
Using a hand or stand mixer, cream together the margarine and cream cheese. Slowly add in the confectioners sugar, a 1/4 cup at a time so it doesn't fly up everwhere. Mix until smooth and add vanilla. Refrigerate for 15 minutes to stiffen before use.
Spread the frosting over the cooled dough like pizza sauce, leaving a "crust" is optional. Arrange the fruit on the pizza however you like.
In a small saucepan or in the microwave, heat the jam until hot and runny. Using a pastry brush, spread the hot jam over the fruit and icing. This helps the fruit to "set" and will prevent the fruit from bleeding onto the icing.
Enjoy! Happy Birthday BL!