It's July aka the month where I never leave home without a stash of veggie burgers. You never know when an impromptu cookout will break out, and I prefer to be prepared.
As the token vegetarian at most cookouts (along with my handsome BL), I have learned a few things along the way. Mainly, bring your own food. To prevent the endless cliche of vegetable skewers and side salads, I take my potluck cookout dishes very seriously. It's secretly my way to show that no, vegetarians don't live on salad alone; and yes, our food tastes just as delicious as yours does!
Enjoy this quick roundup of my favorite healthy cookout recipes: the perfect peach iced tea, various vegetable & grain salads, my favorite vegetable burger, grilled pizza and more. Don't forget the panzanella salad! It's fool-proof perfection.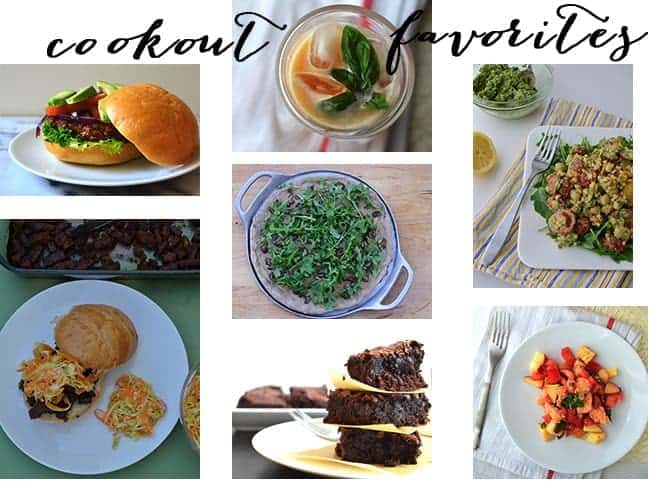 Black Bean & Sweet Potato Burgers // Tempeh BBQ Sandwiches //  Peach Basil Iced Tea // Grilled Truffle Pizza with Arugula // Mexican Hot Chocolate Brownies // Arugula Pesto Salad // Peach Panzanella Salad
MY LATEST VIDEOS
What are your plans for the 4th of July? We are staying around Sacramento for most of the long weekend, heading up to Tahoe on Saturday and Sunday to get out of the heat (105!) and enjoy the beach! See you on Friday with two new cookout recipes.