It's Friday video time!
Ok, so that's not really a thing around here. But it is Friday and I am sharing a video.
A few weekends ago BL and I were playing around with the video camera to create a few how-to videos. This is the first one I will be sharing with you, a simple recipe to create green juice at home without a juicer.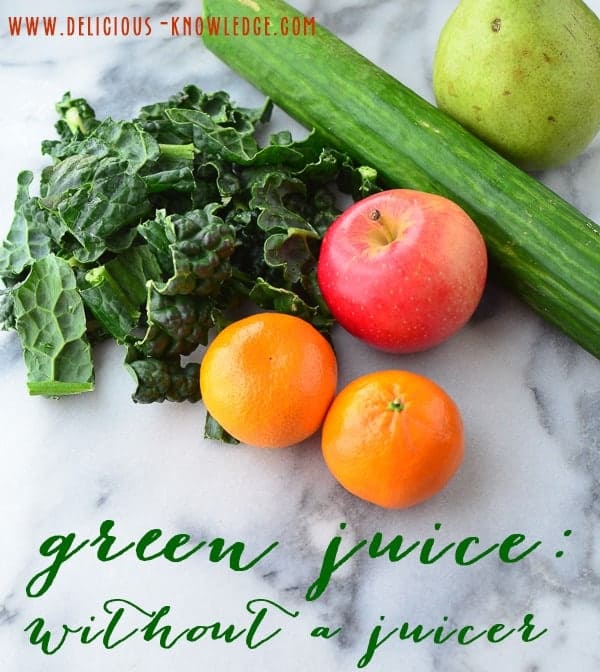 Don't get me wrong. I love the idea of a juicer but when you have limited kitchen real estate, you have to prioritize your appliances. My BlendTec always get's top billing. Not only is it essential in creating dips, smoothies, and soups but it's also a handy tool in creating fresh vegetable juice! Since the price can create a bit of a sticker shock, I highly recommend the refurbished products straight from BlendTec.
To create this recipe you will also need a nut milk bag, which you can also use to strain homemade dairy-free milks, homemade yogurt, sprout grains, or steep tea. For less than 10 bucks, it's a great tool to have in your kitchen.
MY LATEST VIDEOS
For this juice you will also need kale, 1/2 english cucumber (peeled and chopped), 2 mandarin oranges, 1 apple, 1 pear and 1/2 cup water. See the video for full instructions!
Enjoy! Let me know what you think. Other how-to recipes you would like to see in the future? Tell me!
Hope you have a great weekend. We are off to SF to celebrate my birthday and anniversary of our engagement. Cheesy, yes; but I will take any excuse I can to eat at Millennium! xo Alex