I have been cooking more and more ethnic meals as of late, favoring Thai and Indian cuisines. I just love the heat from the various spices and how easily these meals are vegetarian. It just makes sense to pile on the vegetables, making these meals not only healthy but nutritious.
This curry is similar to a traditional Korma sauce, a creamy tomato sauce served with vegetables. I used a variety of mushrooms but feel free to use what you have around the house. That's another great benefit to meals like this, they never have to be exact to taste great. In the summer, I like this sauce over zucchini and yellow squash.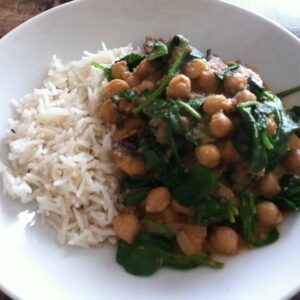 Ingredients:
Sauce:
1 15 oz. can tomato sauce
1 small onion, diced
3 T cashews, soaked in water for 1 hour
1 2″ piece fresh ginger, peeled and chopped
2 tsp. ground cumin
1/2 tsp. ground coriander
1 tsp. garam masala
1/2 tsp. tumeric powder
1/2 tsp. poppy seeds
1/4 tsp. fennel seeds
2 green chilies
1 clove garlic
MY LATEST VIDEOS
In a blender of food processor, combine the above ingredients  and puree until smooth.
1 cup jasmine rice, uncooked
1 tbsp. coconut oil
1 tsp. mustard seeds
1 large bunch baby spinach, about 6 cups
1 lb. baby bella mushrooms (or variety of your choice)
1 1/2 cups chickpeas, cooked
1/4 cup light coconut milk
Cook rice and set aside while you prepare the rest of ingredients.
Heat coconut oil in sauce pan over medium heat. Add the mustard seeds and quickly stir. Add the mushrooms and cook until browned, about 3 minutes each side. Remove mushrooms from pan.
Add the tomato sauce from blender/food processor and heat until thick, about 5 minutes. Add the mushrooms, chickpeas and 1/2 cup water. Cook for 5 minutes until mushrooms are softened and sauce has blended together. Add the spinach and coconut milk, reduce heat to low, cook an additional 1-2 minutes until spinach leaves have wilted.
Season with salt/pepper if desired. Serve over rice.
And ta-da! Indian take-out in your very own kitchen!
Makes 6 servings with rice: Per serving: 108 calories, 10.5g fat, 66g CHO, 13.5g fiber, 16.2g protein