I double dog dare you not to like these! Whenever I give presentations on 'super foods,' I bring these snackers along and everyone leaves a huge fan. No surprise here, I like mine a little spicy but feel free to add whatever seasonings you have on hand. (Curry powder is also excellent). I understand if your skeptical about trying these (hot, crispy lettuce!?) but trust me on this one. What's the Pringles jingle? Once you pop, you can't stop?
Crispy Kale Chips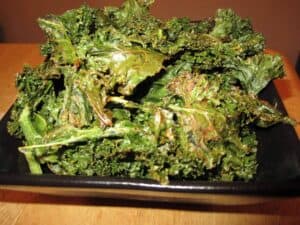 1 bunch kale (about 1 lb)
2 tsp. oil
1/2 tsp. cayenne pepper or chili powder (if you like it spicy!)
1/4 tsp. salt
1/4 tsp. black pepper
2 tbsp. nutritional yeast (optional, but nice cheesy flavor)
Preheat oven to 300 F. Wash and thoroughly dry kale, remove the large center ribs and stems; tear into bite size pieces. In a large bowl add the oil, cayenne pepper, nutritional yeast, pepper and salt. (Be careful about adding too much salt- a tiny amount goes a long way with these. You can always salt more after their cooked.) Using your hands or tongs, toss the kale with the dressing making sure each piece is coated.
Spray a large baking sheet with cooking spray.  Place the kale onto the baking sheet, being sure not to crowd it. If it is piled up upon each other, the bottom pieces will turn out soggy.
MY LATEST VIDEOS
Bake for 10-15 minutes checking often. The cooking time is really important on these chips. If you don't cook them for long enough, they will be wet pieces of kale. If you cook them too long they will burn. I start checking after 10 minutes and pull the crispy ones out as they are done. For really large pieces, you may need to go longer.
1/8 recipe: 48 calories., 1.7g fat., 7 g CHO., 3g protein
That's it! If you can eat just one, please let me know your secret. Confession time… I usually end up eating a quarter batch as they are coming out of the oven.