Lentil flatbread sandwiches! Homemade flatbread with crispy lentil fritters, crunchy cabbage, and a healthy lemon-parsley sauce.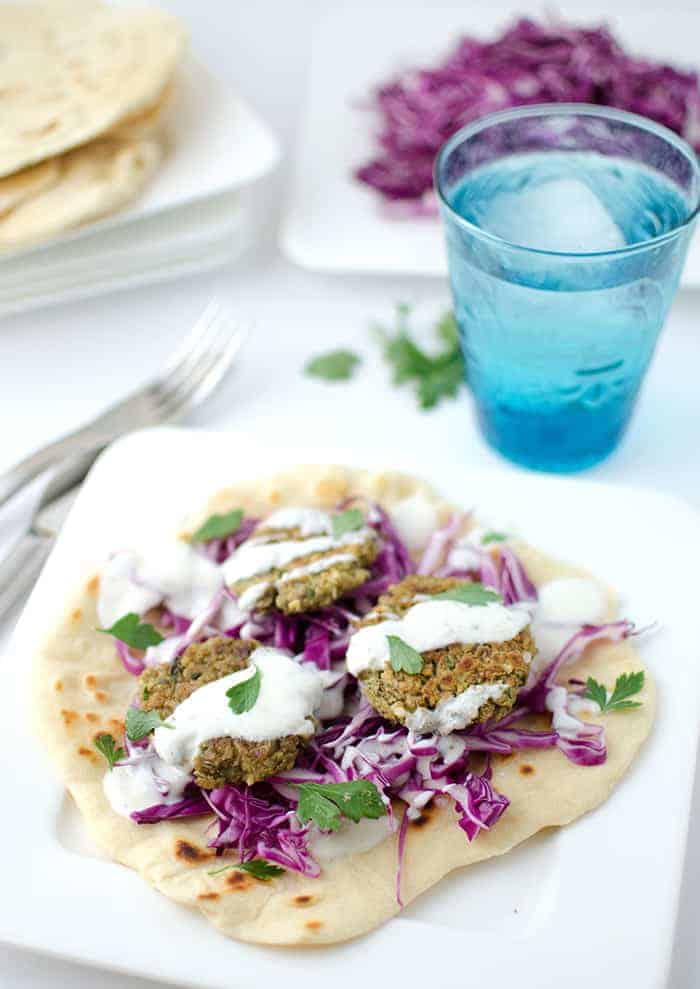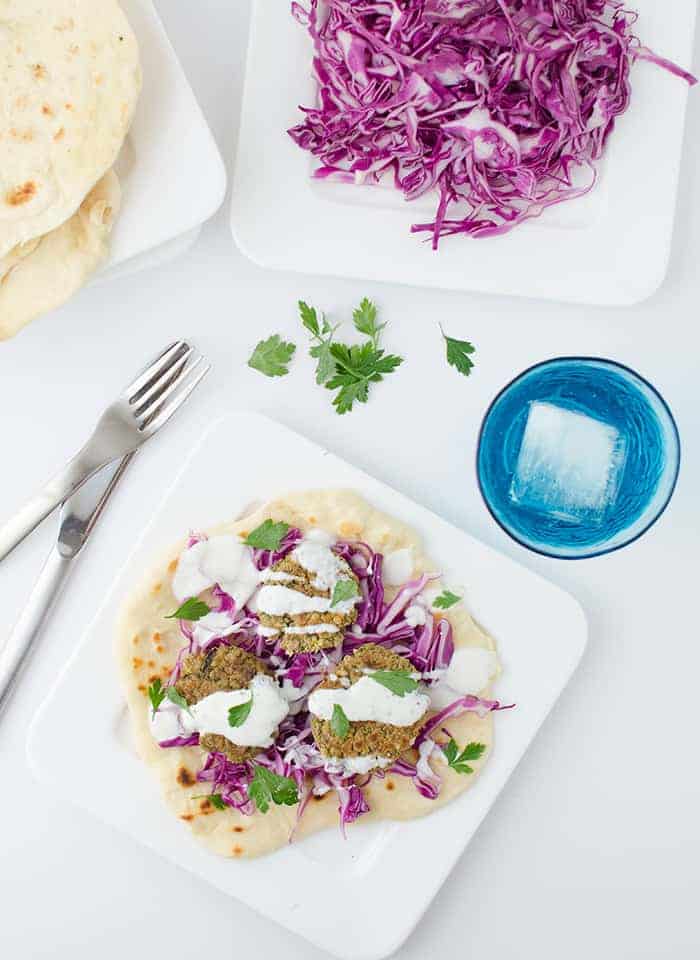 I like to think of lentils as a wonderfood. Whenever I feel like my diet isn't up to par, I add in more lentils. Full of protein, fiber, and healthy carbohydrates, lentils are my secret weapon. The fact that they are only $1 a bag is just icing on the cake.
It's quite surprising then, that I haven't yet made lentils into patties. Or mini patties, like these. Crispy lentil fritters are my new favorite way to power up my diet. Like my favorite bean patty, the falafel, these babies are packed with parsley, cilantro, cumin and coriander. While they are fantastic on their own and would make a great appetizer, piling them onto homemade flatbreads is my preferred method of eating.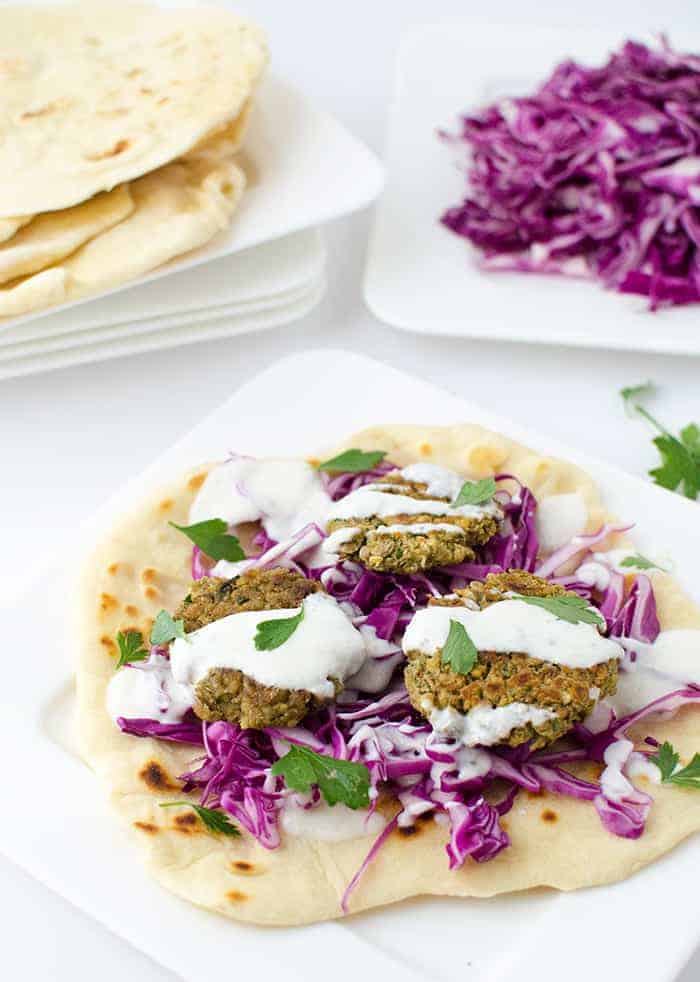 What is it about store bought flatbreads? I haven't found one variety that is actually… good. Pillowy-soft, chewy flatbread has to be made fresh. Frozen naan or lavash bread might work in a pinch, but really, homemade flatbread is easier to make than it sounds. These are yeast-free so you don't have to take any time to proof the dough. Just combine, roll into balls, flatten and fry. If you cook the flatbreads while you are lightly frying the fritters, this lentil sandwich comes together in just 30 minutes.
I made a batch this past weekend and had to physically remove myself from the kitchen so I didn't eat ALL the flatbreads. Saved a few for the photos! And saved a few for BL. Otherwise, they were all mine.
These taste best right out of the pan, but you can heat them up in a microwave or oven for a few moments until they are soft and foldable. The leftover flatbreads are amazing for dipping into homemade hummus or spreading with a little bit of coconut oil.

Lentil Flatbread Sandwiches
Lentil flatbread sandwiches! Homemade flatbreads with lentil fritters, cabbage, and healthy yogurt sauce. Vegetarian with vegan option
Ingredients
1 cup dry brown or green lentils
½ medium sweet onion, finely chopped
3 cloves garlic, minced
½ cup cilantro, finely chopped
½ cup parsley, finely chopped
1 tsp. cumin
¾ tsp. coriander
¼ tsp. cayenne pepper
salt/pepper (I used about 1 tsp.)
1 cup bread crumbs
1 tbsp. olive oil
1 head red cabbage, thinly sliced
½ cup yogurt, regular or use plain coconut yogurt for dairy-free. Can also try homemade cashew yogurt
1 lemon, juiced
1 tsp. cumin
1 clove grated garlic (I do this on my microplane)
¼ cup finely chopped parsley
Homemade flatbread recipe on Keepin It Kind
Instructions
Bring lentils and 4 cups water to a boil. Reduce heat to low, cover and cook for 30 minutes until soft.
While the lentils are cooking, saute the chopped onion in a little bit of oil until soft, about 5 minutes. Add the minced garlic cloves and quickly stir to combine. Remove from heat.
Rinse lentils and drain.
Add 1 cup lentils to the food processor and puree.
Add the onion mixture, cilantro, parsley, coriander cumin, cayenne pepper, salt/pepper and pulse to combine.
Add the remaining lentils and pulse until just combined.
Place the mixture into a mixing bowl and stir in breadcrumbs.
Heat 1 tbsp. olive oil in a large non-stick skillet. Form the patties into 1 inch patties. Cook on each side 3-4 minutes until crispy.
In a small bowl, combine the yogurt, lemon juice, grated garlic cumin, and ⅛ cup parsley. Season to taste with salt and pepper.
Assemble the sandwich! Layer the thinly sliced cabbage, fritters and drizzle with yogurt sauce. Garnish with remaining parsley.