Lentil Hand Pies with Walnut Pesto! Lentil salad stuffed into homemade pie crust.
Perfect for picnics, potlucks or lunches!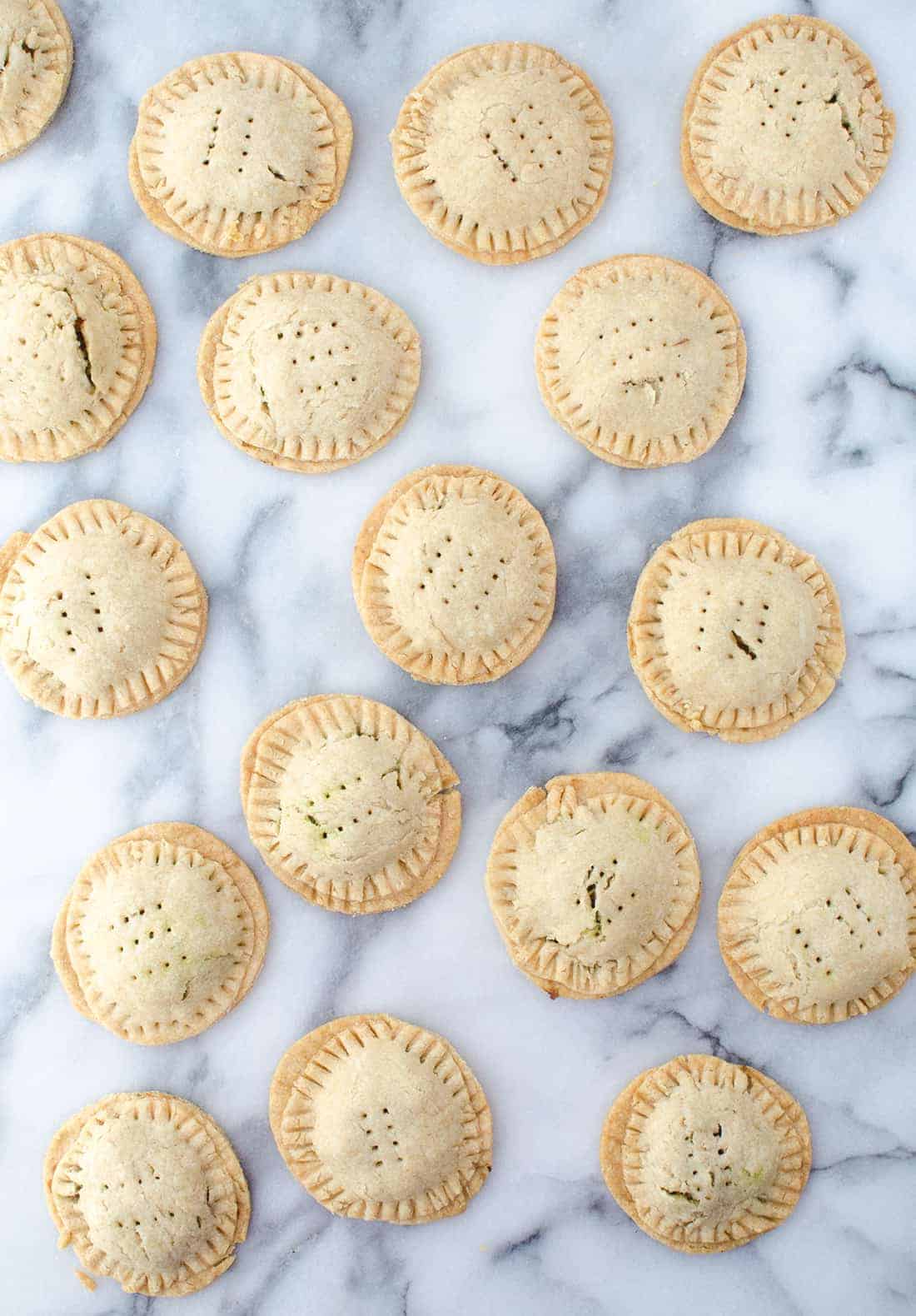 These pies were made for picnicking. Which, even though I can't remember the last picnic I went on, had me dreaming of lazy afternoons in a park, wearing an oversized sun hat and dining on fresh squeezed lemonade and hand pies, both tucked into my checkered picnic basket.
Even though I was making these in our small city condo kitchen, I caught myself in daydreams of preparing hand pies for my family just before we headed outside to relax in the sun and enjoy fresh-baked treats.
Rolling handmade dough does that to me. Also, I really want to be Ina Garten.
There is something so perfectly quaint about mini, hand-held food. I make some variation of lentil salad almost weekly. I'm a huge lentil enthusiast and since it's BL's favorite source of protein, I am constantly thinking of new recipes. Sure, lentil + pesto salad is delicious on its own but stuffed into a homemade olive oil crust? Now we're talking. 
French countryside day dreams aside, these mini hand pies are surprisingly simple to assemble and perfect for taking to potlucks, cookouts, and of course picnics throughout the summer.

I'm using my trusty olive oil crust for this one because it never, ever fails me. While I could cook every hour of my life and not get tired of it, I don't feel the same way about baking. Measuring scares me. I can't use my intuition in the same way, and I rarely have the patience to wait for things to set or rise. 
Olive oil crust is none of that. Mix together, chill for 30 minutes and roll. Even novice bakers like myself can handle a crust like this, which is exactly the effect I was going for. I don't want you struggling with rolling and cutting, I want you daydreaming of where you will be bringing these hand pies and whom you will be sharing them with.
Because miniature hand pies were definitely meant for sharing.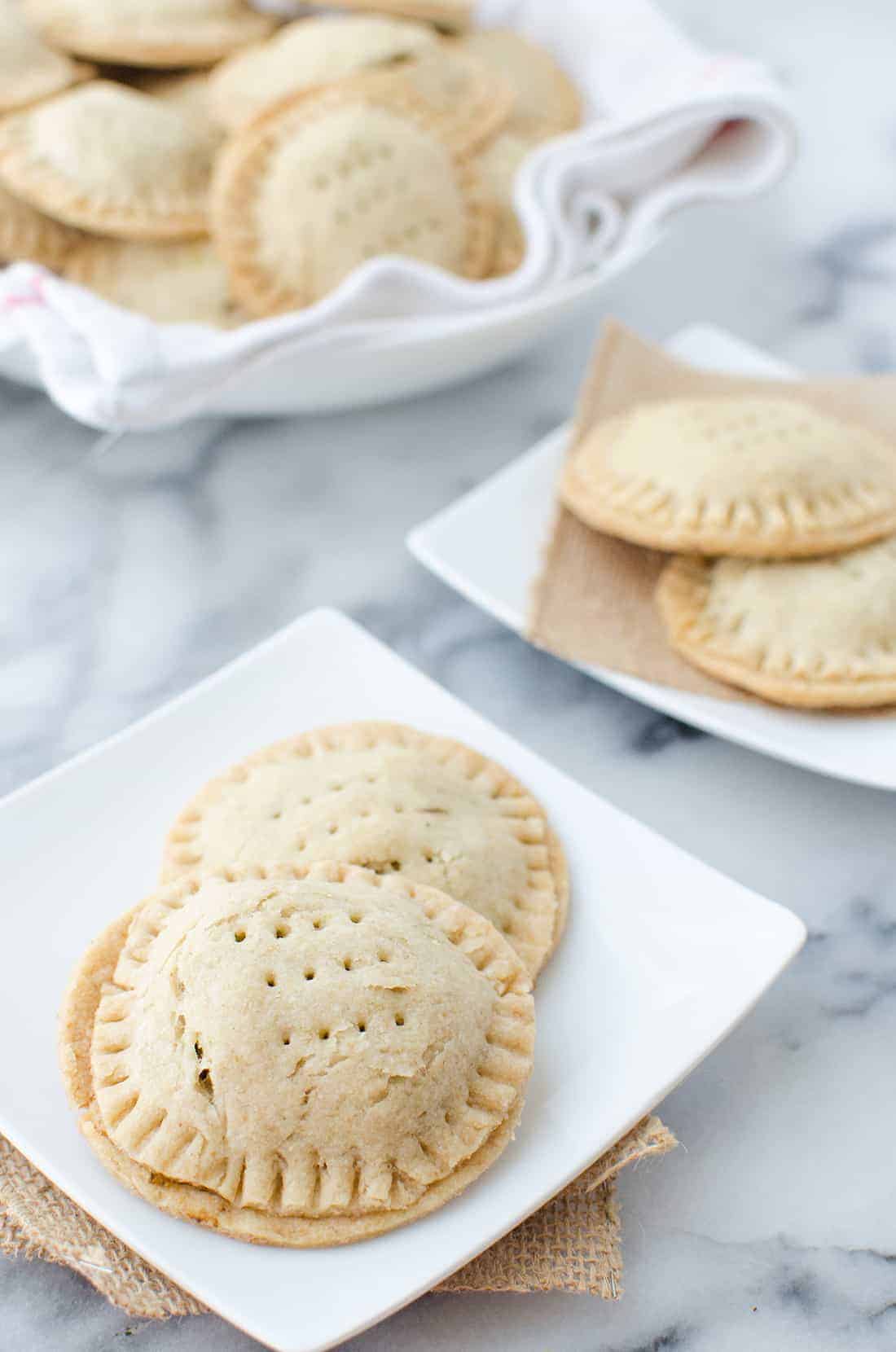 To keep things light & moist (< —- the only acceptable use of the word: when discussing food), I created a 4 ingredient basil pesto to toss with the cooked lentils. This walnut-basil pesto is incredibly easy to whip together, something I find myself doing whenever I need a bit more flavor: to dollop on grilled tofu slices, pasta, or on sandwiches. 
In less than 2 minutes you get a thick, herb pesto that melts ever so slightly in the oven. That means when you bite into these hand pies, you're rewarded with a creamy lentil filling. And all is right in the world.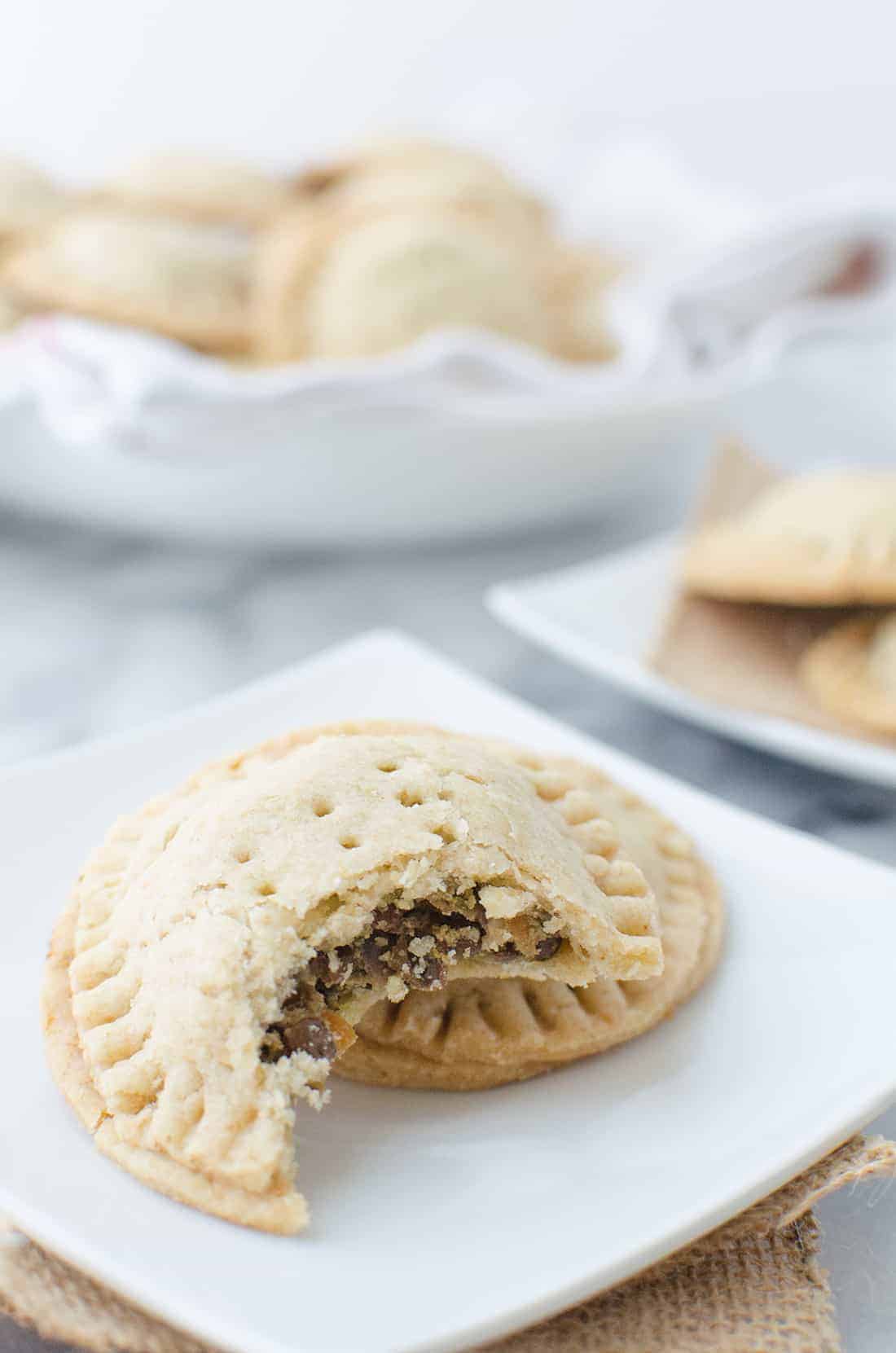 For this recipe, I teamed up with the USA Dry Pea and Lentil Council to create a recipe highlighting one of my favorite foods- the lentil.
Lentils are quite the superstar. Each 1/2 cup serving provides 9g of protein and 6g of fiber; that's almost twice as much protein as quinoa and a lot less expensive. I can find bags of brown lentils for less than $1.  Besides fiber and protein, lentils are a surprising source of antioxidants! I know that antioxidants tend to be associated with fancier foods like acai and turmeric, but the antioxidant content of lentils is twice that of blueberries, and three times that of pomegranate juice.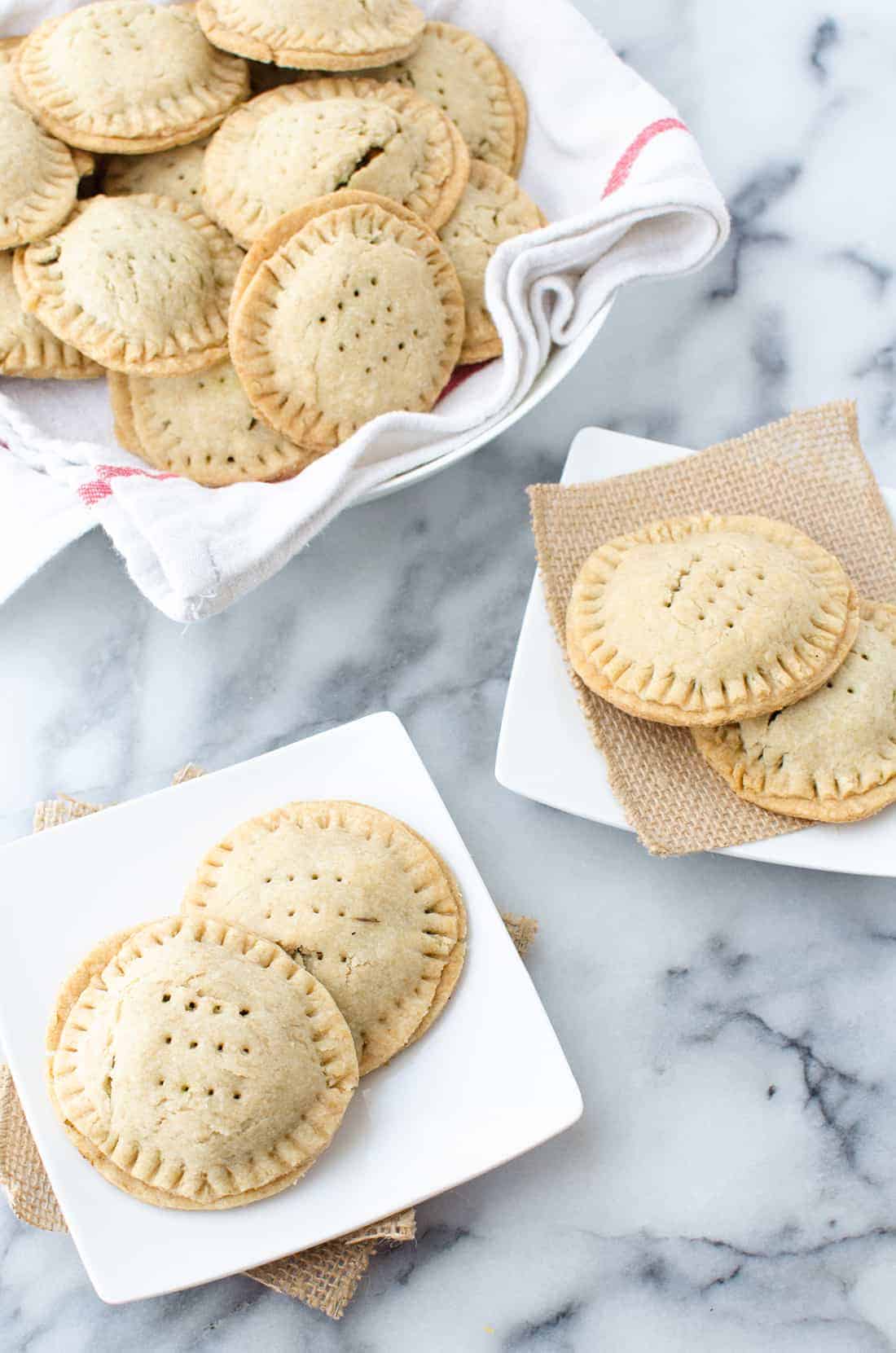 Thankfully, word is spreading about theses inexpensive nutrient powerhouses – so much so that the UN picked 2016 to be the International Year of Pulses! Pulses (lentils and peas) were selected because of their significant health, economic and environmental benefits.
To gear up for 2016, each country was charged by the UN to submit one pulse recipe to represent their country. With your help, these hand pies could be selected as the National Signature Pulse Recipe for the U.S.! I would love it if you would head over to the USADPLC Facebook page, and vote for mine by "liking" this photo.
If I win, I will fly you to France where we can picnic together be really, really appreciative! xo
If you try this recipe, let me know! Leave a comment, rate it, and tag your Instagram photos with #delishknowledge . I absolutely love seeing your creations. Happy cooking! 
Print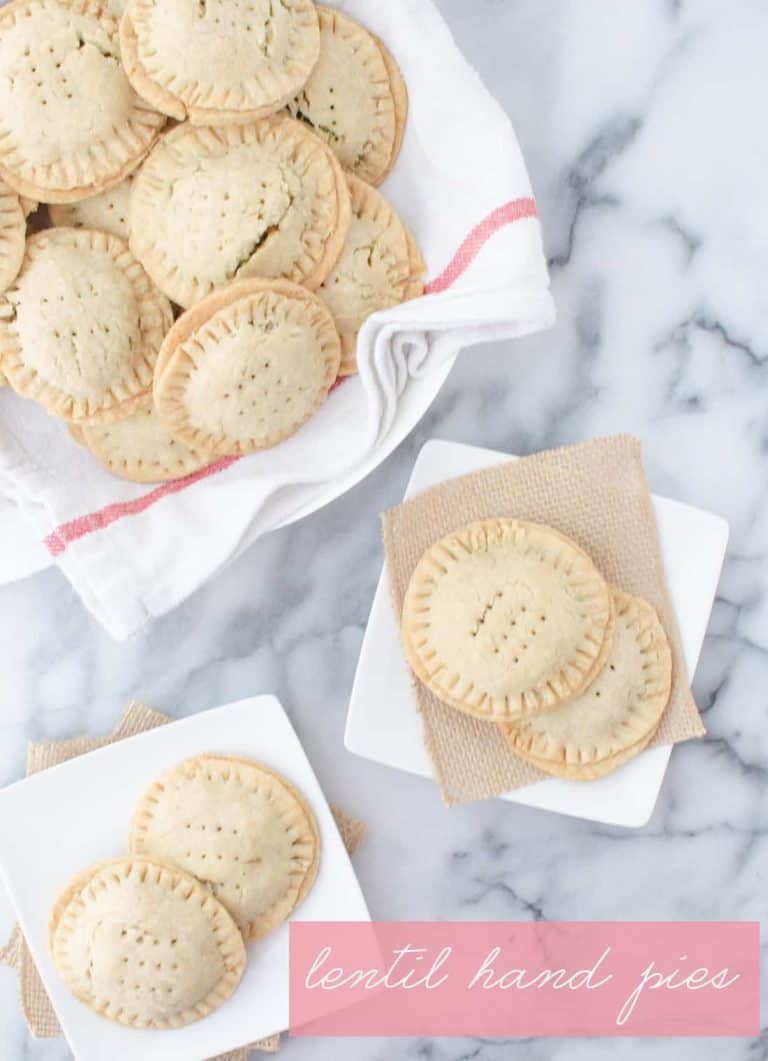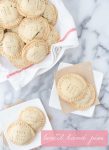 Lentil Hand Pies with Walnut Pesto
Author:

Prep Time:

30 minutes

Cook Time:

30 minutes

Total Time:

60 minutes

Yield:

20

pies

1

x
---
Description
Lentil Hand Pies with Walnut Pesto! Lentil salad stuffed into homemade pie crust.
Perfect for picnics, potlucks or lunches! 
---
Scale
Ingredients
1/4 cup

green lentils (can sub brown or black if you can't find green)

1

bay leaf

1

garlic clove, smashed

3 tbsp

. olive oil , reserved

1

carrot, finely chopped

1/4 cup

red onion, finely chopped

3/4 cup

packed basil leaves

1/8 cup

walnuts

1/2

garlic clove, minced
salt/pepper to taste
Olive Oil Pie Crust:

3/4 cup

whole wheat pastry flour

1 1/2 cup

s all-purpose flour

1 tsp

. salt

2/3 cup

olive oil

1/3 cup

unsweetened almond milk (or other type milk)
---
Instructions
Place lentils, bay leaf and smashed garlic clove in a sauce pan and cover with 4 cups water. Bring to a boil, reduce heat to medium low and simmer for 15-20 minutes until soft. Drain, remove garlic clove and bay leaf.
Heat 1 tsp. olive oil in a non-stick pan over medium heat. Add the onion and carrot along with a pinch of salt and pepper. Cook, until onions are translucent and carrots are tender, about 5 minutes.
Remove and combine with lentils, set aside.
Make the walnut pesto: Place the basil leaves, walnuts and garlic clove in a food processor and pulse until well combined. Slowly drizzle in remaining olive oil until combined. Toss with lentil mixture. Set aside.
Make the pie crust:
In a large bowl or stand mixer combine oil with flour and salt. Drizzle with milk and stir until crust forms.
Turn out dough onto a lightly floured surface and knead until smooth, 30 seconds-1 minute.
To make dough easier to roll, wrap in plastic wrap and place in the fridge for at least 15 minutes.
Use a rolling pin and roll dough out until thin, about 1/4″ thick.
Use a 4″ round cookie cutter to cut out circles.
Add 1 heaping tbsp. of filling to the dough circle. Place another circle on top and press to seal with a fork. Pierce the top of the pies 2-3 times with a fork.
Continue with the rest of the pies and place on a non-stick baking sheet or a pan lined with parchment paper.
Bake for 25-30 minutes at 350 degrees F. Remove and let cool slightly. Serve warm or at room temperature.
---
This post is sponsored by USA Dry Pea and Lentil Council however all opinions are my own. Thanks for supporting partners that make DK possible.