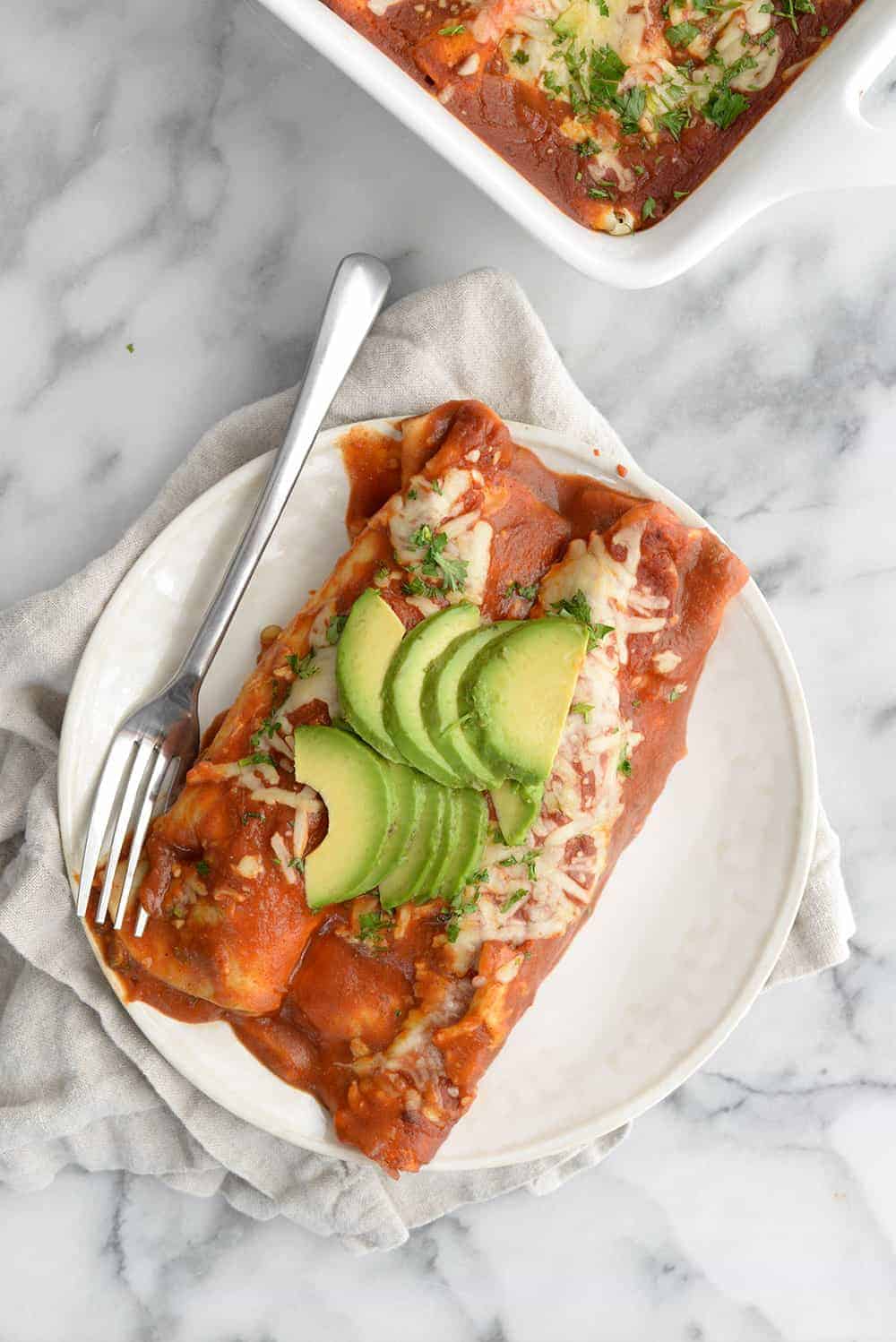 Let's talk about meal planning. I'll be honest, some weeks I'm a rockstar at meal planning and other weeks we're eating cereal and cheese and crackers again for dinner. But, on the weeks I set aside some time to make it happen, I'm always glad I did. It's kinda like exercise; I don't always want to go on a run, but I'm always happy I did once it's over.
Last week, I did it! I meal planned and it was glorious. Really hoping that this nesting thing kicks in soon and I can report that I've been sticking with it ever since. Either way, I decided to share with you my process, favorite recipes and take-away tips.
Our Menu:
Sunday night: Oven-Roasted Fajitas
Monday Lunches: Grain bowls (farro, roasted vegetables, baked tofu and my harissa-tahini dressing)
MY LATEST VIDEOS
Monday night: Tempeh Taco Bowls (brown rice, seasoned tempeh, fajita peppers, salsa and avocado)
Tuesday Lunches: Taco salad (lettuce, leftover tempeh, peppers, avocado and rice/farro)
Tuesday night: BLT sandwiches with roasted potatoes and green beans
Wednesday Lunch: Vegetable Wraps with hummus, tahini dressing & leftover roasted vegetables
Wednesday: Cobb Salad (leftover veggie bacon, avocado, lettuce, tomatoes, my ranch dressing)
Thursday Lunch: Grain bowls (remaining ingredients for grain bowls: farro/rice, tempeh or bacon, roasted vegetables and tahini dressing)
Thursday:  Lentil Tacos
Friday: Lentil Taco Salad (leftover lentils, lettuce, tomatoes, cucumber, salsa and ranch dressing)
Figure out your favorite meals:
Whether I'm meal planning for 5 nights or 1, I like to start here. What are we in the mood for? I try and balance out easy nights with hard; repurposing leftovers if I can.
Thankfully, this baby loves Mexican as much as I do so I knew I was going to do something with tacos, burritos or both. Since BL loves this type of food as well, I knew I could get away with planning a few meals around this theme.
Once you figure out what meals you want to see, start planning leftovers. I abide by the cook once, eat a million times philosophy though I like them repurposed in some way. I can't have the same meal day after day. So, I might enjoy fajitas for dinner one night, with a fajita salad the next day. It's still using similar ingredients, but different enough that I don't feel like I'm having "leftovers."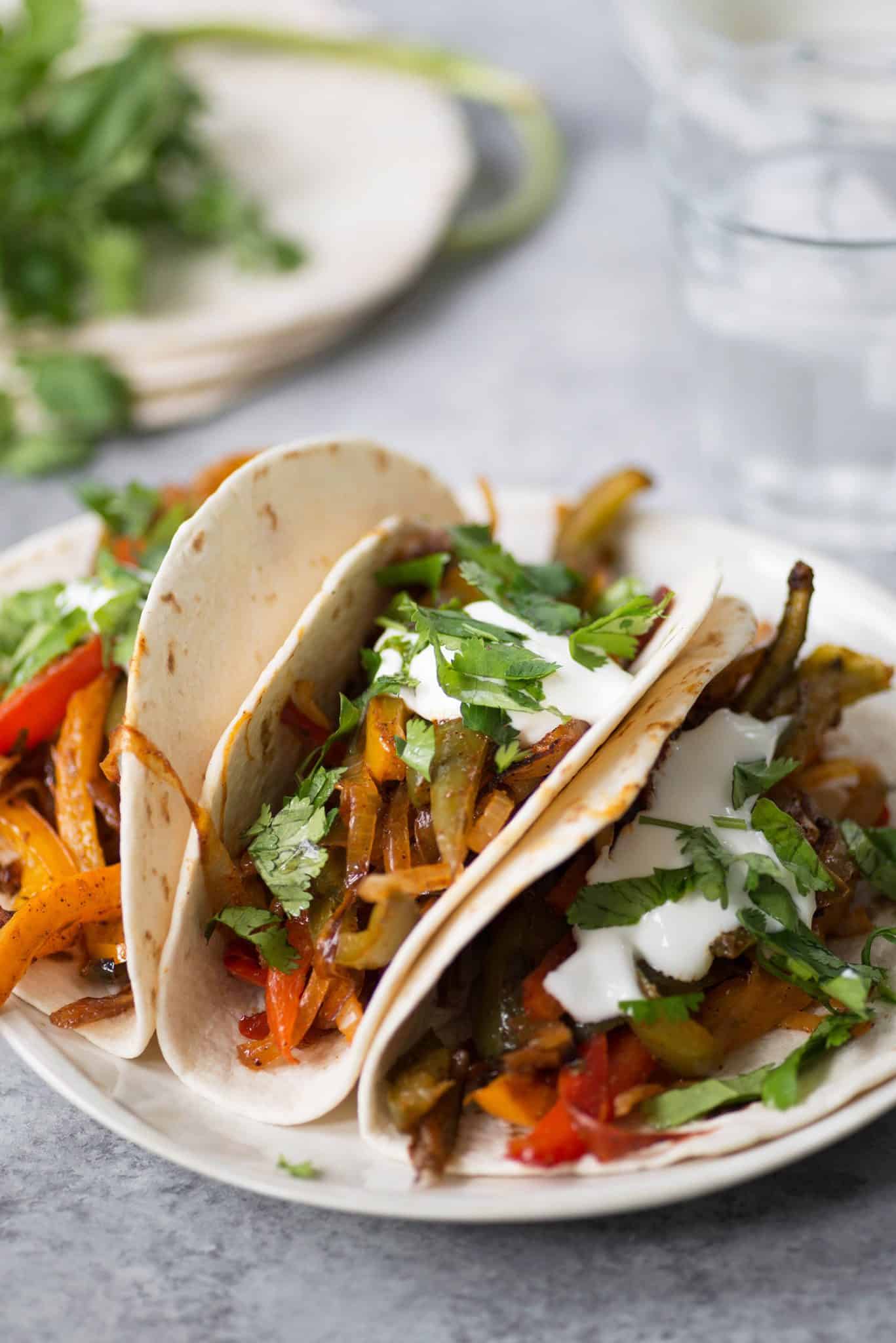 Set aside some time for marathon cooking
Sunday afternoon/evening is usually the easiest time for me to prep throughout the day. Honestly, if I miss this step then meal planning usually doesn't get done the way I'd like. Once Monday and the craziness of the workweek roll around, it's harder for me to find some time to batch cook.
I love being in the kitchen, but I know that's not true for everyone. So, make it fun. I save up some of my favorite podcasts to listen to while I'm cooking. It's a nice break where I can catch up on my favorite shows while still being productive.
Last week, I prepped a pan of roasted peppers in fajita seasoning plus an additional batch of roasted vegetables for grain bowls. Really, anything goes here. I like the combination of broccoli and brussels sprouts best, but do what you like. I also prepped baked tofu and a batch of farro to mix and match in salads and bowls for lunches. Finally, I made a match of my harissa-tahini dressing to use in those same meals. Since that dressing pairs well with just about everything savory, it's the gift that keeps on giving. Once again though, any dressing or sauce will work as long as you and your family likes it.
Keep Snacks Healthy & Simple
Since I've already spent plenty of time prepping both dinners and lunches, I like to keep breakfast and snacks simple. This means that I stock up on our favorites: avocados for toast, fresh fruit, yogurt and trail mix.
Convenience is OK
You'd think that for someone who spends most of the day in the kitchen for my job, I'd be able to whip up dinner in a moments notice. The reality is that by the time BL comes home, I'm done. Ready to leave my "office" and spend some QT in any room but. Therefore, I rely on a lot of quick convenience items to round out our weeknight dinners.
For the tempeh taco bowls, I used microwave packets of brown rice. Yes, I know it doesn't take much effort to pull out the rice cooker instead, but I love how simple it is to throw a pack in the microwave and be done. Same with vegetables. Our supermarket sells fresh vegetables in microwavable bags that I've come to rely on more and more. It's a small shortcut but it makes a big difference.
Stock the basics
Things I always have on hand: hummus, bread, pasta, packs of tofu/tempeh, canned beans and a ton of condiments. Even with those handful of ingredients, I can mix and match plenty of meals.
For lunch on Wednesday, I spread hummus on a wrap, topped with the remaining roasted vegetables and called it good. Those kinds of simple meals are my favorite and are easily mix and matched by whatever I've prepped during the week.
That means that by Friday, I'm either playing clean-out-the-fridge games or coming up with something new. Tacos, eggs, soups, pasta and sandwiches are my go-to ideas when I need to use up a few ingredients. As long as the ingredients taste good together, you can place them in the above food categories with relative success. We had lentil tacos on Friday since I already had all of the ingredients from earlier in the week: tortillas, lettuce, tomatoes and avocados. Just add seasoned lentils and done.
I know meal-planning can seem overwhelming at times (trust me, I'm there with you), but once you get in the habit of doing it, it's really not so bad. Planning meals ahead of time not only ensures that you get in the nutrients you need, it's also a great way to save money and become more efficient in the kitchen.
Tell me your tips! What works for you?