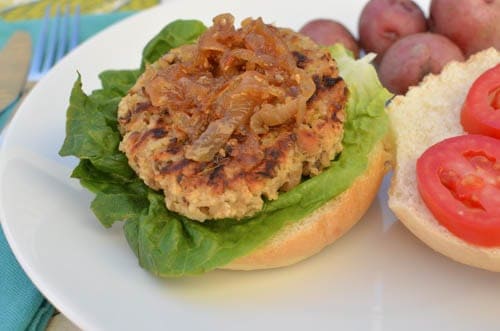 There are some thing that the Veg community tries to keep secret.
Well, I'm about to let the cat out of the bag: most vegan burgers suck.
It's true.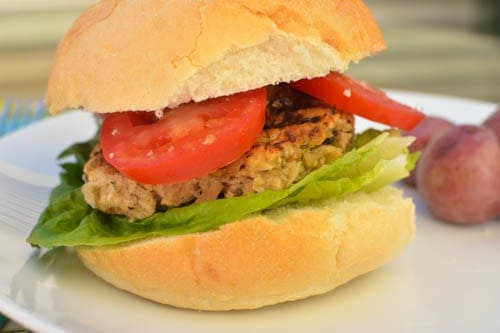 I know, because I've tried about 10,000 of them. While most are OK and can pass for a decent patty filled with vegetables and beans, none are convincing anyone to give up their favorite hamburger.
MY LATEST VIDEOS
At least not in my experience. It's funny, before giving it up, I was never a big meat person. Chicken was whatever, I never liked pork, and fish was delicious but rare. Beef though, yum, I used to love steaks and burgers.
I went back and forth between being vegetarian and not for a few years before I finally gave it up for good… it was always the burgers that pulled me back. And so my quest was born- a delicious, meaty vegan burger that rivals any un-kind one.
While this isn't going to fool anyone into thinking it's beef, it's pretty damn good. Hearty, full of savory, umami flavors thanks to the addition of roasted eggplant, mushrooms, and caramelized onions. Yes, this will take a bit longer to make than your usual black bean patties but they are worth it. Just make a bunch and freeze.
You'll then be ready for cookouts all summer long.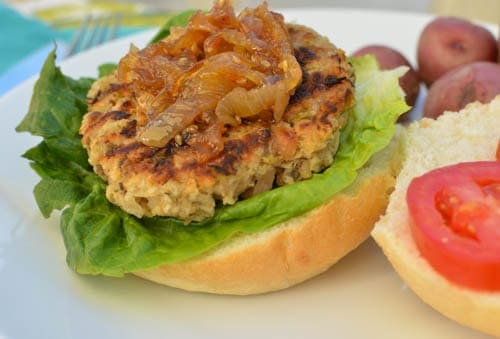 Print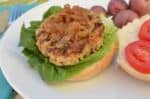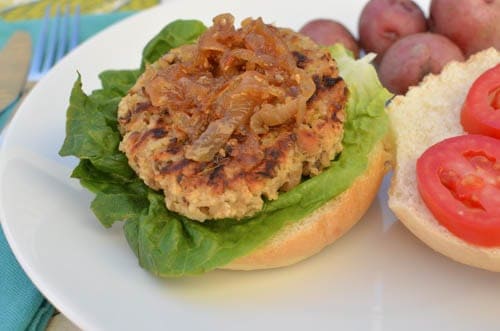 ---
Description
A meaty vegan burger that's pretty damn good. Full of savory, umami flavors thanks to the addition of roasted eggplant, mushrooms, and caramelized onions.
---
Scale
Ingredients
1

lb. button mushrooms, halved

1/4 cup

olive oil, divided

1 tsp

. dried oregano

1 tbsp

. cumin

1 tsp

. chili powder

1

small japanese eggplant, chopped into

2

" pieces.

1

onion, chopped

1/2 cup

chopped celery

2

cloves garlic, minced

3/4 cup

arborio rice

3 cup

s vegetable broth

1

can white beans, drained and rinsed

1/4 cup

all-purpose flour

2 tsp

. baking powder

1 tbsp

. nutritional yeast

1 cup

toasted cashews

1 tsp

. soy sauce

1 1/2 cup

s panko bread crumbs
---
Instructions
Preheat oven to 350°F. In a large bowl, toss the mushrooms and eggplant with 1/4 cup oil, oregano, chili powder, cumin, and pinch salt and pepper.
Wrap the mushrooms and eggplant in foil and place on a baking sheet.
Bake for 45 minutes, until mushrooms are browned and eggplant softened. Remove from oven and let cool.
Heat 1 tbsp. olive oil in a large skillet over medium-high heat. Add onion, celery, and cook until softened. Add garlic and cook another minute. Remove from heat and set aside.
Bring 3 cups vegetable broth to a boil. Heat 1 tbsp. oil in a sauce pan over medium-high heat. Add the Arborio rice and stir until lightly toasted.
Add 1/2 cup of vegetable broth and stir until all liquid is absorbed. Continue to add liquid, 1/2 cup at a time until risotto is al-dente.
You may not need all the liquid. Let cool and place into a large bowl.
In a food processor, combine 1/2 cup white beans, flour, baking powder, soy sauce, nutritional yeast, and eggplant. Process until a paste forms.
Add mixture to bowl with risotto.
Add the remaining white beans to the food processor along with the cashews and mushrooms. Pulse into a mixture forms, finely chopped but still course in texture. Add to the risotto mix.
Lastly, add the cooled onion and celery mixture to the food processor and pulse 10 times.
Add to the risotto bowl and mix together until completely mixed.
Since you've done so much work- you can refrigerate the mixture for up to 5 days or freeze up to 3 months in a sealed air-tight bag.
Season to taste.
Add breadcrumbs and mix in with your hands. Once you add the breadcrumbs, start to form the patties. You don't want the breadcrumbs to become soggy.
Bring a skillet or grill to medium-high heat. Lightly spray and add the patties.
Flip burgers after 4-5 minutes, until bottom is lightly-browned. Cook another 4-5 minutes. Serve!
For an awesome treat, top with caramelized onions.