It's almost Mother's Day! Which means it's almost my birthday, almost our one-year anniversary of being engaged and almost our wedding!
But, um, back to Mom.
I am so excited for this year's mothers day, even if I'll be celebrating it a week later with my own mom. Growing up, Mother's Day was always spent the same way: church, us girls cooking brunch for mom, followed by strawberry picking at the local farm.
Maybe that's why I always equate mother's day with a lovely spring feast: filled with fruit scones, gorgeous salads, 'ladies-who-lunch' tarts and dessert.
MY LATEST VIDEOS
In honor, I've put together a list of my favorite Mother's Day brunch ideas, from breakfast, salads, hearty mains, beverages and of course- dessert. Enjoy!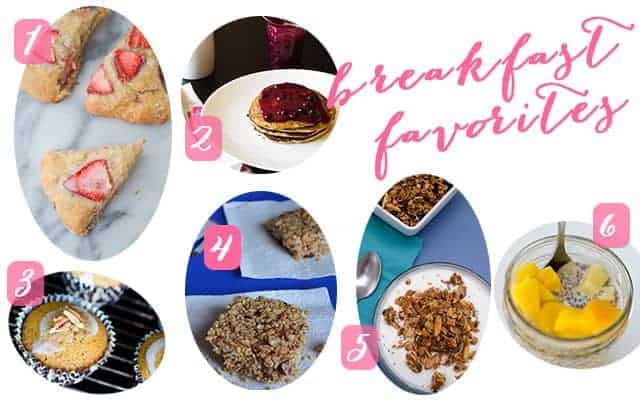 1. Strawberry Lemonade Scones. Make a batch to have when guests arrive, or package them with my DIY strawberry napkins for a thoughtful hostess gift.
2. Oatmeal Pancakes with Blueberry Glaze. Everyone loves pancakes! Make a bunch and serve with various fruit jellies or syrups.
3. Pumpkin Cranberry Muffins. Another nice option to serve in a basket or package for guests to take home.
4. Oat & Groat Bars. A hit with kids! These bars are packed with nutrients. Make as is or crumble for a hearty granola.
5. Lemon Poppyseed Granola. Serve a parfait bar! Different yogurts, granola, and lots of fresh fruit.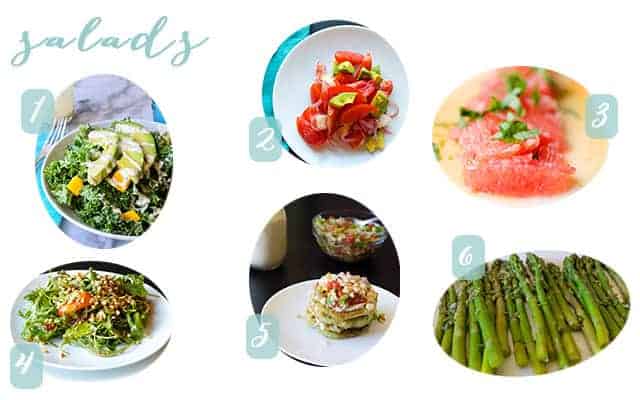 1. Kale & Mango Poppyseed Salad This salad is one of the most pinned recipes from April. The combination is incredible: crunchy kale, juicy mango, creamy avocado. If you haven't made it yet… do it!
2. Peach, Tomato & Avocado salad It's almost summer with this salad!
3. Grapefruit and Mint salad: the simplest salad. Section grapefruit membranes and set aside. Whisk together remaining juice and 2 tbsp. sugar. Bring to a boil, reduce heat to low and simmer until thick & syrupy. Let cool. Drizzle over grapefruit membranes and top with chopped mint.
4. Arugula & Grilled Plum salad A heartier option, perfect for a main-meal salad. Serve as is or top with cooked quinoa.
5. Fried green tomato stacks. Everything is always prettier stacked. Fried baked green tomatoes with corn relish and spicy sauce.
6. Lemon tarragon asparagus. The simplest of sides. Fresh asparagus topped with a quick lemon-tarragon sauce.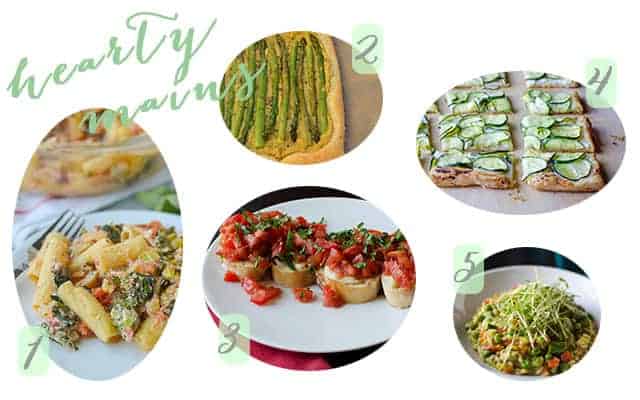 1. Baked rigatoni with broccoli. If you're serving a crowd, consider a make-ahead option like this baked rigatoni with broccoli and kale.
2. Asparagus tart. A show-stopper: flaky crust topped with garlic cream sauce and fresh asparagus
3. Perfect bruschetta. No really, the perfect bruschetta. I am asked to make this for almost every event we attend in the summer.
4. Zucchini tart. Another variation of a classic tart, using zucchini.
5. Spring risotto with pea coulis. A little more labor intensive but totally worth it for a small gathering. Fresh spring vegetables topped with a mint-pea coulis and fresh pea shoots.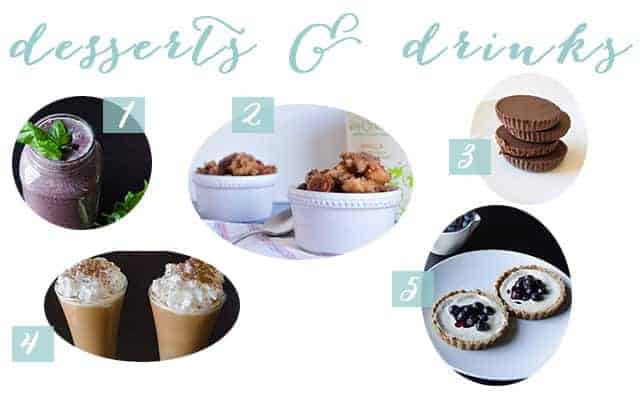 1. Blueberry and Basil Smoothie: refreshing, awesome.
2. Slow-cooker apple brown betty. A favorite recipe of mine, amazing on it's own or a la' mode. Make the night before and set-if, forget it.
3. Raw peanut butter & chocolate cups! Can be made ahead of time and enjoyed frozen or right out of the fridge.
4. The most refreshing beverage, Iced lattes with coconut whipped cream
5. For the kid in all of us, PB&J tarts.
What are your plans for Mother's Day?