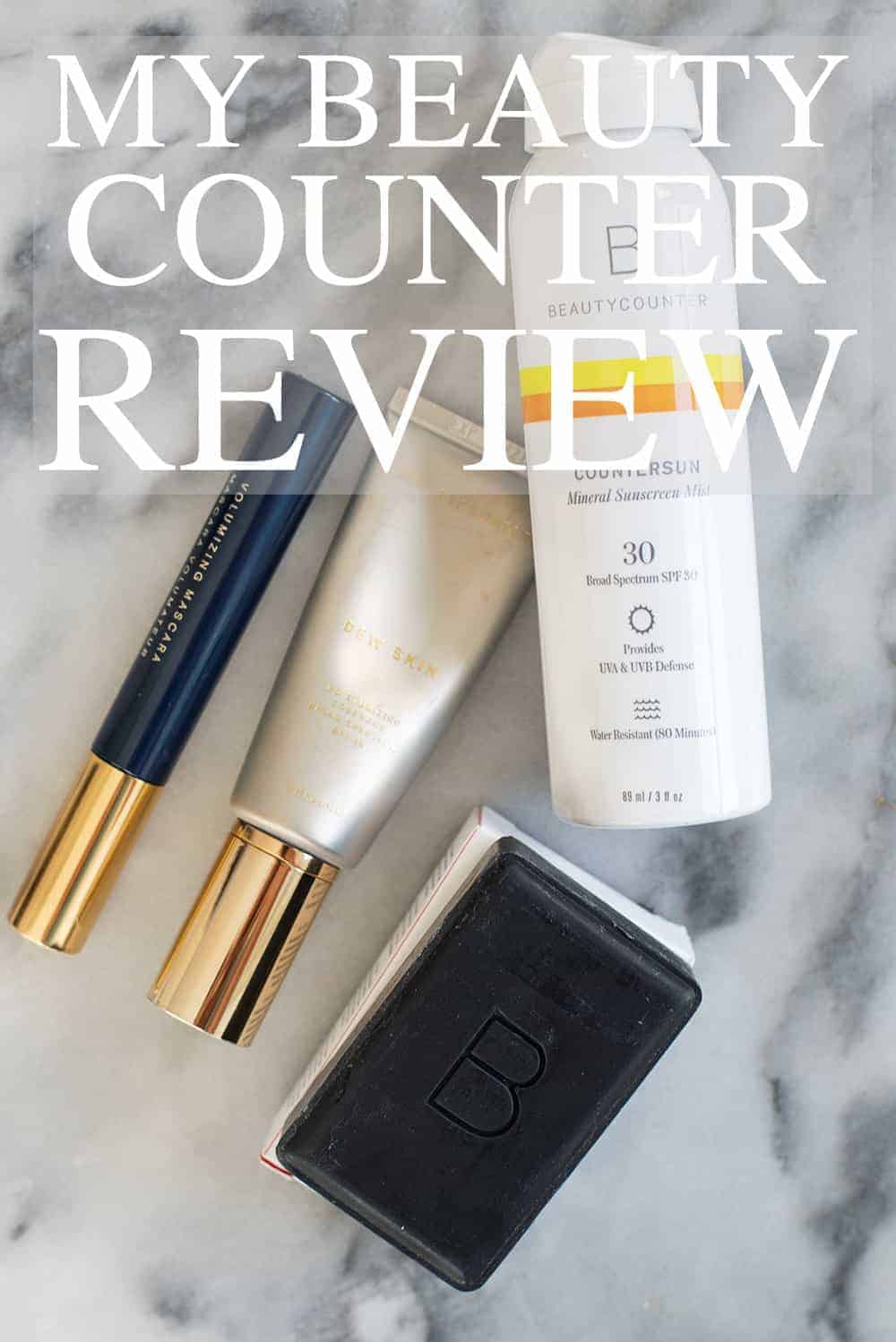 Maybe it's because I've been in a new mama baby-cocoon for the last year, but I only recently found out about Beauty Counter a few months ago. If you haven't heard of Beauty Counter before, it's a skin care and cosmetic company who's mission is to provide products without 1500 questionable ingredients.
As crunchy granola as I am about food and other issues, I was only marginally aware of skin care items. Perhaps it's because I rarely wear makeup, or still swear by Rodan & Fields lash boost (which will have to be pried from my cold, dead hands before I give it up.) Sure, I tried to avoid items like parabans, phthalates and fragrance and refuse to purchase any items that are tested on animals; but that was the extent about my non-toxic beauty knowledge.
Then, I had a baby and became more conscious about the items I was putting on his skin, my skin… because nothing makes you more anxious or paranoid than becoming a mom. So, I started researching baby skin companies and well, it looks like everyone is using Beauty Counter but me. Here's my unbiased review of the few products I've tried.
In full disclosure, this post is not a sales pitch. I am not a consultant and not here to sell you anything. This review is my honest thoughts on all of the items I've tried. However, the products do link to Melanie, my consultants page. I met Melanie through the internet and she's been a fantastic resource on all things Beauty Counter. Before I bought a thing, I spent almost an hour on the phone with her, picking her brain about the company and various products.
MY LATEST VIDEOS
Sunscreen: This was the #1 product I was interested in, and the entire reason I decided to give Beauty Counter a try. Why is natural sunscreen so hard to make? I've tried countless brands before; the Honest Company gave me a horrible sunburn and Badger takes 13 years to fully rub it in. This sunscreen is my favorite product from Beauty Counter and likely the product I will keep coming back to. I've used it countless times on myself, BL and Vander and we love it. It's not greasy, it doesn't have any weird smells and, the most important part of all, it kept us protected in the hot midwest sun. I like the lotion the best, but they also have a non-aerosal spray.
Charcoal Cleansing Bar: I asked you all on Instagram which BC products were your favorite, and most of you said this one. So naturally I decided to give it a try. It says it's designed for acne and oily-prone skin but I have neither and I still love this product. My skin felt SO clean afterwards. The only downside is that I can't travel with it, which brings me to…
Makeup Wipes: I know. Don't make-up wipes always seem a little extravagant? Every time I use them I think, 'am I really so lazy to not wash my face at the sink?' But the reality is that I'm exhausted and/or traveling and I love the convenience of wiping off my makeup in 0.10 seconds. I love that these are compostable, so I just throw them in my bin when I am done.
Dew Skin Tinted Moisturizer: Except for days that I've got an important meeting or am on TV, my makeup routine consists of tinted moisturizer and a few swipes of mascara. The older I get, the more comfortable I am with minimal makeup or being being completely makeup free. I remember when I used to wear heavy foundation, plus concealer, plus powder, plus bronzer, plus blush- yikes. Ironically, I feel more pretty the less that I wear. Anyways, I wanted to try out their tinted moisturizer to see how it staked up. I currently use Laura Mercier tinted moisturizer, which isn't exactly non-toxic but a pretty amazing product. I really like this dew skin however, my only complaint is that the pump to get it out gets stuck sometimes. I'm not sure if it's just the product that I received, but I've had to bang it a few times to get it going. Other than that, I think it's just as good as Laura's without all of the nasty chemicals. A BC win!
Volumizing Mascara: When I talked to Melanie about the various products I was interested in trying, my #2 complaint (after sunscreen) was mascara. I have naturally long lashes, so I like a product that darkens then to the tip without making me have spider-eyes; the only downside to long lashes and using mascara. I've probably tried 8 different mascaras that have cleaner ingredients, without being impressed with any of them. While this one was OK, it wasn't my favorite. I don't have any real complaints, it just didn't give me the 'wow' factor that I was looking for.
Lip Conditioner Calendula Balm: I got this product for BL, who loves a good chapstick. I'm pretty sure that of the last 15 chapsticks I've bought, 14 have been stolen by him and subsequently lost a short time afterwards. I cannot wait to use this product more in the winter; the combination of avocado oil, shea butter and jojoba oil make my lips feel so soft. It's pricier than most natural chapsticks, but I love that it keeps my lips soft for hours. BL also gives this one two thumbs up.
Countermatch Lotion: I got both the day and the night versions of this lotion; BC's version of regular moisturizer and an overnight cream. My typical complaint of natural moisturizers is that they leave my skin either too dry or sticky. Not this one! I love how hydrated my skin feels, so smooth.
Rosewater Mist: This was a "bonus" from Melanie; one of her favorite products that she wanted me to try. This definitely isn't a product that I would have normally chosen myself, but it's super refreshing. I've been using it like a toner, I put some on a cotton ball and wipe over my face after cleaning and before lotion.
OK- your turn! Tell me which Beauty Counter (or other natural skin care) products you love. Which ones should I try next?