I know, I know…. I've been a bad blogger. No excuses. While I love all of the side projects I have been working on, neglecting healthy recipes to you should not be happening! Forgive me?
And… if you happened to notice- how good does DK look? You can thank the uber-talented Mike Reda for my new layout. I couldn't be happier! I am also working on main pages to better navigate through my articles and recipes, those should be up by the weekend.
I would LOVE to hear what you think about the new site. Like it? Love it? Gotta have it? Let me know!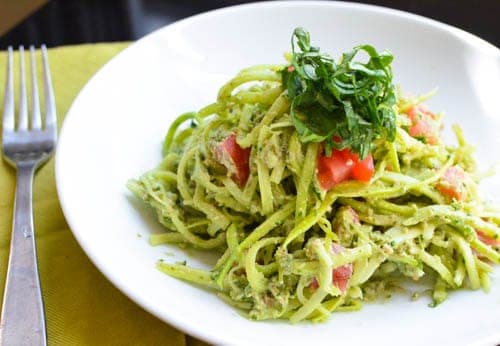 Now that it's Summer (yes, it's summer in Sacramento. When days are 75+, we have bypassed Spring), I have been craving more raw vegetables and salads. Of course, my thoughts never stray too far from pasta. How about some zucchini pasta then?
MY LATEST VIDEOS
If you've never used zucchini as a pasta then you are in for a treat! Don't fret over recipes and blogs that tell you you need a spiralizer to make the noodles. You don't! Trust me. While I never shy away from purchasing more kitchen equipment, I don't do one trick pony tools like a spiralizer.
A julianne peeler or mandoline will do just fine.
First, wash and lightly peel the zucchini. You can keep the skin on if you'd prefer. 
Gently run the julianne peeler over the zucchini until strings of noodles come off. Place into a large bowl and finish the rest of the zucchini.
Since zucchini holds a ton of water, I like to toss the noodles with a bit of lemon juice to prevent browning and let sit in a colendar over a bowl to let some of the excess water drain off.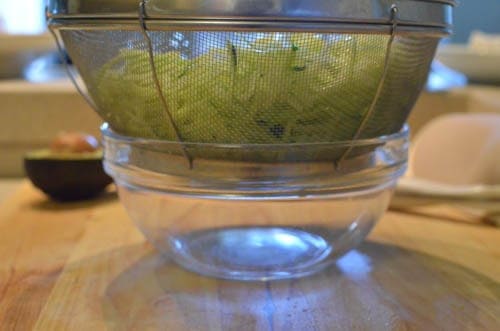 Toss with your favorite no-cook sauce. I enjoyed this with my lightened-up pesto, chopped tomatoes, and shreds of fresh basil.
To make ahead of time, and to store. Place zucchini in a colindar and place over a bowl. Cover and keep in the fridge 2-3 days.
What's your favorite no-cook meal?