Popping in to share some of my favorite products, foods and items over the last month.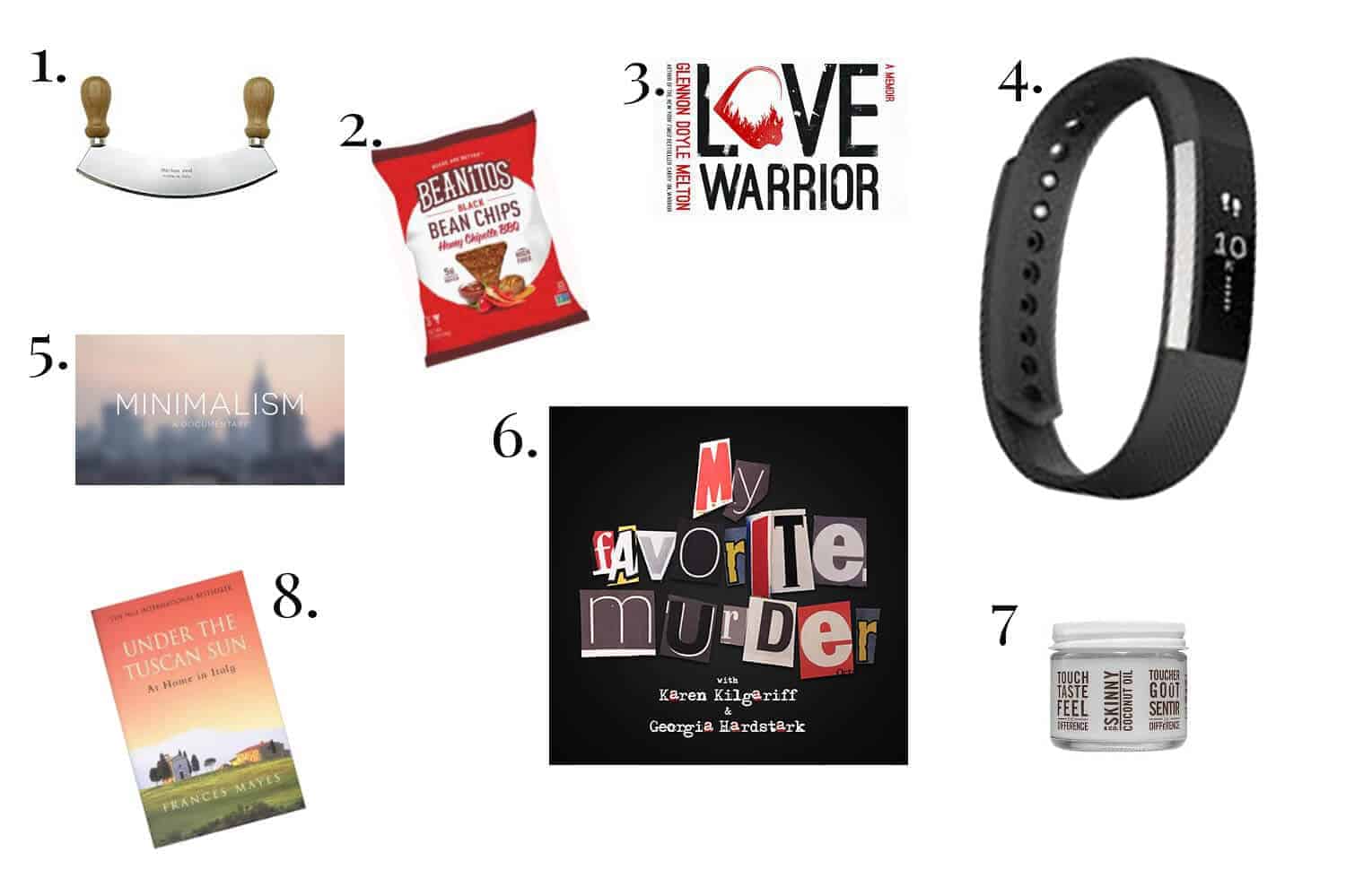 1.Mezzaluna: I thought I had all the kitchen gadgets one could ever need. Erm. Wrong. How did I not know that I needed a Mezzaluna:? I played with this curved knife at a cooking class in Italy and my goodness, it makes chopping a breeze. For times when you don't want to haul out the food processor, the mezzaluna is for you. Hold each end, then gently rock back and forth over the items for seamless chopping. Safer than a regular knife, it's also much faster. I purchased mine in Italy and plan on giving these as gifts to my foodie friends next month.
2. Beanitos: Chips from beans! What could be better? I'm always trying to sneak more fiber and protein into BL's diet and considering that kid lives and dies for chips and salsa, this may be the most genius way. Our favorite flavors are the White & Black Bean, Garden Fresh Salsa and Chipotle BBQ.
3. Love Warrior: I must have been living under a rock the past few years, as I wasn't familiar with Glennen Doyle Melton until a friend lent me this book for the plane ride. A few hours later, I was done, a sobbing mess of tears and laughter, anxiously awaiting the descent so that I could run into the nearest bookstore and grab her earlier memoir. I see so much of myself in her story and she tells it with such humility and grace, that you can't help but cheer for her happy ending. I just recently found out that she's a fellow Love Warrior, which makes me love her even more. If you loved Love Warrior or anything by Love Warrior– this book is for you.
MY LATEST VIDEOS
4. FitBit: Honestly, I held out on getting one of these for ages because it just felt unnecessary. As someone who went through a lot of pedometers back in the day, I viewed this as an upgraded version- but not for me. Then, I went to Italy. My mom had one and we tracked our steps each day, which turned into a fun and enjoyable challenge. We set a goal of 20,000 steps a day which is fairly easy when you are exploring a new city, adding up to over 80 miles in a little over a week. Whoa. I'm a convert. My new fitbit arrived yesterday and I can't wait to get started.
5. Minimalist Documentary. "The things you own end up owning you". I completely get the irony that I'm including this documentary along with a few new purchases, but this documentary (and podcast about the documentary) have me hooked. Ever since watching The True Cost a few months ago, I've become more aware about reducing needless purchases and trying to shift away the desire to accumulate more and more stuff. This film totally hits home and I can't say enough good things about it- a must watch.
6. My Favorite Murder. I love a good murder mystery—my favorite show is still Law & Order. This podcast, in which two friends discuss their favorite murders in a hilarious and captivating way. It's weird, kinda dark and super entertaining.
7. Coconut Oil. I've been on a kick for a while now to make sure that what I'm putting on my body is as pure/natural as what I put in it. After an eye-opening look into the toxic ingredients that are placed in most skin-care items, I've been exploring alternative, natural products. This coconut oil has been amazing for my skin and doesn't feel as greasy as other oils (like argan). Bonus points that it's sustainably sourced.
8. Under the Tuscan Sun. After I posted this photo on Instagram last week, I was reminded how amazing this book is. I read it years ago after seeing the movie and decided that it would be the perfect re-read for the plane ride home. Thankfully, it's easy to pick up an english version in most Italian bookstores. I can't get enough of this story and enjoyed living vicariously through her adventures again.
Favorite recipes from friends around the web:
Curry Roasted Acorn Squash
Roasted Beet Tart with Beet Green Pesto
General Tso's Brussels Sprouts
Vegan Pumpkin Pie Bites
Sweet Potato Peanut Soup