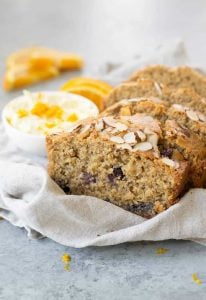 Orange Blueberry Breakfast Bread
You've gotta make this Orange Blueberry Breakfast Bread! It's so delicious, lightly sweetened and easily gluten-free. Served with orange mascarpone frosting. 
Ingredients
1 cup all-purpose baking flour (can substitute gluten free all-purpose flour 1:1, see notes)
½ cup almond flour
1 cup oatmeal flour, ground from rolled oats
1 teaspoon baking powder
¼ teaspoon baking soda
¼ teaspoon salt
¼ teaspoon nutmeg
¼ teaspoon ginger
1 teaspoon cinnamon
3 large eggs
½ cup canola oil 
¼ cup pure maple syrup
½ cup orange juice
1 ¼ teaspoon orange zest
1 teaspoon vanilla extract
1 ½ cups fresh blueberries
2-3 Tablespoons sliced almonds, for topping (optional) 
Mascarpone Spread

8 ounces mascarpone cheese (or cream cheese), softened 
1 tablespoon powdered sugar
½ teaspoon orange zest
2 tablespoon orange juice
¼ teaspoon vanilla extract
Instructions
Preheat oven to 350F.
Combine flours, baking powder, baking soda, salt, and dried spices. 
Mix eggs, oil, maple syrup, orange juice, zest, and vanilla extract in a separate bowl until well combined.
Add in egg mixture into the flour mixture and stir until just combined. 
Wash and dry blueberries, then roll berries in extra flour (to keep blueberries from sinking) and fold into batter.
Lightly spray a loaf pan, then pour the batter into the prepared pan and sprinkle almonds on top. 
Cook for 45-50 minutes, or until bread is lightly browned and a toothpick comes out clean.
Remove from oven and let cool for 5-10 minutes.
While the bread is cooking, prepare the spread: mix together the softened cheese,  powdered sugar, orange zest and juice and vanilla extract. 
Slice bread and serve with orange-cheese frosting. 
Notes
I tested this both with all-purpose flour and gluten-free flour (Cup for Cup) and I preferred the all-purpose version, though the gluten-free option works. I think the gluten-free option was more crumbly than the all-purpose version. 
Recipe by Delish Knowledge at https://www.delishknowledge.com/orange-blueberry-breakfast-bread/