Who says lentils are boring!? Not these! A twist on traditional lentil salad! French lentils cooked in orange juice then topped with oranges, shallots and creamy avocado.
It's true- sometimes I dream up recipes with avocados just so I can eat avocados.
It's much easier to convince myself that I've had dinner if the dish includes lentils, oranges and avocados rather than just sticking a spoon in an avocado and calling it a day.
So, this happened, and I'm really glad it did! We all knew that avocado + orange was the best combination ever, but throw in some cooked lentils and dinner is served.

After hosting a baby shower for one of my best friends this past Saturday, my kitchen was in major need of a spring cleaning.   So, I set out to thoroughly clean and re-organize both my pantry and fridge.
While I've never been accused of being overly clean, I love pulling out all the food, wiping down the counters, and re-arranging the shelves. Fire up some music in the background, and the whole process is like therapy.  
Mid-pantry purge, I realized that I have a habit of buying bulk-food baggies of just about every grain and dried bean imaginable. While this system works great when I am testing a new recipe or cooking for two, it also means my pantry has 30 plastic baggies filled with 1/2 cup here and there of buckwheat, millet, quinoa and dried navy beans (just to name a few…).
So, I did what I do best.  I cooked what I could and transferred the remaining ingredients to labeled mason jars.  This simple organization made the ingredients more visually appealing while also making it easier to find a specific dry food when I'm hangry and dinner needed to happen like 30 minutes ago.
And wouldn't you know I had three separate bags of lentils? I do this almost every time I grocery shop: Forget that I have an ingredient and come home to find two sitting in its place within the pantry. I swear this is how I ended up with 10 cans of garbanzo beans, 4 bottles of olive oil and of course- 3 separate half-used bags of lentils. So, lentil salad it is. 
I originally planned on making my favorite winter salad with the oranges and avocados that I bought earlier in the week, but after wanting to clean out the pantry, I decided lentils would be a welcomed addition.
This salad is the perfect way to transition from the colder months to spring. Hearty lentils with cool, refreshing avocados and juicy oranges- it's a flavor explosion bite after bite.
Of course, the beauty of simple salads like this is how easy they are to change based on the season and ingredients on hand. Craving something creamy? Throw in goat cheese or feta. Want a heartier salad? Double the dressing and add some brown rice and quinoa.
Jam packed with protein, fiber and healthy fats, this salad is both nutritious and incredibly satisfying.
If you try this recipe, let me know! Leave a comment, rate it, and tag your Instagram photos with #delishknowledge . I absolutely love seeing your creations. Happy cooking! 
Print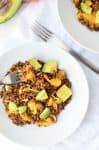 Orange Lentil Salad with Avocado
Author:

Category:

Side Dish, Lentils, Main, Entree, Dinner, Lunch
---
Scale
Ingredients
1 cup

green French lentils

1 cup

orange juice

3

oranges

2

shallots, thinly sliced

2 tsp

. olive oil divided

2 tsp

. dried mint

1/4 cup

chopped walnuts

1

large avocado, diced
---
Instructions
Place the lentils, orange juice and 1 1/2 cups water in a sauce pan. Bring to a boil, reduce heat to low and simmer for 25 minutes until tender.
While the lentils are cooking, prepare the oranges.
Using a sharp knife, remove all of the peel and the pith of the oranges. Going along the edge of the orange, slice between the membranes to release each orange wedge. Place the orange membranes in a bowl and squeeze any juice from the remaining orange sections. Set aside.
Heat 1 tsp. oil in a medium skillet. Add the shallots and cook until golden, caramelized and reduced. Season with a pinch of salt and pepper.
Drain lentils and place into a bowl. Let cool to room temperature and toss with orange segments, dried mint, remaining juice, 1 tsp. olive oil and pinch salt/pepper.
Add in the walnuts and avocado.
---