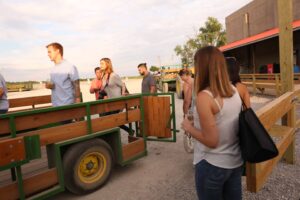 Peach Pie Bars
Yield 12 bars
Peach Pie Bars! The perfect way to enjoy ripe peaches. Vegan and easily gluten-free.
Ingredients
1 cup plus 3 tablespoons flour (can use a mix of whole-wheat)
1/2 cup rolled oats
1/3 cup cane sugar
1 teaspoon ground cinnamon, divided
7 tablespoons vegan butter (I love Earth Balance sticks)
2 tablespoons cold water
1/2 cup pecans, finely chopped
4 peaches, chopped
1 teaspoon pure lemon juice
1 teaspoon vanilla extract
1 tablespoon cornstarch
1/4 teaspoon ground nutmeg
3 tablespoons brown sugar
Instructions
Preheat the oven to 350 degrees F. Prepare a 8x8" baking dish with cooking spray or overlapping parchment paper for easy removal.
Whisk together 1 cup flour, rolled oats, cane sugar, 1/2 teaspoon ground cinnamon in the base of a food processor fitted with a dough blade or a large bowl.
Add in the butter, one tablespoon at a time, either pulsing the butter into the food processor or cut the butter into the dough using a dough cutter until crumbly.
Add in the water and pulse or stir until the dough comes together.
Remove 3/4 cup of the dough and set aside.
Press the rest of the dough into the prepared pan.
Stir together the chopped peaches, remaining 3 tablespoons flour, 1/2 teaspoon cinnamon, lemon juice, vanilla extract, cornstarch, nutmeg and brown sugar until well combined.
Pour on the prepared crust in a single layer.
Mix together the remaining dough with chopped pecans and sprinkle on top.
Bake for 35-40 minutes until golden brown.
Remove from oven and let cool completely. The bars need to cool completely for the filling to set.
Slice into 12 bars and serve.
Notes
You are essentially making a quick dough for the crust of these bars, so if you have a gluten-free or another vegan dough option that you love, use it here! Just add a bit of crushed pecans to the dough.
Courses dessert, bar, peach, vegan
Recipe by Delish Knowledge at https://www.delishknowledge.com/peach-pie-bars/