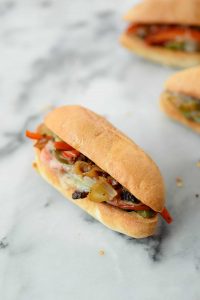 Portobello Cheesesteak Sandwiches
Yield 4 sandwiches
Portobello Cheesesteak Sandwiches! You've gotta try these vegetarian sandwiches. Caramelized onions, peppers and mushrooms in a toasted hoagie roll and provolone cheese. A must-make! 
Ingredients
1 tablespoon olive oil
2 large white onions, thinly sliced
2 bell peppers, thinly sliced into strips (I used 1 red and 1 green pepper)
1/2 teaspoon salt 
2 garlic cloves, minced 
1 teaspoon dried oregano
1/4 teaspoon crushed red pepper
4 portobello mushroom caps, gills removed and sliced 
4 slices provolone cheese
4 hoagie rolls  
Instructions
Heat the olive oil in a large skillet over medium heat. Add the onions and saute until very caramelized, about 25-30 minutes, stirring occasionally. May take longer depending on the size of your onion slices. 
Add in the bell peppers and cook until just tender, then add in the salt, garlic, oregano, crushed red pepper and mushrooms. 
Cook until mushrooms are browned, about another 10-15 minutes. 
Preheat the oven to 400 degrees F. and place the split hoagie rolls on a baking sheet. Place the rolls in the oven until toasted. Divide the mushroom mixture among the rolls and top each with a slice of provolone cheese. 
Place the sandwiches back in the oven until cheese is melted. Remove from the oven and serve immediately. 
Courses dinner, main, sandwich, lunch,
Cuisine Italian, Sandwich
Recipe by Delish Knowledge at https://www.delishknowledge.com/portobello-cheesesteak-sandwiches/