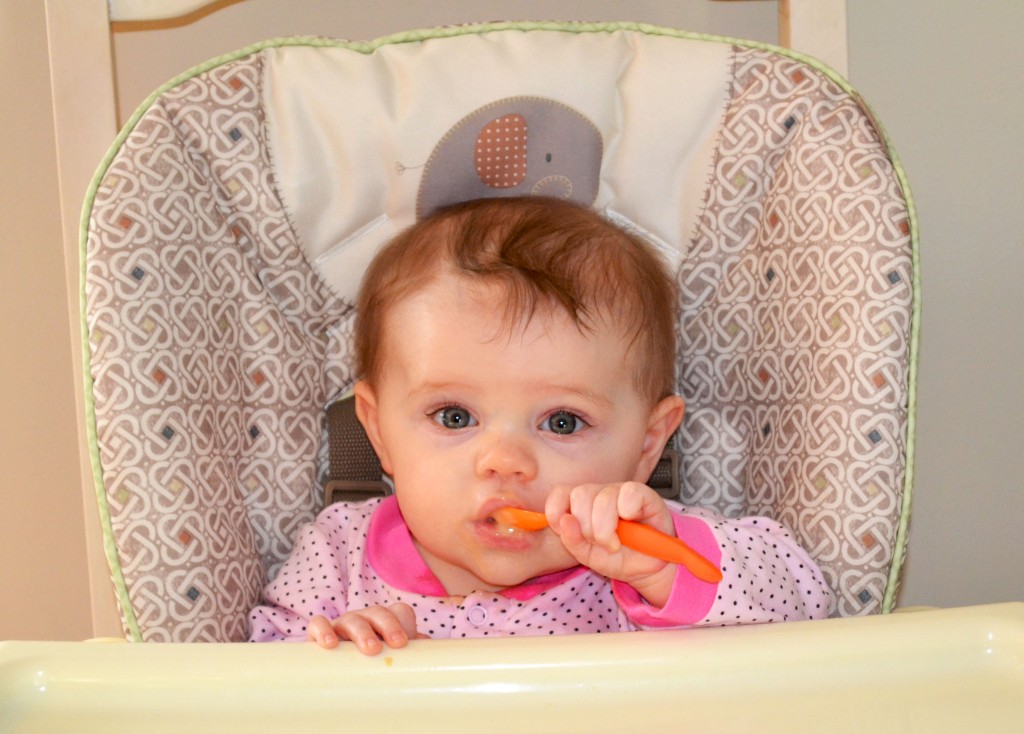 Well, miss Caroline is 6 (and a half?!) months old and we've been working on introducing pureed foods for about 3-4 weeks now. Our pediatrician, whom we LOVE, is super supportive of our food plans. Early November, she said we had the green light to start foods at about 4 and a half months based on her 'obvious muscle mass' (…a.k.a. the kid loves to push up on all hard surfaces and wants you to help her stand up whenever possible).
I wasn't so sure she was ready to start solids, though. Instead, I  looked for her visual interest in food rather than her physical abilities. I was confident that she was getting plenty of nutrition through nursing and waited until she was opening her mouth when objects/food came near it and reaching for food/drinks while watching others eat. Ha ha, jokes on me! Now everything she touches must. touch. her. tongue.
I first started solids at 5 1/2 months using these mesh feeders
filled with frozen banana. She liked holding the feeder and went to town on it once the banana started melting in her mouth.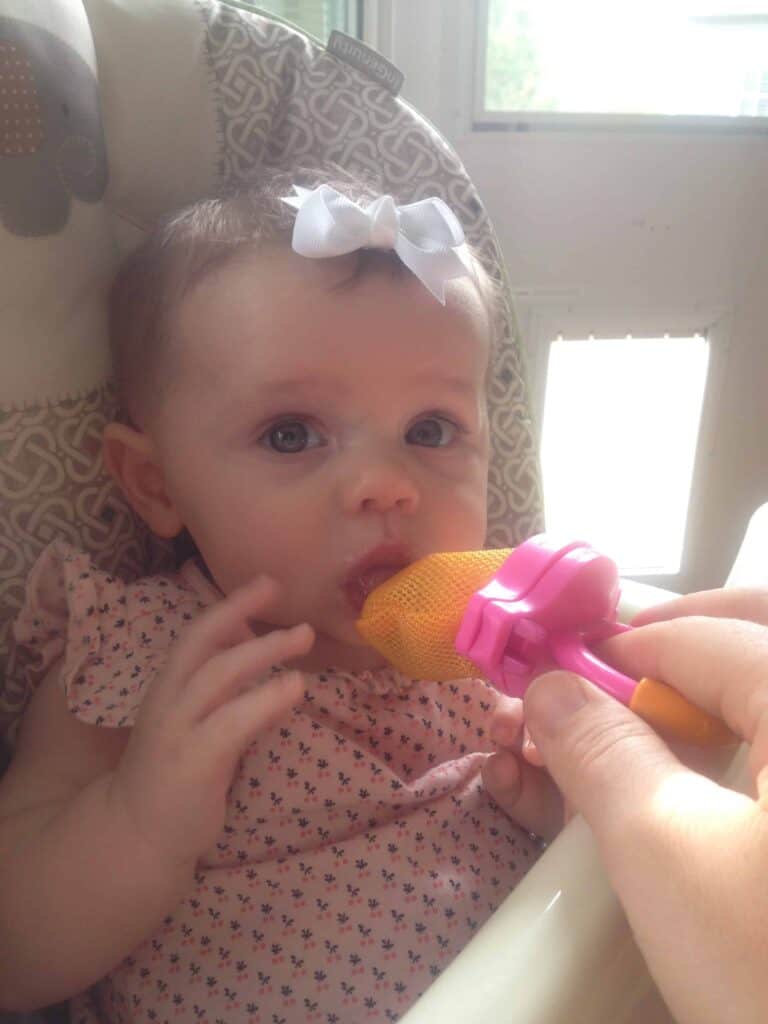 We plan on using these more and more with her teeth coming in. Frozen bananas, strawberries, carrots, and apples work great! Starting here helped ease us both into this new food experience!
MY LATEST VIDEOS
After the bananas, we moved onto avocado. Why avocado? Well, it's fatty like breast milk and babies need fat for brain development. Avocados also happen to be less flavorful/pungent than other fruits and vegetables  to a newborns palette. They are not as low on the hypo-allergenic scale as rice cereal, but we'll touch on that next week.
To make avocado as an infant's first food:
1. Peel, remove pit, and slice a ripe avocado
2. Mash it with a bit of breast milk or formula. (No need to blend in a food processor or blender; a fork and some elbow grease will work just fine if the avocado is ripe enough.)
Since this is a first food it helps if the mixture is runny, close to the consistency of milk. Also, the breast milk/formula addition helps bring some familiarity to their taste buds. Make it familiar for them and they will find comfort in trying these new flavors. Slow and steady wins the race ☺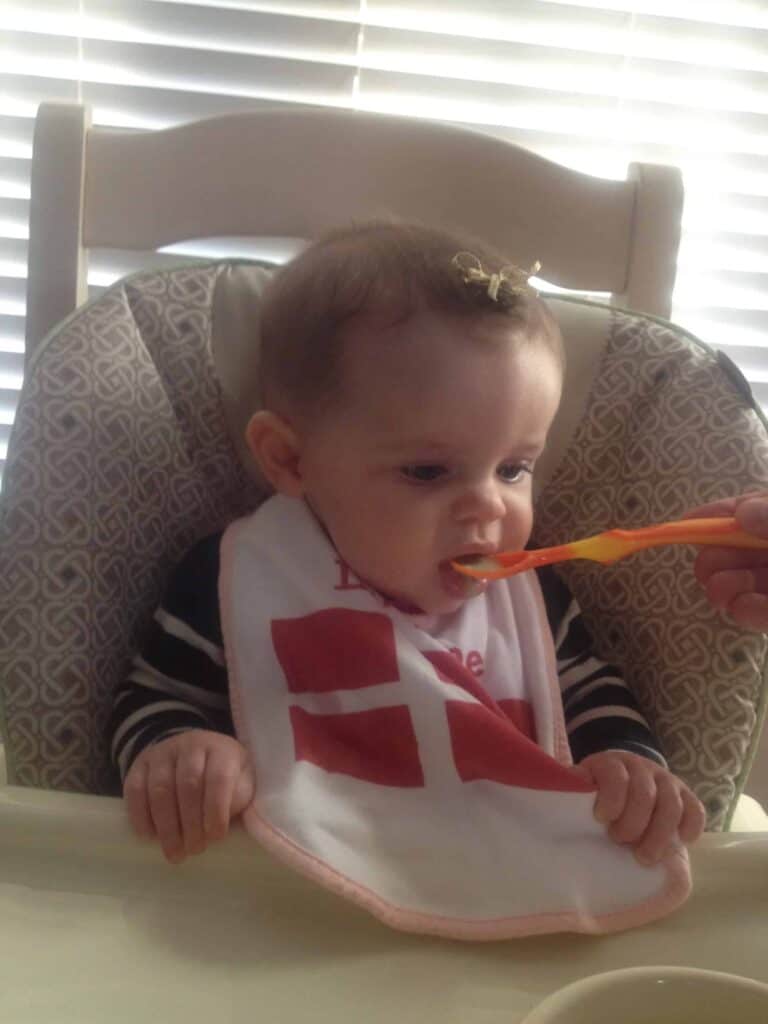 Caroline's first time eating this, she ate about a tablespoon or so. We did that two or three times and then I started leaving it a little chunky and using less breast milk. She continued to push it in and out of her mouth, occasionally gagging on the new texture… totally normal.  I was excited to see her start to work her tongue and making chewing motions with the slightly chunky food. Good signs she was ready for more.
From avocado, we went back to banana. We made this the same way as the avocado, using a medium ripe banana (spotty, but not brown in color) with a touch of breast milk or formula with the "fork" method. She loved bananas even more than avocadoes. Big open mouths when the spoon came within arms reach. This part (right at 6 months) is really when she started wanting to "feed herself".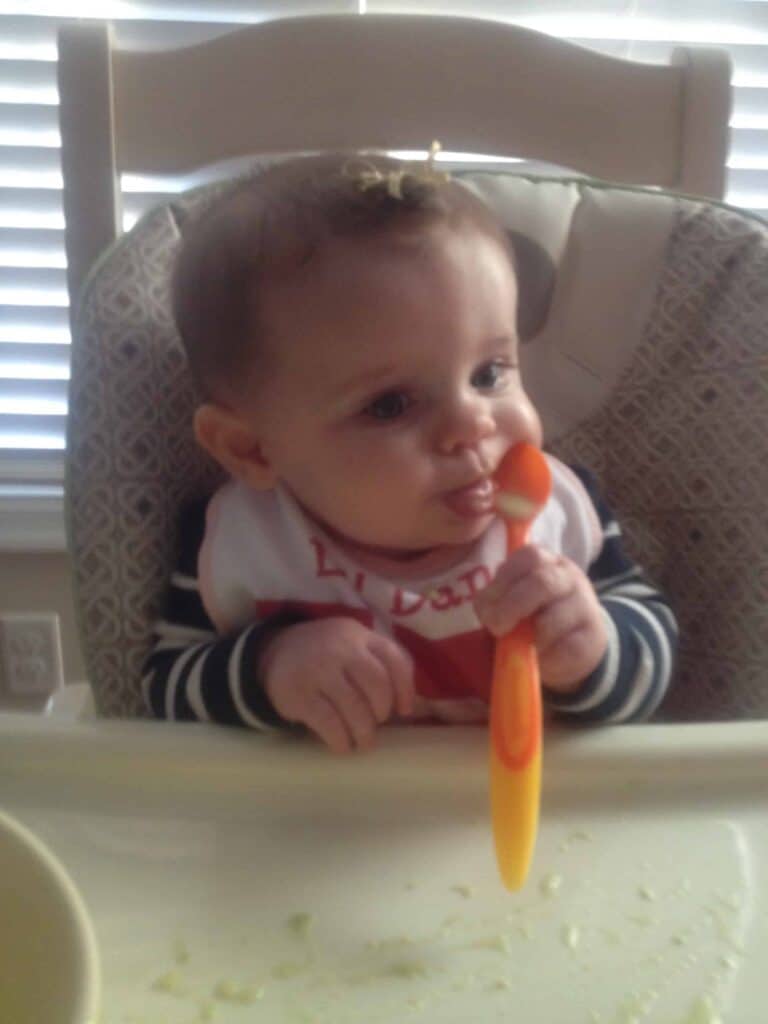 Little Miss Independent in the making…what is it with 'first-borns'? She grabs the spoon as it comes close enough and tries to shove it in her mouth. Of course, she misses probably half of the time and is now beginning to throw things out of excitement (so, that's really fun), but the fact that she is becoming interested in her silverware makes me feel successful thus far.
So, how do you know your little one is ready to begin? Waiting to start solids really depends on the readiness of each individual child. World Health Organization and UNICEF recommend exclusive breast milk or formula until 6 months. Your ped might be able to tell you if you're child is ready or not, but of course…educate yourself. You could go on lots of different clues that your infant might be ready to try some food-some are as early as 4 months! A great article that helped me: visible signs your baby is ready to start solids.
You don't know me well enough yet to know this, but I love routines. As a first grade teacher, I realized very quickly how much kids thrive in a stable, routine environment. Having a newborn means lots of chaos but when it comes to my daily activities… I try to make it as routine as possible. When you're caring for an infant, you undoubtedly juggle 10 different routines without blinking…bath time, nap time, bed time, tummy time and….eating time!
I am a huge fan of starting healthy eating habits this young. Wherever you are in your baby's meal journey, it's absolutely not too late to create healthy eating routines. In our home, we turn off the TV (maybe put some Toddler Radio on Pandora for some background ambiance), I force my husband and I to put down our phones (unless there is a picture to capture…) and we don't give Caroline any toys when she's in her highchair that will distract her. This means, before we sit her in her highchair we have to have our sh%* together. Research shows that comfortable, predictable mealtime (and family environment) can raise children's self-esteem and lower rates in substance abuse and depression in teenagers. Start these healthy routines now and it will come natural as the years move along. If your kids are older, check out The Family Dinner Project for some conversation ideas & helpful blogs to add to your weekly reading!
What are some traditions you have or had as a family around the dinner table? What healthy routines do you have during meal time?
See you next week to tackle one of my favorite topics, infant cereal!
Liz