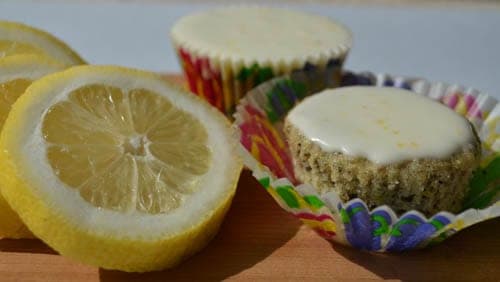 Are you excited for 50+ healthy cupcake recipes being posted today?  Thank you Recipe Redux!
Today I am sharing with you one of my favorite cupcake flavors, Lemon Chia Poppyseed cupcakes.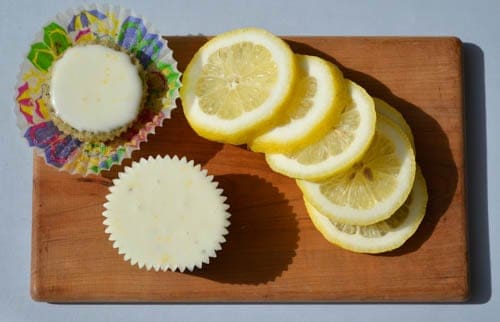 I know that technically, citrus is a winter fruit but for some reason the smell of lemon always makes me thing of spring. I was gifted a huge bag of fresh lemons from a neighbors tree and thought these muffins would be the perfect way to use them up.
Because when life hands you lemons…. you make Lemon Chia Cupcakes!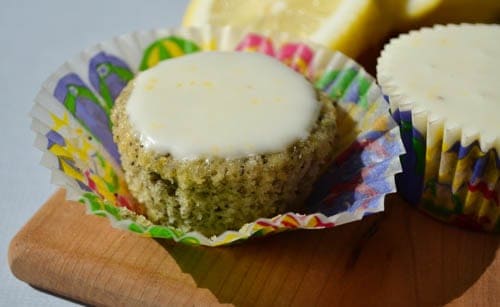 If you've never worked with chia seeds before, don't be intimidated. Most grocery stores have started to carry them, or you can find them online at Amazon or iherb.com. They are the perfect egg replacer and work really well in most baked good recipes. You can grind them before using them in other recipes but I left them whole in these. I wanted to play off the appearance of lemon poppy seeds and the Chia seeds look similar.
Ingredients:
1 cup all-purpose flour
1 tsp. baking powder
1/4 tsp. baking soda
1/2 tsp. salt
2 tbsp. Earth Balance butter
1 tbsp. olive oil
1/2 cup sugar
1/2 non-dairy milk milk + 1 tbsp. white vinegar Combine together and let sit for 5 minutes
1 lemon, zested and juiced
2 chia eggs: 2 tablespoon of finely ground chia seeds (you can also do this without grinding mixed with 3 tablespoons liquid (I recommend soy milk, almond milk, coconut milk). Mix together and allow it to sit until gooey – approximately five minutes.
2 tbsp. poppy seeds
Lemon Glaze:
1 tbsp. Earth Balance butter, melted
1 large lemon, zested and juiced (about 3 tbsp. lemon juice)
1 cup powdered sugar
Combine the first 4 ingredients (flour, baking powder, salt, baking soda) in a large bowl. Beat butter & oil together  in a separate bowl until well-combined and fluffy. Add sugar and beat until creamy. Add chia eggs, lemon zest, and vinegar-milk mixture. Beat until combined.
Pour 1/2 of the chia mixture into the flour mixture and whisk together; add the other 1/2 and whisk until just combined. Stir in the poppy seeds.
Pour in greased muffin tins or paper-lined cups, 2/3 way full. Bake at 350° for 22-24 minutes until lightly golden and a toothpick comes out clean.
For glaze: Beat sugar and lemon juice together. Slowly add in melted butter and zest. Beat until creamy. Top cupcakes with glaze.