As a vegetarian, I've never been convinced of the magical healing powers of chicken noodle soup. That doesn't stop everyone else though from praising the power of warm broth.  Without fail, every time I have a cold someone urges me to go home and sip on soup. While my chicken-less soup does the trick sometimes, I was craving something a bit more hearty last month when I was under the weather.
I'm convinced that comfort foods are more linked to memory, not to any actual comfort they provide. As a child, I would request cinnamon-sugar toast or buttered noodles whenever I was sick. To this day whenever I have either of those foods, I am reminded of days home from school, drinking tea and watching Saved by the Bell.
When I couldn't decide between a soup or heavier comfort food like grilled cheese or pot pie, this skillet came together. The perfect combo of hearty root vegetables in a stew-like base, topped with fluffy scallion biscuits. It also has the advantage of being a one-dish meal, perfect when you don't feel like doing anything- let alone cooking.
If you try this recipe, let me know! Leave a comment, rate it, and tag your Instagram photos with #delishknowledge . I absolutely love seeing your creations. Happy cooking! 
MY LATEST VIDEOS
Print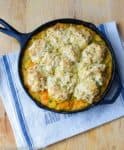 Root Vegetable Skillet with Scallion Biscuits
Author:

Category:

dinner, entree, main, stew
---
Description
A hearty vegan casserole topped with homemade scallion biscuits.
---
Ingredients
For the filling:
1 large onion, diced
4 carrots, chopped
2 stalks celery, chopped
1 parsnip, chopped
1 medium butternut squash, peeled and chopped
3 tbsp. fresh thyme
1 tbsp. whole grain mustard
1/4 cup all-purpose flour
2 cups vegetable broth
1/4 cup cashew cream or other heavy cream (optional)
1 cup frozen peas
salt/pepper
For the onion biscuits:
1 cup all-purpose flour
1/2 cup whole wheat flour (or additional all-purpose flour)
1/2 cup cornmeal
1 scallion, sliced very thin
2 tsp. baking powder
2 tsp. sugar
1/4 tsp. baking soda
6 tbsp. cold non-hydrogenated butter
1 cup unsweetened non-dairy milk
1 tbsp. fresh lemon juice or 1 tbsp. white vinegar
---
Instructions
Make the filling:
In a large cast-iron skillet or heat safe dutch oven, heat 1 tbsp. olive oil over medium heat. Add the onions, carrots, butternut squash, carrots and parsnip and a pinch of salt and pepper. Stir, cover and cook for 10-15 minutes until vegetables are tender and reduced. Stir every few minutes.
When vegetables are tender, stir in the mustard.
Sprinkle the flour over the vegetables, stir and cook until flour is toasted, about 2 minutes.
Whisk in the vegetable broth, cashew cream (if using) and bring to a boil. Reduce heat to low and cook until broth has thickened.
Add the peas.
Make the biscuits:
Add the lemon juice or vinegar to 1 cup of non-dairy milk, let sit.
Whisk the flours, cornmeal, scallions, baking powder, sugar, baking soda and pinch salt. Using a pastry cutter or your fingers, crumble in the butter until it resembles coarse crumbs.
Add 3/4 cup non-dairy milk mixture and stir until the dough comes together.
Add more milk if needed.
Preheat the oven to 375 degrees F.
Using a spoon, drop mounds of biscuit batter onto the top of the vegetables in the skillet.
Place the skillet into the oven and bake until top is golden, about 25 minutes.