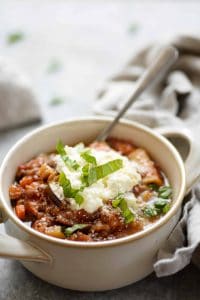 Slow Cooker Lentil Lasagna Soup
Yield 4-6 servings
Slow Cooker Lentil Lasagna Soup! You will love this hearty, healthy slow-cooker lasagna soup made vegetarian with lentils. Easily vegan using dairy-free ricotta. 
Ingredients
1 tablespoon olive oil
1 cup chopped white onion
1 cup chopped zucchini 
1 cup chopped carrots 
4 garlic cloves, minced 
1 tablespoon dried basil
1 tablespoon dried oregano
1/2 teaspoon salt 
1 tablespoon tomato paste
1 (15 ounce) can diced tomatoes
1 (28 ounce) crushed tomatoes
1 cup lentils (I used French green lentils, but brown also works)
4 cups vegetable broth
6 sheets lasagna noodles, broken into pieces
1/2 cup ricotta cheese (use dairy-free for vegan version)  
chopped basil for garnish, option 
Instructions
Heat the olive oil over medium saucepan over medium heat. Add the onion and cook until softened, about 5 minutes. Add the zucchini, carrots, garlic cloves, salt, basil and oregano and cook until just softened, about 5 more minutes. 
Transfer mixture to the base of a slow cooker along with the tomato paste, canned tomatoes, lentils and broth and cook on high for 4 hours until lentils are tender. 
Add the noodle pieces, stir together and cook until just al dente. If soup is too thick, thin with a bit of vegetable broth. 
Divide soup in 4-6 bowls and top with ricotta cheese. Garnish with basil, if using. 
Courses main, dinner, healthy, soup, slowcooker
Cuisine italian, vegetarian
Recipe by Delish Knowledge at https://www.delishknowledge.com/slow-cooker-lentil-lasagna-soup/