This recipe came about as a happy accident. I had leftover quinoa and chipotle peppers from the week's previous dinners and wanted to create something without having to head to the store again.
Well, needless to say these peppers were such a hit I made them again for my family and then used the leftover fillings in quesadillas for lunch. When I made them for my family, I used couscous instead of quinoa but I think I prefer the quinoa better. It stands out more from the smoky, chipotle sauce.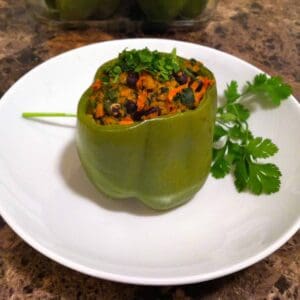 Ingredients:
4 bell peppers
2/3 cup quinoa, rinsed and drained
3/4 cup shredded carrots
1 15-oz. can black beans, rinsed and drained
2 cups baby spinach, cut into bite sized pieces
Chipotle Cashew Sauce:
2-3 chipotle peppers in adobe sauce
1/2 cashews, soaked in 1 cup water for at least 1 hour
2 tbsp. nutritional yeast
1 tsp. chili powder
1 tsp. cumin
1 bunch cilantro, chopped
MY LATEST VIDEOS
Place all the ingredients for the cashew sauce in a blender. Puree for 3-5 minutes until no graininess remains. Reserve for later.
Preheat oven to 350 degrees F. Bring 1 1/3 cups of water to a boil and add quinoa. Reduce heat, cover, and simmer for 12 minutes. Remove from heat and fluff with a fork. Let cool for 5-10 minutes and then place quinoa into a large mixing bowl.
Meanwhile, prepare the peppers. Remove pepper tops, stems, and seeds. If they don't stand up on their own, slice a tiny bit of the bottom off taking care not  to create a hole in the bottom. Bring a large pot of water to a boil. Add peppers, boil for 3 minutes and drain. Place peppers in a baking dish.
In a large saute pan, heat 1 tbsp. oil and add the minced onion. Cook for 5-10 minutes until translucent.
Add shredded carrots, black beans, and chopped spinach to the quinoa. Add the onion mixture and the cashew cream sauce. Stir to combine, add the cilantro and season with salt/pepper if needed.
Fill the peppers with the quinoa mixture. Add enough water  to the baking dish to create a thin layer. This helps the peppers stay moist and steam.
Bake for 20 minutes until the tops are lightly browned.
If you want extra saucy goodness, reserve a few tablespoons of the cashew cream sauce to drizzle over the peppers the last few minutes of baking.
Per serving (1 pepper): 432 calories, 11g fat, 65g CHO, 15g fiber, 21g protein
Have leftover filling? Good! Try it stuffed into a quesadilla. Seriously good!