I can't stop eating these little gems, they are really good. Steamed chard leaves are filled with black "forbidden" rice, mashed butternut squash, kumquat-bbq tofu and topped with a creamy garlic tahini sauce.  The combination of colors and flavors make these rolls really special. Great as an appetizer, light lunch or paired with a salad for larger meal. I had a similar item last weekend and was so excited to come home and create rolls with my own DK twist.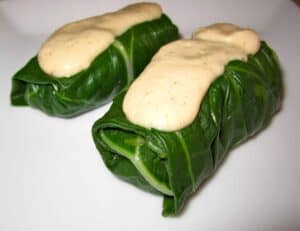 Ingredients:
1 cup Cooked leftover black rice, (or brown/wild rice)
1 cup butternut squash
8 oz. extra-firm tofu, drained and pressed
10 large chard leaves (could also use collard/cabbage leaves)
½ cup favorite BBQ sauce
½ cup Kumquat marmalade (Recipe post coming soon! Or substitute orange or apricot jam)
MY LATEST VIDEOS
Garlic Tahini Sauce:
1/2 cup tahini
1/8 cup olive oil
1 tsp. cumin
¼ tsp. smoked paprika
2 large lemons, juiced
3 cloves garlic
Salt/pepper
In a blender/food processor combine all ingredients for the garlic tahini sauce and puree until smooth.
Halve the tofu widthwise and then cut into thin slices. Place in a glass pan sprayed very lightly with cooking spray. Combine the BBQ sauce and marmalade. Brush the sauce over the tofu and let sit for 10 minutes. Preheat the oven to 350 degrees. Flip to the other side and brush on the remaining sauce. Place in preheated oven and cook for 15-20 minutes.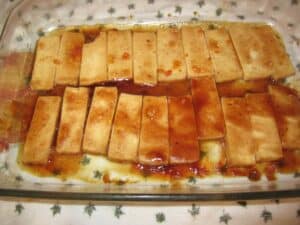 While the tofu is cooking, set up a steamer. Finely dice the butternut squash and steam for 10-15 minutes until soft. Place the cooked squash in a bowl and mash.
Wash the leaves and trim to the base of the stem. Place in the steamer and steam for 1-2 minutes until soft and pliable. Remove and place on a clean working space. Now you are ready to roll! Place the leaf down, widest side facing you. If the stem is still hard, gently press on the stem to flatten. While the leaves are sturdy for filling they are very fragile. Take care not to rip them.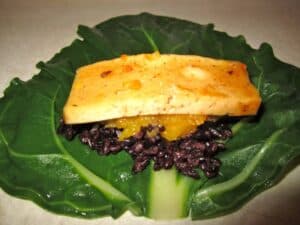 Place a small amount of rice (about 2 tbsp) on the base of the leaf, about ¾ of an inch from the end. Place a similar amount of squash on top. Lay a piece of tofu ontop of the squash, Depending on how big your leaves are will determine how much filling to place. Wrap the end over the tofu and gently push the side leaves over to cover. It will now roll like a burrito. Take care to keep pressing the leaves in towards the filling. Place the finished roll seam side down into the steamer basket. Continue to fill the rest of the rolls and place in the steamer basket. Steam for an additional 3-5 minutes. Remove and top with tahini sauce.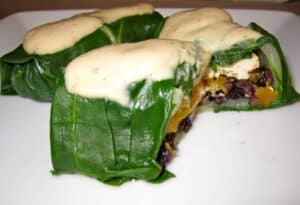 Share with someone you love!