Even though the weather is getting cooler, I'm still craving crunchy salads. I made a version of this for a bridal shower last year and it was a big hit. I think this would be perfect paired with some brown rice or cup of soup.
Tempeh Salad Lettuce Cups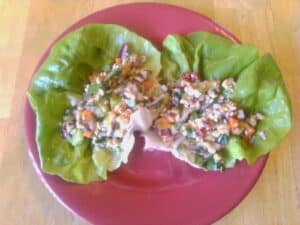 Ingredients:
1 lb. tempeh
2 large carrots, fine diced
3 stalks celery, fine diced
1/2 red onion, minced
1/2 bell pepper, fine diced
3 tbsp. capers
1 red pepper, roasted and diced (or about 4 large pieces from a can)
1 bunch parsley, finely chopped
Bibb or Butter Leaf lettuce -about 2 or 3 leaves per person
Dressing:
1/4 cup olive oil
1/4 cup red wine vinegar
1 small lime, juiced
2 tbsp. agave nectar, maple syrup, or other liquid sweetener
1/2 tsp. salt
1/2 tsp. pepper
Place tempeh in steamer basket, cover and steam for 10 minutes. Set aside to cool. Meanwhile, combine the rest of the ingredients except for the dressing and the lettuce cups. When the tempeh has cooled, grate with a box grater or finely chop with a knife. Add to the vegetable mixture. In a blender or by hand, combine together the dressing ingredients. Drizzle over the tempeh salad and toss to coat.
To serve: place a large spoonful of salad onto lettuce cups. Wrap and serve!