Happy 2012! I hope everyone had a wonderful holiday season.  2011 was a great year for me, thank you to all of you who read/follow my blog! I truly appreciate your support.
After a whirlwind past few months I am done traveling for a while and excited to bring you new articles and recipes that I've been working on.
This rice is one of my favorite comfort food dishes. I love Thai food and this is the perfect combination of spicy and sweet. If you are new to curry this dish is a great start as it adds lots of flavor but doesn't overpower the entire meal. When I make rice/pasta meals I try to use a similar amount of vegetables as I do starches. I had peas and carrots on hand but you could add more to stretch the meal and get more variety in. I call for shredded carrots in this dish and recommend shredding whole carrots over buying the pre-packaged kind. To me pre-shredded carrots taste like winter tomatoes- zero flavor. Use a box shredder or a food processor, it doesn't take much time at all.  As always get creative with what vegetables you add.  I think I might try adding snow peas and sweet peppers next time I make it. Enjoy!
Thai Coconut Pineapple Fried Rice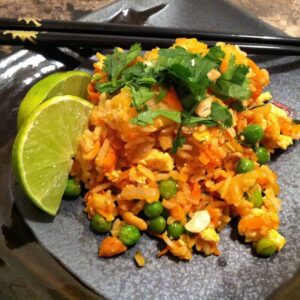 Ingredients:
MY LATEST VIDEOS
Coconut Rice:
1 cup Jasmine or Basmati rice
1 1/2 cups light coconut milk
1/2-3/4 cup water
1 can pineapple chunks, drained (or 1 1/2 cups chopped fresh pineapple)
2 tbsp. coconut oil
3/4 cup frozen peas
3/4 cup shredded carrots
1/2 white onion (about 1/2 cup) chopped
4 cloves garlic, minced
2 thai chilis, finely sliced
8 oz. firm tofu, drained and pressed, chopped into bite size pieces
1/2 cup unsalted cashews
1/4 cup scallions
1/4 cup cilantro
1 small lime, juiced
Curry Sauce, combine all ingredients:
3 tsp. red curry paste (you can increase/decrease this depending on taste and how spicy your paste is. I like Thai Kitchen's paste- it's vegan. Some pastes have fish sauce in them)
1 tbsp. rice wine vinegar
1 tbsp. toasted sesame oil
1-2 tsp. Sriracha or Sambal Oelek (spicy chili sauce)
3 tbsp. tamari or soy sauce
1 tsp. maple syrup or sugar
Make the rice the day before or at least an few hours ahead of time.
Bring the coconut milk and water to a boil. Start with 1/2 cup water and if you need more liquid, add it. Add the rice, stir, cover the pot and reduce heat to low. Cook as you would regular rice- if you're using white rice it will take ~20 minutes, brown rice ~45 minutes. If you are planning on using the rice the same day put it in a shallow container and place in the refrigerator uncovered for about 1 hour. You want it to resemble leftover take-out rice.
Making the Fried Rice:
Heat the coconut oil on medium-high in a wok or large frying pan. Add the onion and cook for 4-5 minutes until slightly browned. Add the thai chili peppers and the garlic. Quickly stir fry for about 1 minute. Add the tofu and stir to combine cooking another minute or two.
Add the rice, peas, and carrots. Cook until heated through, stirring to make sure the rice doesn't stick to the bottom of the wok. If you need more liquid add a bit more oil, vegetable broth or water. Add the stir fry sauce, cashews and pineapple. Stir and cook an additional minute. Right before serving add the cashews, lime juice and cilantro.
Per serving (I got 6 servings out of this): 465 calories, 29g fat, 44g CHO, 5g fiber, 11g protein
Enjoy!