One of my favorite Thai resteraunts is on the same block as my house so it's no coincidence that I cook and eat a lot of Thai food. While I love curries, pad thai, and eggplant tofu, I sometimes want lighter fare.
Larb is usually made from meat, but I subbed Yves brand turkey crumbles. While I usually shy away from meat analogs, I wanted to try this product and it work really nice in their recipe. Feel free to use finely chopped tofu, tempeh or other protein.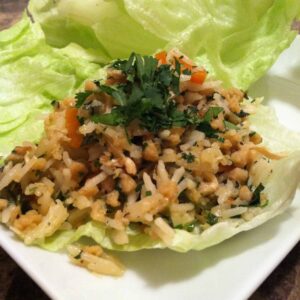 Thai Larb Lettuce Wraps
Ingredients:
1 package Yves turkey crumbles (or other crumbled protein, like tempeh)
1 cup white rice, cooked
1/2 white onion, finely minced
1/2 cup shredded carrot
2 jalapenos, minced
2 tbsp. fresh lemongrass  (I use gourmet garden fresh herbs found in the produce section)
1/4 cup fresh mint leaves, chopped
1/4 cup fresh cilantro, chopped
1 head lettuce, like butter or iceburg, leaves seperated
MY LATEST VIDEOS
Dressing:
3 limes, juiced
1 large lemon, juiced
2 tbsp. vegetarian fish sauce (I made this recipe)
In a large saute pan, add the onion, pinch of salt, & 1 tbsp. water. Stir and cook until onion is translucent, about 5 minutes. Add the carrots, jalapenos, and "turkey" meat. Cook until slightly browned. Add all of the ingredients except for the dressing and herbs; cook 5 more minutes until heated through. Remove from heat and toss with dressing, cilantro, and mint. Serve in lettuce leaves.
*Inspired from Giada's Turkey Larb recipe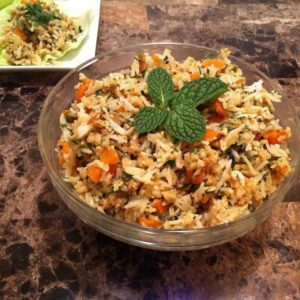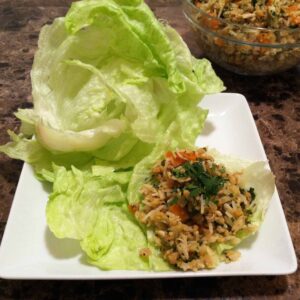 Enjoy! What is your favorite Thai meal?