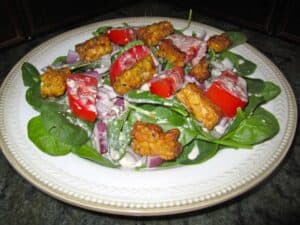 Returning from Jamaica a few weeks ago I was excited to make something using jerk seasoning. I ultimately decided on this salad: fried jerk tempeh with creamy jerk dressing. It's got some kick! Make extra tempeh as the leftovers were really good in lavash wraps. Roll together the tempeh and whatever salad vegetables you have into a wrap; dip into the dressing. Perfect 1-2 punch for weeknight dinner and lunch the next day.
Jerk Seasoning:
4 tablespoons dried minced onion
1 1/2 tbsp. dried thyme
1 tbsp. ground allspice
1 tbsp. ground black pepper
1 teaspoon ground cinnamon
1 teaspoon cayenne pepper
1/2 teaspoon salt
2 tablespoons vegetable oil
1 lb. tempeh (have you tried making your own yet? The taste difference is so worth it!)
1/8 cup oil, I prefer canola/safflower
Spinach (depends on how big you like your salad)
1/2 red onion, sliced into 1/2 moons
2 large tomatoes
1/2 cup mayo (I like reduced fat veganaise)
1 small lemon
1 small lime
Combine all ingredients for the jerk rub except for the oil.  Reserve 3 tablespoons rub (about 1/2) for the dressing. Combine the rest of the rub with the oil. Dice the tempeh into 1″ cubes and toss with the rub. Set aside for 15 minutes while you prepare the salad and dressing.
MY LATEST VIDEOS
Wash and tear the spinach into bite size pieces. In a large bowl combine the spinach with diced tomatoes and red onion. Feel free to add as many vegetables as you like here! Make the dressing: whisk together the mayo with the juice/zest of the lemon and lime. Add the 3 tablespoons reserved rub and stir together.
In a skillet pan, heat the 1/8 cup oil over medium/medium-high until hot. The easiest way to test the temperature is to test a piece of tempeh. Place a small piece in the skillet, if the oil bubbles around it and sizzles- it's hot enough. With tongs, place the tempeh into the oil trying to leave as much of the spice rub as possible on. Watch out for splatter! Flip after 2-3 minutes per side until crispy. Transfer to a plate lined with a paper towel or cloth. Add crispy tempeh pieces to the salad. Toss with dressing and serve!
If you don't like tempeh, feel free to substitute any other protein here. Chickpeas and eggplants make a great alternatives. Marinade and lightly fry as you did the tempeh. The possibilities are endless!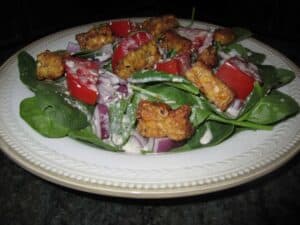 From the tropics to your table! If I can't still be in Jamaica at least I'll eat like I am.