I realize that it's no longer January, but it felt a little odd to call this my February list since we're only a week in. Below are my favorite foods, products, and entertainment I've been loving this past month. While I usually have a few gems that I cannot wait to share, this month was especially challenging in narrowing down my favorites. Was I just lucky or did everything amazing come out this January?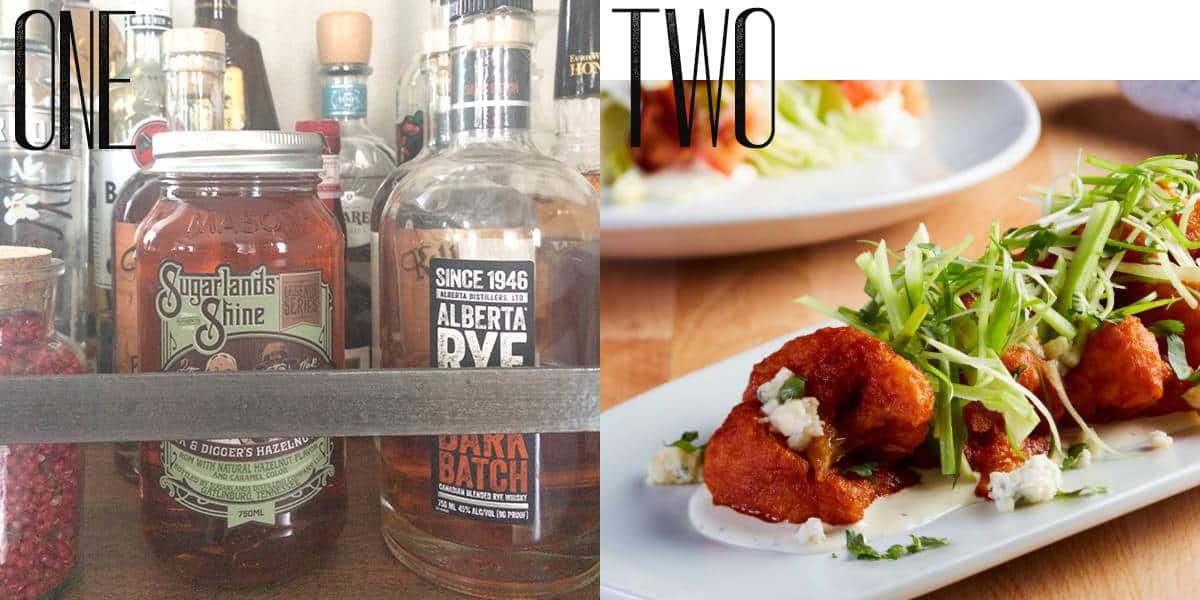 Our January was filled with casual dinner parties, just the way I like it. When we were in Austria for the Christmas, BL and I spent one afternoon (over apple strudel, of course) to make a list of all the people we wanted to have over for dinner in the coming months. Since we are still fairly new to St. Louis, it's been hard to cement a group of friends like we had in California. But, we're trying and thankfully, the best way to a new friend's heart is though food. Or, so I've heard.
When we host parties, I'm in charge of the grub and BL's in charge of the cocktails. I like having a fun cocktail ready as soon as guests walk in the door, to put them at ease and get the evening started on the right foot. This hazelnut rum is so delicious, you don't even need a mixer. Since the weather's been less than steller lately, BL's been serving this rum in a hot toddy, an unexpected drink that's perfect for chilly nights. Also, a splash of this in coffee… perfect for lazy Sunday mornings.
On nights I don't feel like cooking (Monday, I'm looking at you), we've become loyal fans of Skip the Dishes. I first found out about this service a few weeks ago when I was stuck on the couch with a nasty cold and dying for some soup. Since it's hard to find vegetarian soup in St. Louis, let alone one that delivers, I thought I was going to be stuck with whatever I had in my pantry or begging BL to pick some up. Thankfully, a internet search provided me with two gems: Skip the Dishes and Mai Lee, a local Vietnamese restaurant that serves vegetarian noodle soup.
MY LATEST VIDEOS
We ended up loving this service so much that we used it again on Sunday night, selecting CPK's buffalo cauliflower wings (❤︎) and a chopped BBQ salad for our Superbowl eats. Skip the Dishes is similar to other online ordering apps, but my favorite part is that you can track your order. So, you know where the driver is and can follow them on GPS to time dinner perfectly.
I'm such an fan of STD, that I reached out to see if I could share this awesome service with my readers. Thankfully, they said yes! Use code BLOG10558f for 10% off your next order. As an additional thanks, comment below to be entered to win a $50 voucher for Skip the Dishes. Dinner's on me, well– them.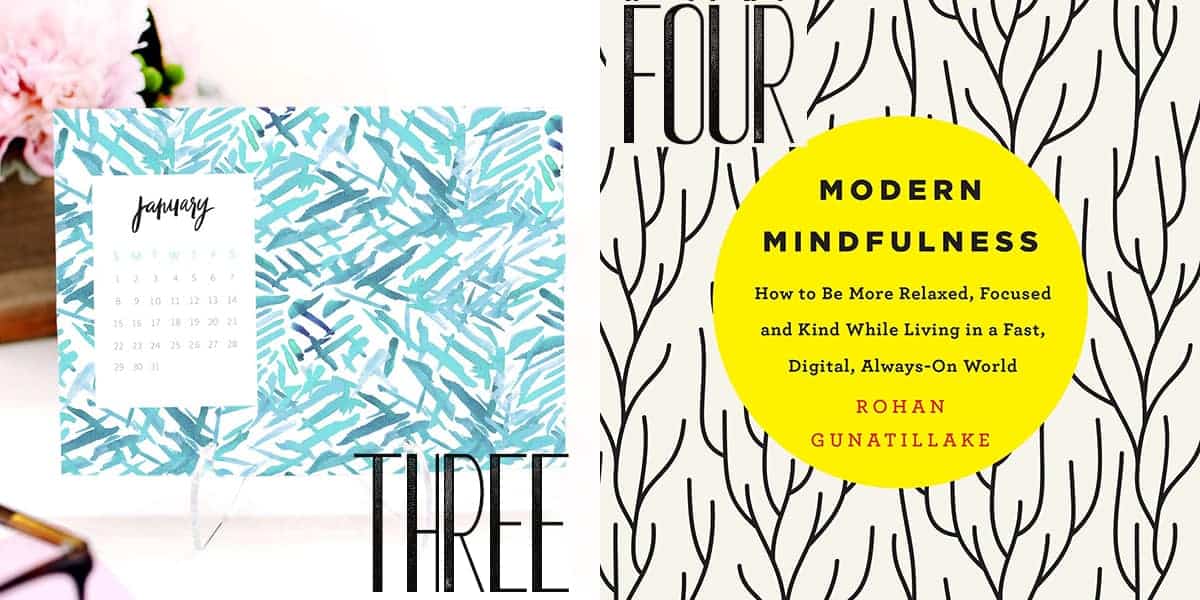 I signed up for the PopSugar must-have box a few months ago and I have to say, it's one of my favorite things to open. I was gifted a box at an event a few years ago and I still get compliments on the gorgeous scarf that was included in that box. So, I bit the bullet to keep them coming and thankfully, I haven't been disappointed yet. This month, there was a simple, beautiful desk calendar included that felt like the curators had read my mind. I've been looking for a minimalist design for a while, which shouldn't have been as difficult of a search as it was. This calendar is printed with dates on one side and a tear-off card to use once the month is finished.
I talk a lot about mindfulness. Maybe that's because I hope it will seep into my brain that more I ponder the idea; is mindfulness like osmosis? As a type-A, anxiety-ridden person, this may be the biggest challenge yet. Meditation helps, but it's only part of the story. I picked up this Modern Mindfulness book and haven't been able to put it down. Perhaps it's because it's mindfulness for real life; with so many simple ideas for adopt mindfulness techniques throughout the day. If you're looking to slow down, but still presently live in our technology-filled world- this book is for you.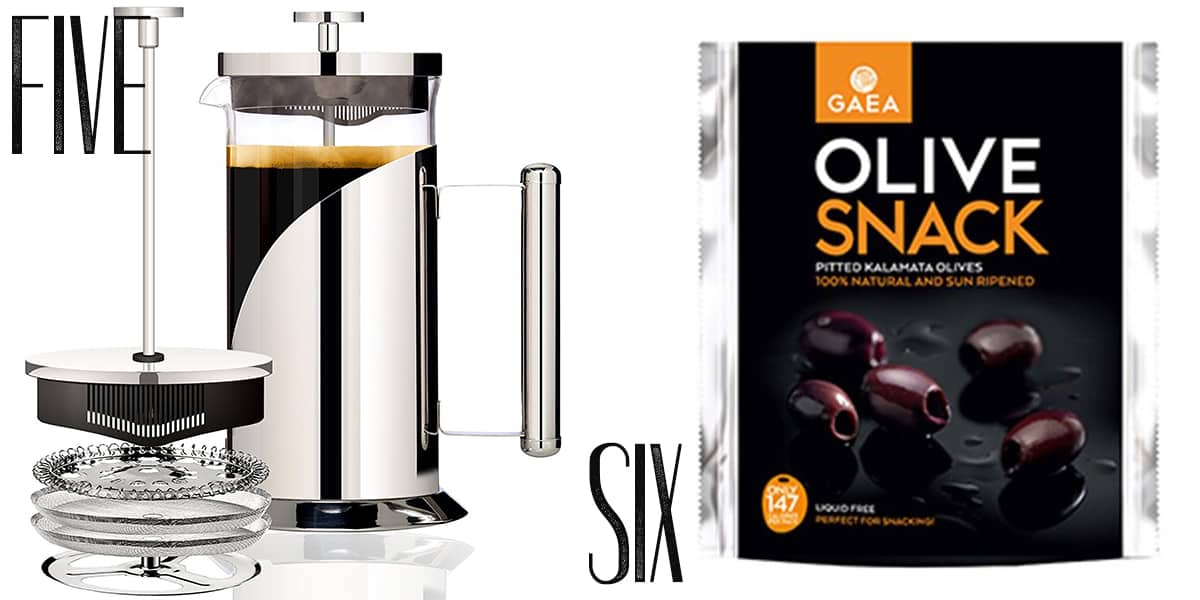 I know, I know. I'm late to the trend. Funny, for someone who loves coffee as much as I do, my appliances are pure amateur hour. I make espresso with my Nespresso and coffee with my Keurig. The only ground coffee that I actually own is packed into individual pods that make coffee almost foolproof (thank you, Folgers.) Well, now I own a French Press and I finally get it. Though, I have to admit, I use it for making tea just as much as I do for making coffee. I plan on sharing a yummy homemade spiced tea later this month, but for now I'll just admit that I'm hooked on the press.
To me, salt > sweet. It's just how my taste buds are wired. That doesn't mean I don't love a good brownie every now and then, but for the most part, I want briny, salty, savory. Which, can be hard to find in a to-go option, unless you love chips. This mini olive packs are adorable, delicious and perfect for quick snacks.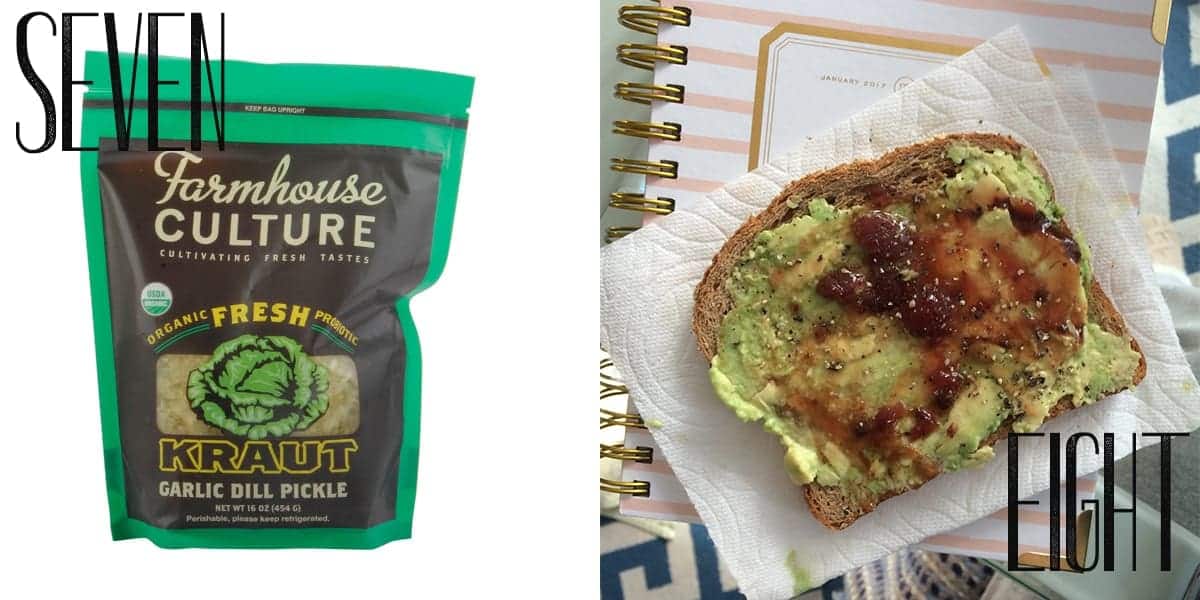 Crazy, crazy good. Did I mention how much I love salty, briny things? This Garlic Dill Pickle Kraut taste good on just about everything: avocado toast, veggie burgers, Field Roast sausages, eggs, or by the forkful as I walk by the fridge. It's hands down the best kraut I've had, and that says a lot considering I've been a Bubbie's faithful for years. My 10-month year old niece also can't get enough of the stuff, which warms my heart every time I see a video of her chubby little fingers grabbing a strand of dill-pickled kraut to shove in her little mouth.
January was the month of avocado toast, which is fine by me. I often get asked, "how much avocado is too much?" to which I usually reply, I eat one a day on average. Since I'm pretty basic, I love it the way every good Instagramer does: slathered on a giant piece of toast, sprinkled with a little sea salt and pepper. Lately, I've been pairing my avocado toast with a hint of sweetness, either a drizzle of raw local honey or this Strawberry Jalapeno jam. Trust me, it works. The flavors come together so beautifully that I have to think I'm not the only way who enjoys this combo. Well, secrets out. Toast + avocado + honey sweetened jam = my favorite snack, breakfast and anytime meal.
None of this is sponsored, but there are a few affiliate links in there! Don't forget to comment below to win $50 towards your next Skip the Dishes purchase.