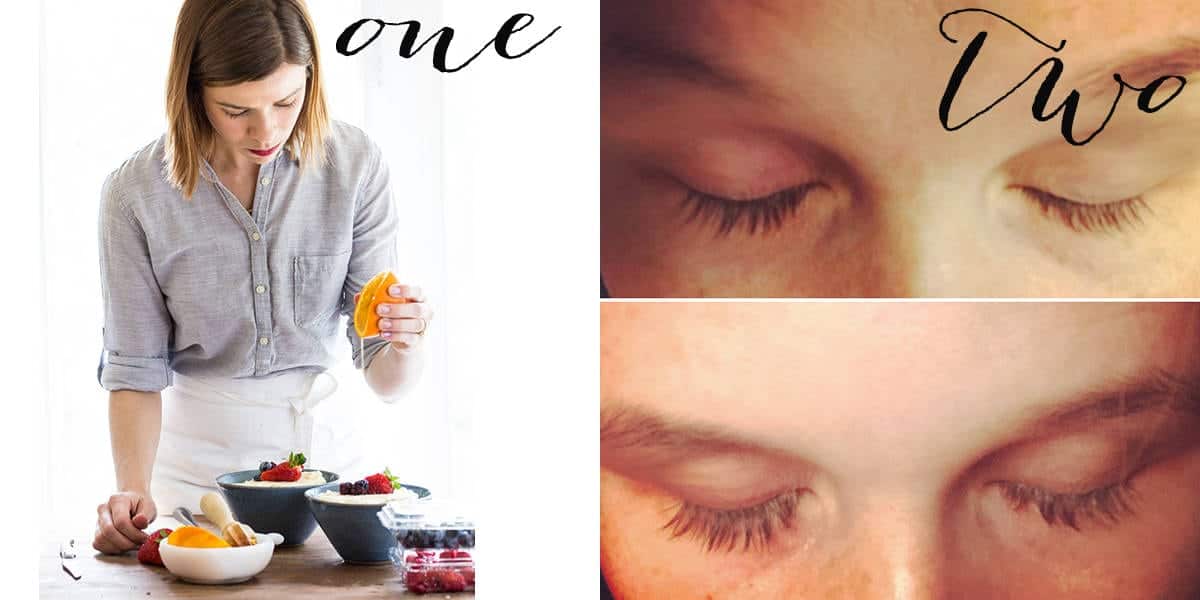 For a dietitian, I've been on a huge dessert kick lately. I want to spend all my time in the kitchen baking, not cooking. It's a complete departure from where I normally am, but I'm not complaining. I've stockpiled mini cupcake trays, baking sheets and cake pans. Just enough for BL and I to enjoy, with a leftover or two. For a small family, we don't need dessert recipes that feed 12. It's why I first fell in love with Christina's concept, making desserts for two, when I discovered her blog a few years ago. Her new cookbook, Sweet & Simple, is exactly that. Recipes for people like me; who love a sweet treat after a meal but get intimidated by high layer cakes and complex pastries. If a recipe calls for a candy thermometer, I'm usually out.
I've tried several of recipes from this book and they are all incredible. Fruit pizza, beer brownies (❤️), jam bars and Texas sheet cake. Christina, keep doing what you are doing. You're making me believe that yes, I actually can bake and keeping BL very, very happy.
My sister sent me this photo of her eyelashes, a before and after photo using Lash Boost for 30 days, and I immediately thought it was fake. Then, I saw her at a wedding the following month and couldn't believe how luscious her eyelashes looked. I swore she was using some crazy mascara, but she promised that it was just the Lash Boost. So, obviously, I bought it. I've been using it for a little over three weeks and wow, I can already notice a huge difference. I love the idea of going make-up free for the summer and, thanks to Lash Boost, I'm pretty sure I'll only need to pull out mascara for date-nights.
Years ago, I was tempted to try Latisse but got scared off by reports of eye color changes and irritation. I'm vain, but not that vain. Sure, I want princess eyelashes but I'm not willing to damage my retina in the process. After researching Lash Boost (and googling a few more before & afters), I can say that I'm a true believer. Both my Mom and sister have become consultants for the company that sells it (Rodan & Fields) and I can see why. I usually shy away from sells like these but after trying it myself, I'm a believer. (P.S.– I'm also using their Soothe line with incredible results. My skin has never looked or felt so good).
MY LATEST VIDEOS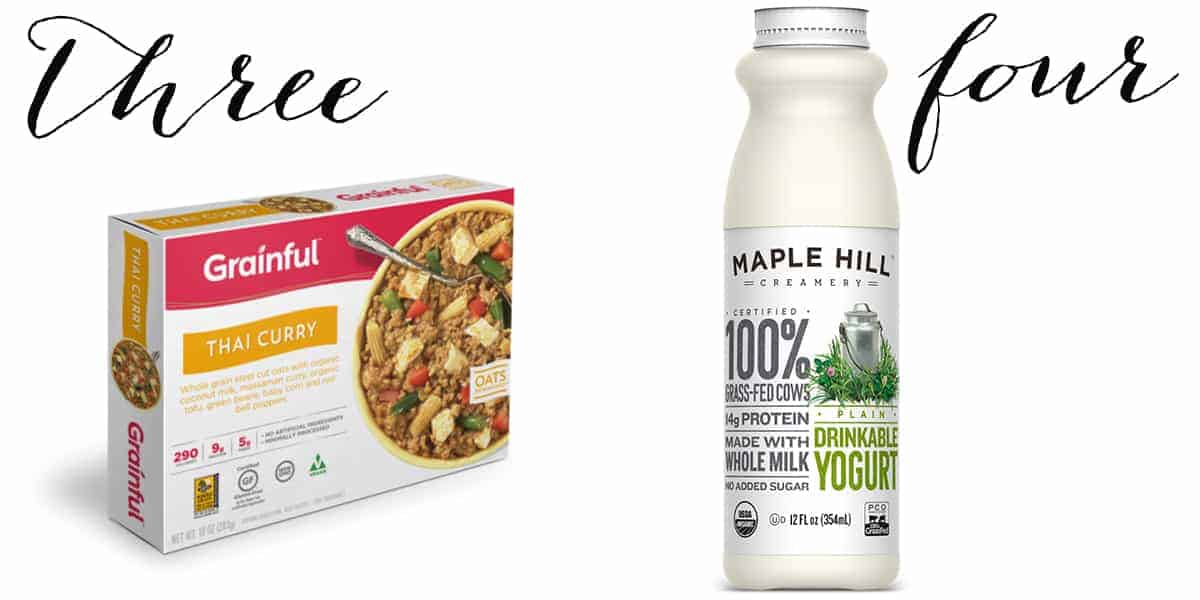 Since I'm not a huge fan of hot, sweetened oatmeal, I didn't think I'd like savory oats. Then, at our yoga & brunch retreat last month, Sherrie made the most incredible savory oatmeal bowl, topped with green goddess sauce, roasted radishes and a poached egg. I almost licked the bowl clean, obsessed with how delicious savory oats could really be.
Then, I saw these Grainful meals in the frozen food aisle and picked up a few of the vegetarian options. I'm always looking for healthy freezer meals to stock when I don't have lunch leftovers for BL or don't feel like cooking. (Yes, it happens sometimes.) The Thai Curry is my absolute favorite, but all of the ones I've tried have been a delicious hit.
I've written before about how much I love Maple Hill products, so when I was visiting my niece a few weeks ago, I picked up some of their kefir for both of us to enjoy. That little babe loves drinkable yogurt and I was curious on their version.
We shared an 8 ounce bottle in the grocery store line, then I ran back to grab more. Similar in texture to a smoothie, but with more tart flavor. Lightly sweetened, but not overly so. The plain and maple flavors are my favorite, but BL loves the coffee version.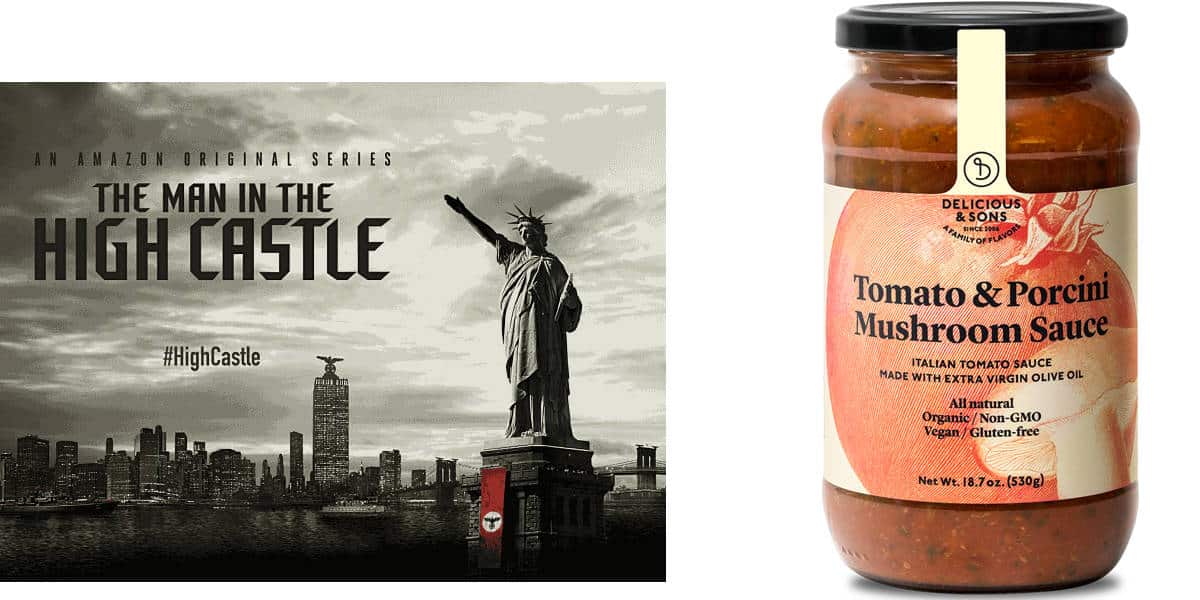 Like any true millennial, our TV channels consist of Amazon Prime, Netflix and HBO Now. If it's on those channels, I know about it. If it's not, I don't.
I tend to favor HBO and Netflix more often, but after Amazon's shows basically swept the Golden Globes, I decided to do a little more digging into their offerings. The Man in the High Castle is good, scary good. The show revolves around the idea that Japan/Germany won WWII and the ramifications of that. Gone is the USA, in place is the Japanese Pacific States and Greater German Reich. It's terrifying, thrilling and eerily parallel to some of the political conversions that we're having today. We binge-watched Season 1 over the past few weeks and can't wait to start Season 2 this weekend.
I know, I know. I wrote a cookbook on Italian food, I shouldn't buy jarred sauce. Sorry Grandma, but sometimes I do. After a recommendation from a friend, I tried Delicious & Sons sauces and man, these are good. The tomato and porcini is my favorite flavor, perfect for just about any pasta sauce. We've been loving it tossed with gnocchi and sautéed mushrooms.
Their vegan Garlic and Saffron aioli is incredible with roasted potatoes and asparagus. Light and perfectly balanced, it's quickly becoming our favorite condiment. I can see using this on vegetable sandwiches all summer long.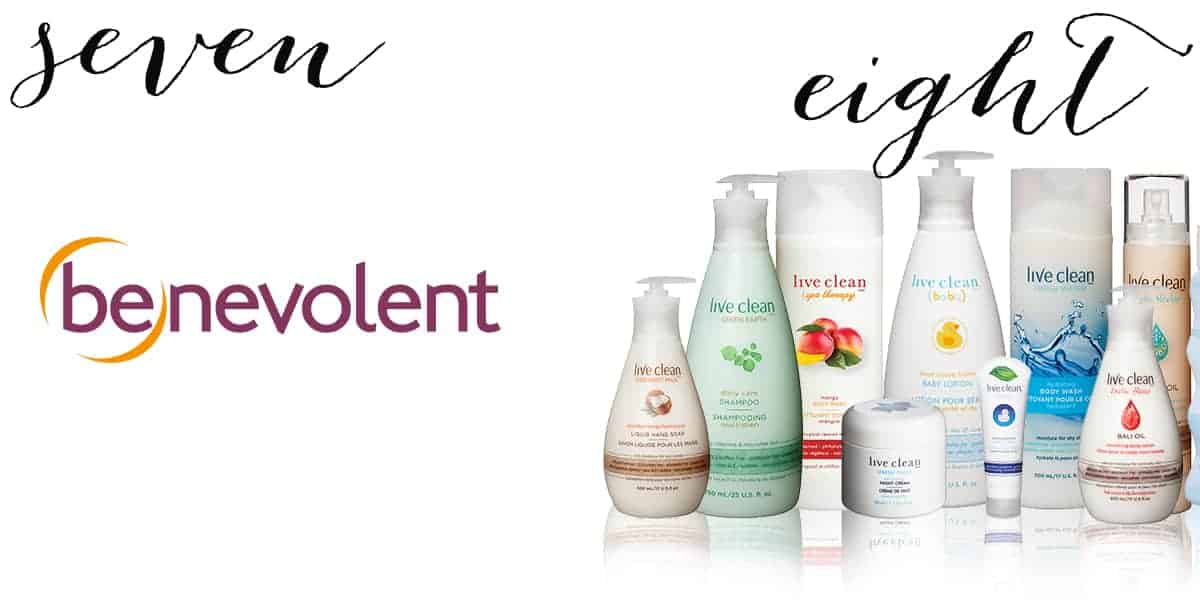 KIND Snacks sent me a benevolent gift card last month, and I'm so thankful that they did. While I give monthly to my favorite charities, there's something really empowering about donating something to someone that will make an immediate difference. That's the premise behind Benevolent, a few small donations can make a big difference in someone's life.
Applicants apply for funds to help reach their goals, which are often less than a few hundred dollars in total. Every applicant works through a validator, which helps ensure that the donations are used for the need requested. $10, $15 or $20 can completely change someones path and I often get chocked up scrolling through the requests.
If you're looking for a unique way to give, check out Benevolent giving.
I've mentioned this several times before, but I'm always on the hunt for more natural, clean products. I'm not perfect, but it's a constant try. I've cleaned out most of our cleaning products in favor of vinegar based products and our shampoo/shower products were next. I typically swear by Aveda products, but they aren't cheap. After going through bottle after bottle, I was searching for another affordable option.
Live Clean products are exactly like they sound: vegan, organic, cruelty-free, free of harsh chemicals and come in biodegradable packages. The first time I put them in the shower, BL told me how much he liked the new body wash. Honestly, I don't think he's noticed one product change before, so his comment made me laugh-out-loud. Good boo, glad you like them. Me too.