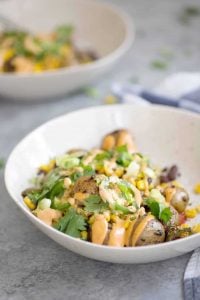 Vegan Grilled Potato Nacho Bowls
Yield 2 servings
These nacho bowls are SO easy! Grilled potatoes covered with beans, corn, jalapeños and a creamy chipotle sauce. Vegan and Gluten-Free. 
Ingredients
1 package The Little Potato Company, Onion Medley Grill-Ready
1 tablespoon olive oil 
1 medium red bell pepper, diced
1 jalapeno, seeded and thinly sliced. 
½ cup frozen corn, thawed  
½ cup black beans (drained and rinsed if canned) 
Juice from 1 fresh lime
1-2 scallions, thinly sliced
1/2 cup chopped cilantro 
Chipotle Cashew Sauce

1 cup cashews, soaked 
½ cup water
1 teaspoon freshly grated garlic
1 chipotle pepper with 1 tsp. adobe sauce
1 tablespoon fresh lemon juice
Salt/pepper (start with ¼-½ teaspoon and add from there)
Instructions
Preheat the grill to medium-high, or an oven to 450 degrees F. 
Prepare the potatoes by removing the plastic, then tossing potatoes with 1 tablespoon olive oil and seasoning packet. Add in the chopped peppers and jalapeños, then toss to combine. 
Place on the grill and cook until potatoes are tender. The grill version took me 25 minutes, the oven version took 35 minutes. 
As soon as potatoes come off the grill, stir in black beans and corn. 
While the potatoes are cooking, make the sauce. Drain the cashews and rinse with new water. Place drained cashews in a blender along with 1/2 cup water, garlic, chipotle pepper and sauce, lemon juice and pinch salt/pepper to start. Puree until very smooth and creamy; depending on the power of your blender this may take up to 5 minutes. Season to taste, adding more salt/pepper if needed. 
Add in the fresh lime juice, scallions and cilantro to the potatoes, then divide in two bowls. Drizzle sauce over and serve. 
Notes
Forgot to soak the cashews!? No problem, either quick soak by pouring boiling water over the cashews and soaking for 5 minutes or just placing the cashews directly into the blender (though you will likely need to puree for longer.) 
Courses dinner, main
Cuisine vegan, gluten-free
Recipe by Delish Knowledge at https://www.delishknowledge.com/vegan-grilled-potato-nacho-bowls/