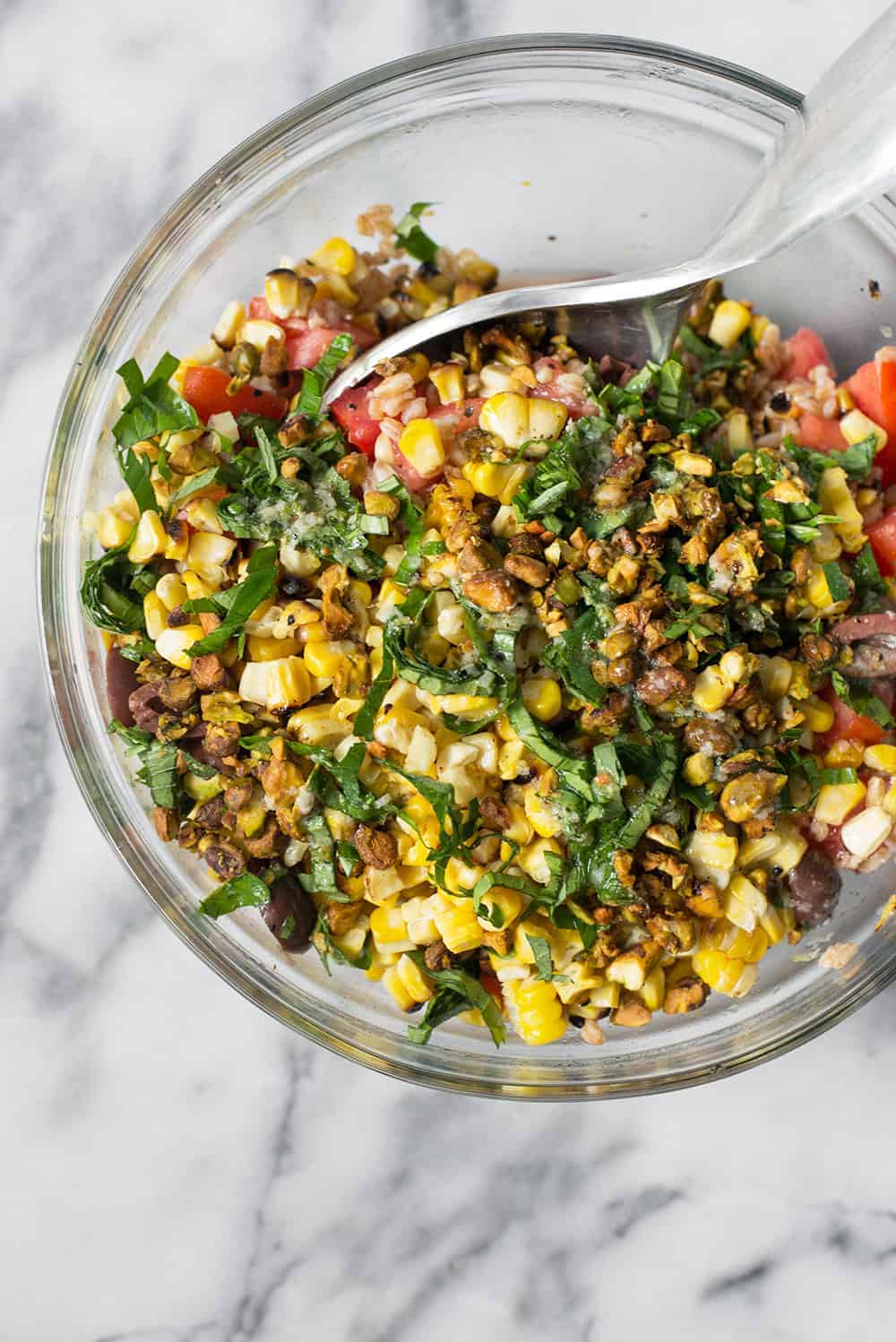 It's salad season! At least, that's how it feels in our house. After our big vacation a few weeks ago, BL and I have both been craving vegetable-heavy meals since we got back. And, since temperatures are well north of 90, a salad feels like the easiest bet. Chop some vegetables, throw everything together with a quick dressing and ta-da, dinner is served. 
I figure if it's this way in my house, then it's likely the same in yours. Therefore, I've rounded up X of my favorite summer salads for you. xo
A good friend of mine texted last week to gush over how much her family loved this salad; she's made it twice since then! Grilled corn, farro, tomatoes, lots of fresh herbs and a tangy dressing. It's perfect for potlucks or as a side dish.
This might be my favorite salad of them all. We are obsessed with the tofu feta and judging from the number of times I see this recipe pop up on my Instagram feed, I know you are too. Even if you don't make the entire salad, you should make this feta. This is my favorite meal to make when I don't want to cook.
MY LATEST VIDEOS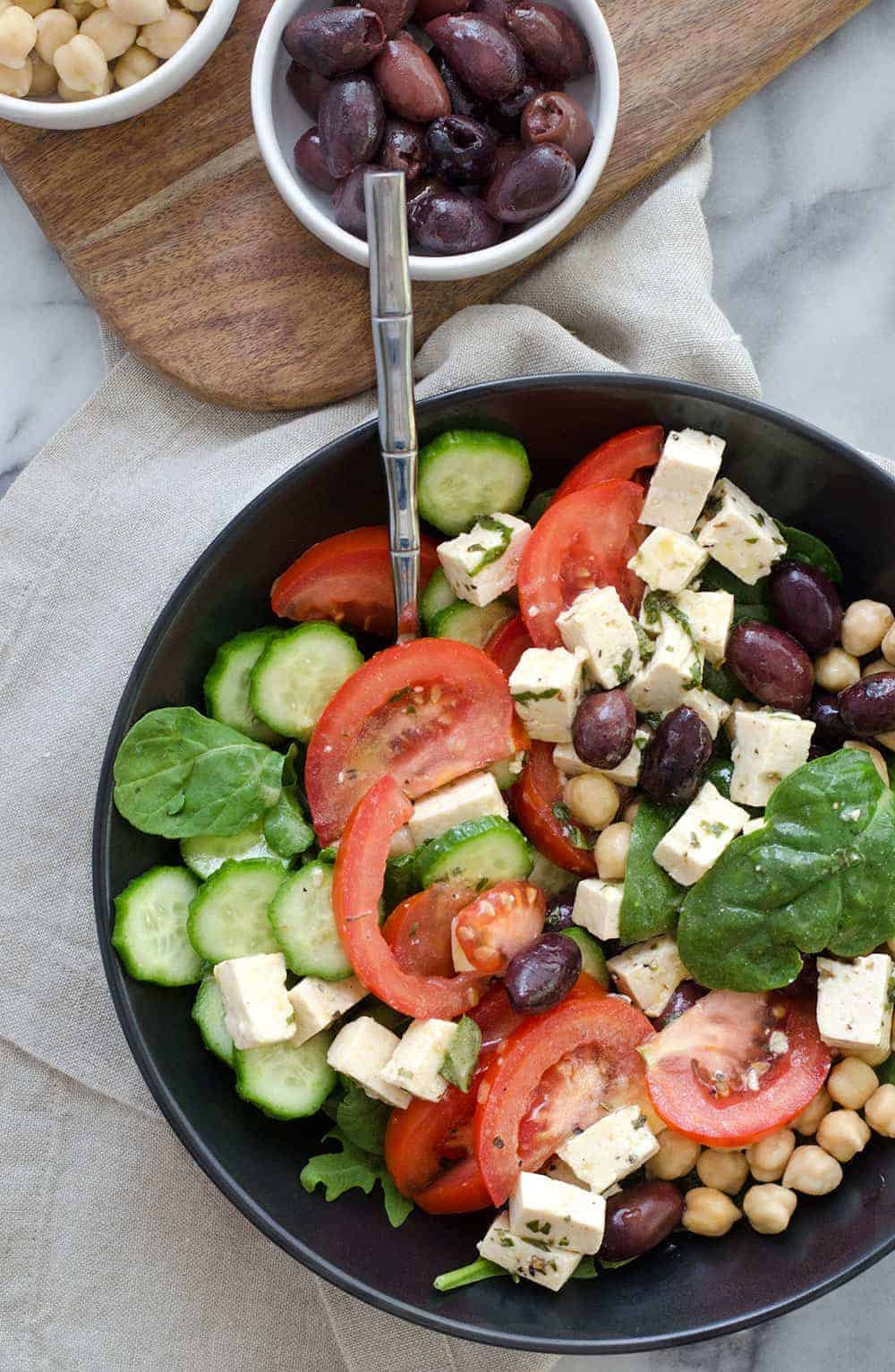 Think of this one as a hearty main salad. It's got quinoa, grilled potatoes, beans, arugula and the yummiest balsamic dressing. A must for summer.
Here's my vegan and gluten-free version of the classic niçoise salad. This version is just as, if not better, than the traditional. You've still got the creamy addition of baby potatoes, crisp green beans, salty niçoise olives, hearty lentils and lots of tangy shallot dressing. Gosh. I could eat this salad almost daily and not get tired of it. There are so many wonderful ingredients that complement each other perfectly; all tucked into a satiating and fiber-rich meal.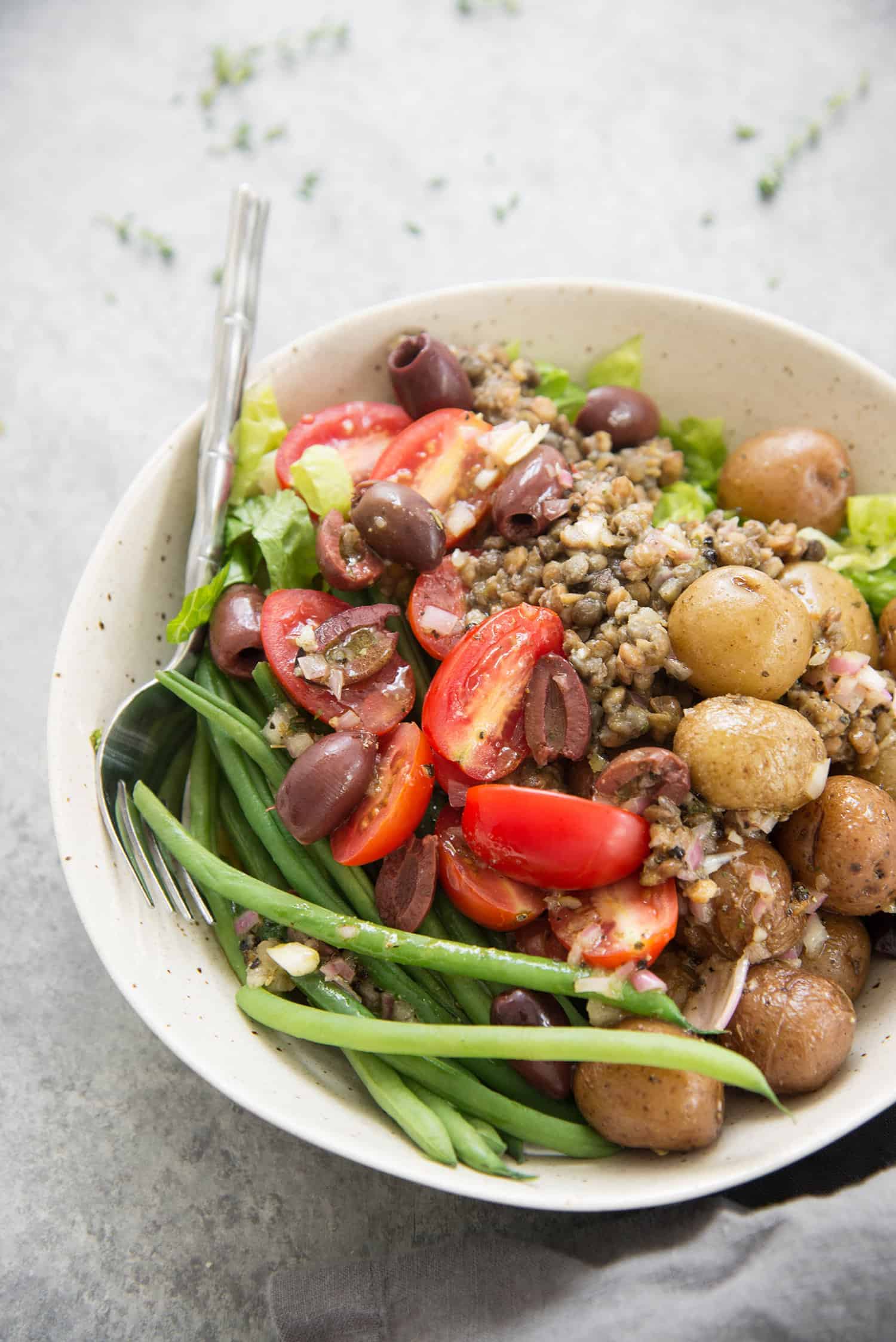 If you love fresh spring rolls, then you are going to love this salad. It's got all of the flavor of spring rolls with a fraction of the work– there's no rolling involved. These salad bowls are layered with vermicelli, fresh cucumbers, carrots, lettuce and baked peanut tofu, using my technique of baking the tofu in the oven with a bit of olive oil and starch so it becomes crispy without the need for frying. Of course, no spring roll bowl would be complete without a generous serving of peanut sauce. Who's ready to dig in!?
Caramelized roasted zucchini? You bet. Fresh corn? Yes. Halved heirloom tomatoes? Yassss. We make it a meal by adding in cooked bulgur wheat, my nod to a favorite dish this time of year, tabbouleh. Trust me, you'll want to try this one.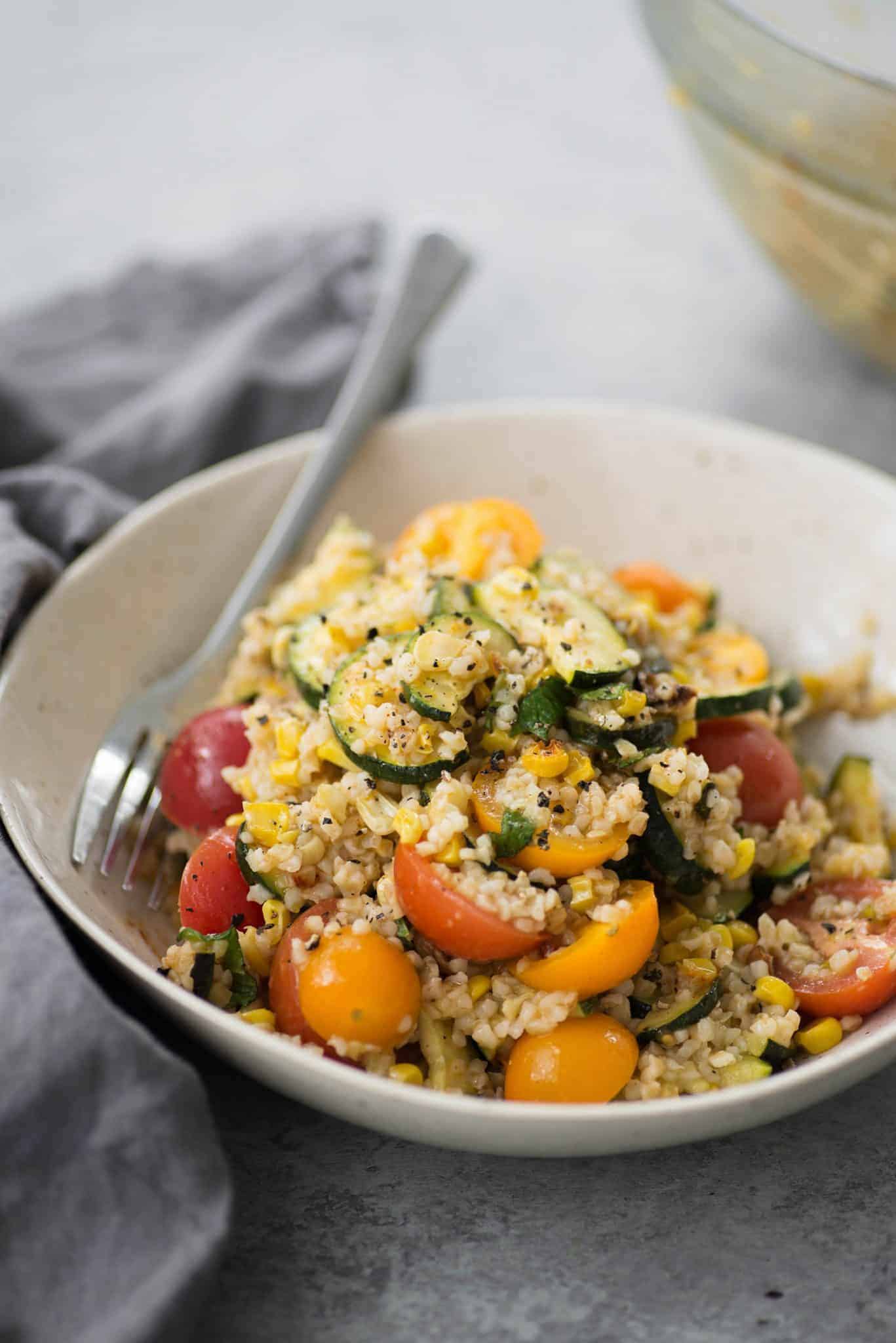 Before I went vegetarian, I loved CPK's chopped chicken salad. So, I recreated it using bbq tofu chunks instead of chicken and my own homemade BBQ ranch. Be warned- once you start making this salad, you might not stop!
There are salads and then there are salads. This is obviously the later, a messy layering of vegetable after vegetable, crispy, roasted chickpeas and a quick hummus-dill dressing. It's healthy, delicious and oh, so satisfying. The kind of meal that I've been turning to over and over again the past few weeks, as I slowly come out of vacation-induced coma.
When I like something, I really like something as evidenced by the amount of times I've put roasted vegetables (especially squash!) and grains together. This salad is simple, delicious and oh-so-satisfying.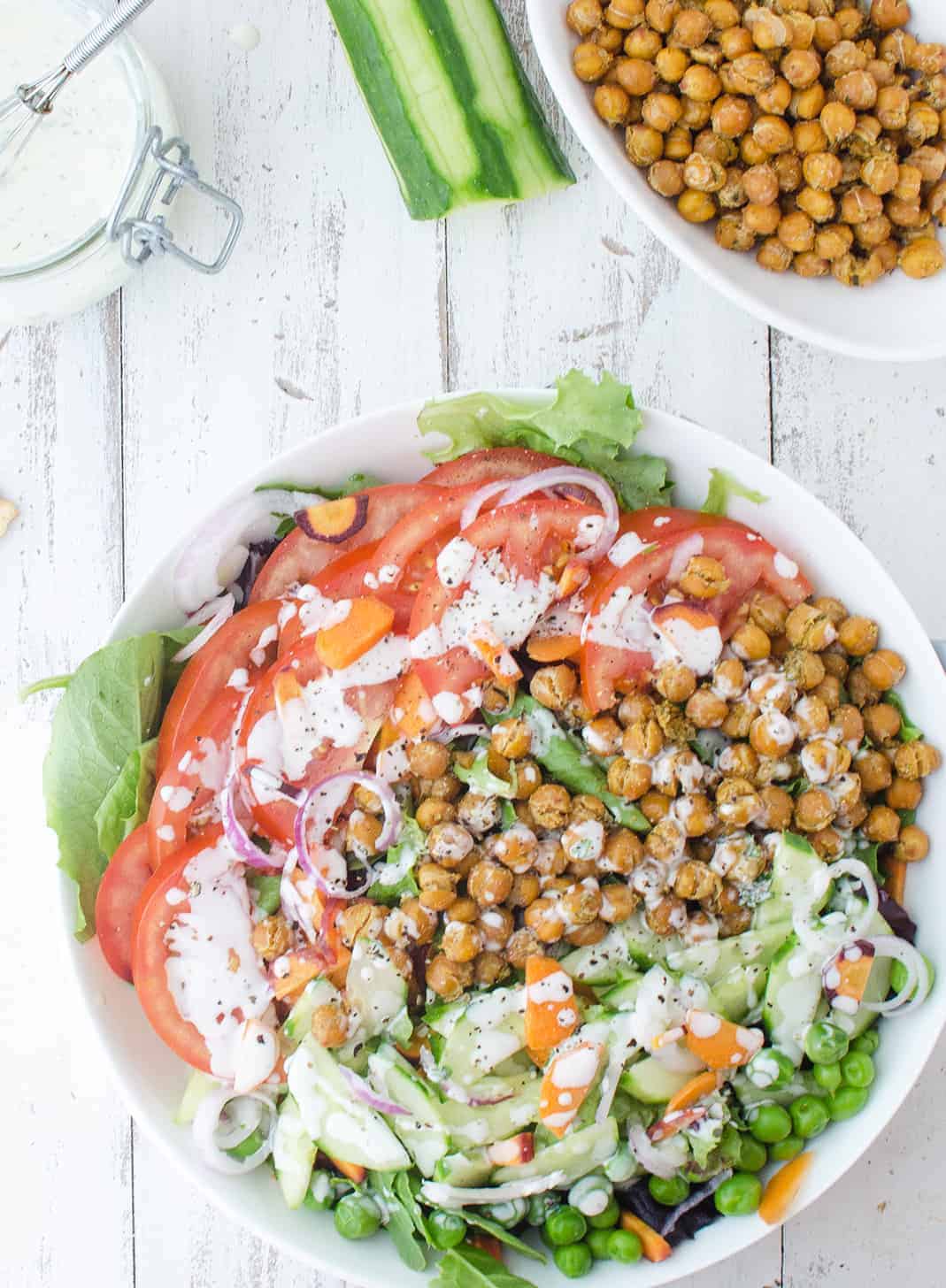 I took my favorite ranch chickpeas and made a salad around them. Lots of vegetables, roasted chickpeas and homemade ranch dressing. The chickpeas almost taste like ranch croutons and provide the perfect amount of crunch – and plant-based protein. Delicious!
Oops, I did it again. Triple beans, roasted zucchini, quinoa and a fresh dill dressing. This one is so good and keeps well for a few days– great for lunches!
What are you favorite summer salads?