Good morning! Today we have a special guest post from my sister Liz. A few months ago, my mom and Liz decided to go vegetarian for Lent, partly an influence from me and this blog and partly because they had been watching documentaries like Forks Over Knives & Food Inc. They were curious for themselves, and I was really excited to see them take on a vegetarian lifestyle for 40 days.
Whether you're a vegetarian, minimal meat eater or full on omnivore, I believe that everyone can benefit from consuming a little less animal protein. It's why I'm such a big fan of ideas like Meatless Monday and VB6 (vegan before 6). So, I invited Liz to write today's guest post to share her experience and thoughts while going vegetarian. Since this topic is so near and dear to my heart, I would love to hear your feedback on this topic. Questions? Comments? We love them all.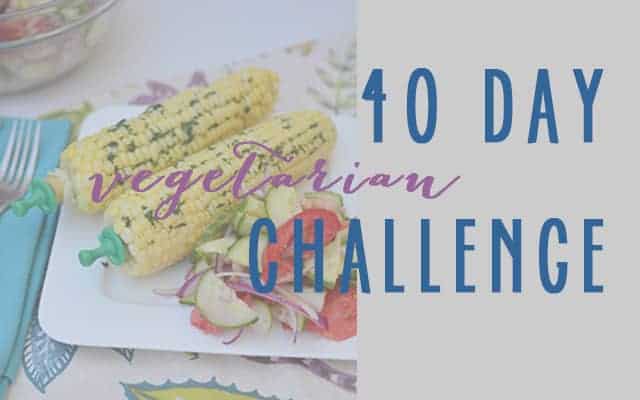 I'll begin by saying that this vegetarian attempt wasn't my first rodeo. I had previously challenged myself a couple years ago and continued being vegetarian for a year and a half after that. So, I was pretty confident this past February when my mom and I decided to cut out all meat for 40 days.
Breakfast and lunch were much easier than dinner. Not impossible though, once we realized that going vegetarian was going to take a small amount of planning and some re-routing in the grocery store aisles.
Our favorite dinners were:
Grilled tofu over couscous or red quinoa and sauteed zucchini and peppers
Chick pea, white bean, scallions, and vinaigrette over a bed of lettuce
Black bean burgers with sweet potato fries and cucumber salad
Lentil tacos with all the fixins'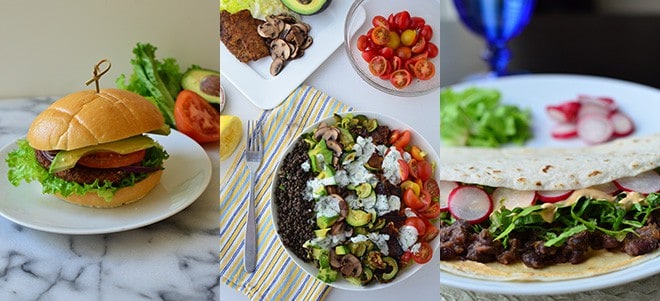 We tweaked these ideas often and re-used a lot of the same proteins: lentils, beans, tempeh and tofu. We always made sure we used what vegetables were in season and to cut costs– dried beans and lentils in bulk were a must!
Then came another big feat….packing lunches.  We were used to grilled chicken wraps, turkey sandwiches, and the like, so we were now faced with finding something just as convenient and filling.
Our favorite go-to lunches:
Leftovers…make a little more, have some for tomorrow 🙂
Tofu egg salad (I know, sounds weird but it's so, so good)
Hummus, peppers, and cucumber whole wheat wraps
Boca Burgers
Whole wheat pasta with lots of vegetables
Grain and vegetable salads
Salads with garbanzo or black beans
Greek Yogurt (we found 2% fat held us over better), homemade granola and lots of dipping fruit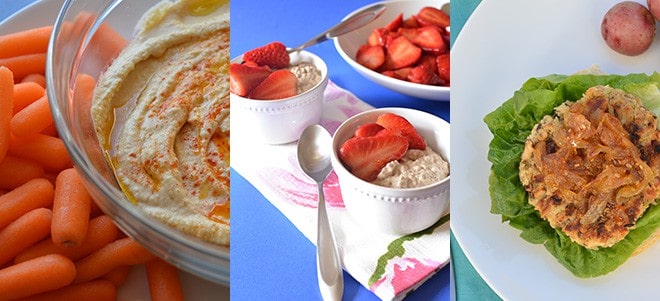 You're probably not surprised at the questions we were immediately and constantly asked:
Aren't you hungry?
But you still eat chicken, right? Who doesn't eat chicken?
What in the world do you eat?
How do you eat out in restaurants?
How do you stay full?
This line of questioning is pretty constant but easy to answer. No, I'm not hungry. I'm diligent about finding real protein, and thankfully there are many, many, many ways to get full without consuming meat.
No, I don't eat chicken, but I eat lots of beans, nuts, tempeh and tofu all different ways. Eating in restaurants may not be the 'easiest' thing, but it's certainly NOT hard.  I was surprised to find that many of my favorite restaurants actually have vegetarian entrees (yay!).  In the rare instance the restaurant doesn't, my favorites: side of sweet potato, veggie of the day, and cup of soup or side salad! Filling, delicious, and still splurging on flavor! Staying full takes preparation no matter your diet; I always have a handful of nuts, an apple, or a cheese stick close by.  (Nursing mama = snacking often!)
Overall, being vegetarian for 40 days with absolutely no cheating (i.e: bites, tastes, licks) felt amazing. It feels like an incredible detox (although I've never done one before…) from the inside out. Our bellies felt clean and nourished and we never had that "sick-full" feeling after eating…even if we slightly overindulged in our meal!  40 days was a perfect time frame to feel these amazing affects and to develop some solid routines into our mealtimes.
So, if you are interested in trying out your own challenge…if you're the least bit interested or curious…try it for 40 days. It's 40 days of a change-up on your dinner menu (Hey! Who doesn't need a little jump start on their dinner menu?!).  It's 40 days of saving money on your grocery trip (Meat is pricey! Beans are not!) It's 40 days of exposing your taste buds to recipes and ingredients you might never have a reason to try! If you're looking for healthy recipes, you know where to look.
While both my mom and I have dabbled in tastes and bites of meat since ending our challenge on Easter, we both have agreed that we both prefer meatless eats and meals. We like the way we feel eating them and we enjoy the cleanliness of our choices.
For those of you who aren't vegetarian, have you ever done a meatless challenge? What meals do you find challenging to do meatless?