I honestly cannot believe it's December let alone the end of December. I've been busy putting the finishing touches on our new place and working non-stop. Thanks to everyone who has supported DK this year, 2011 has been wonderful!
The 21st of the month also means it's time for my favorite challenge, the Recipe ReDux. This months theme has to do with feeding for a crowd. December is full of holiday gatherings so all recipes featured  are healthy, delicious, and designed to feed a lot on a little. The star of this months theme? One of my favorite ingredients, the legume!
Obviously I love soups, especially during the winter months. I say this often but I really try to make some type of one dish meal at the beginning of the week to get me through weekday lunches. Soups are perfect for this and they are a great canvas for experimenting with new vegetables. I used Trader Joe's 17 Bean and Barley soup package for this but feel free to use any dried bean you like.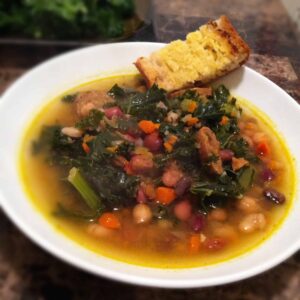 Winter Bean Soup
Ingredients:
1 package Trader Joe's Bean and Barley mix
1 onion, chopped
2 cloves garlic, minced
1/4 cup olive oil
1 package Field Roast (or other brand) sausage, cut lengthwise and then into 1/2 moons
1 cup chopped carrots
1 cup chopped celery
1 bay leaf
1 lb kale, center rib removed, chopped
1 tsp. cayenne pepper
1 tsp. dried sage
6 cup vegetable broth
1 qt. water
MY LATEST VIDEOS
Soak beans either overnight or quick soak method. Drain beans and set aside.
Like most my soups I start off sweating my onion and garlic; heat olive oil in large stock pan. Add onion, garlic, and a pinch of salt. Cook until onion is translucent. Add carrots and celery and cook an additional 5-10 minutes until tender.
Add all ingredients except the kale. Bring to a boil and reduce heat to a simmer for about an hour, until beans are tender. Check liquid during this time, depending on how you soaked the beans you may need more liquids than described above. The last 15 minutes of cooking time, add the kale. Remove the bay leaf before serving.
I served with kale salad and roasted garlic bread. A perfect, hearty, inexpensive winter meal.
Per serving (8): 453 calories, 13g fat, 54g CHO, 18g fiber, 30g protein