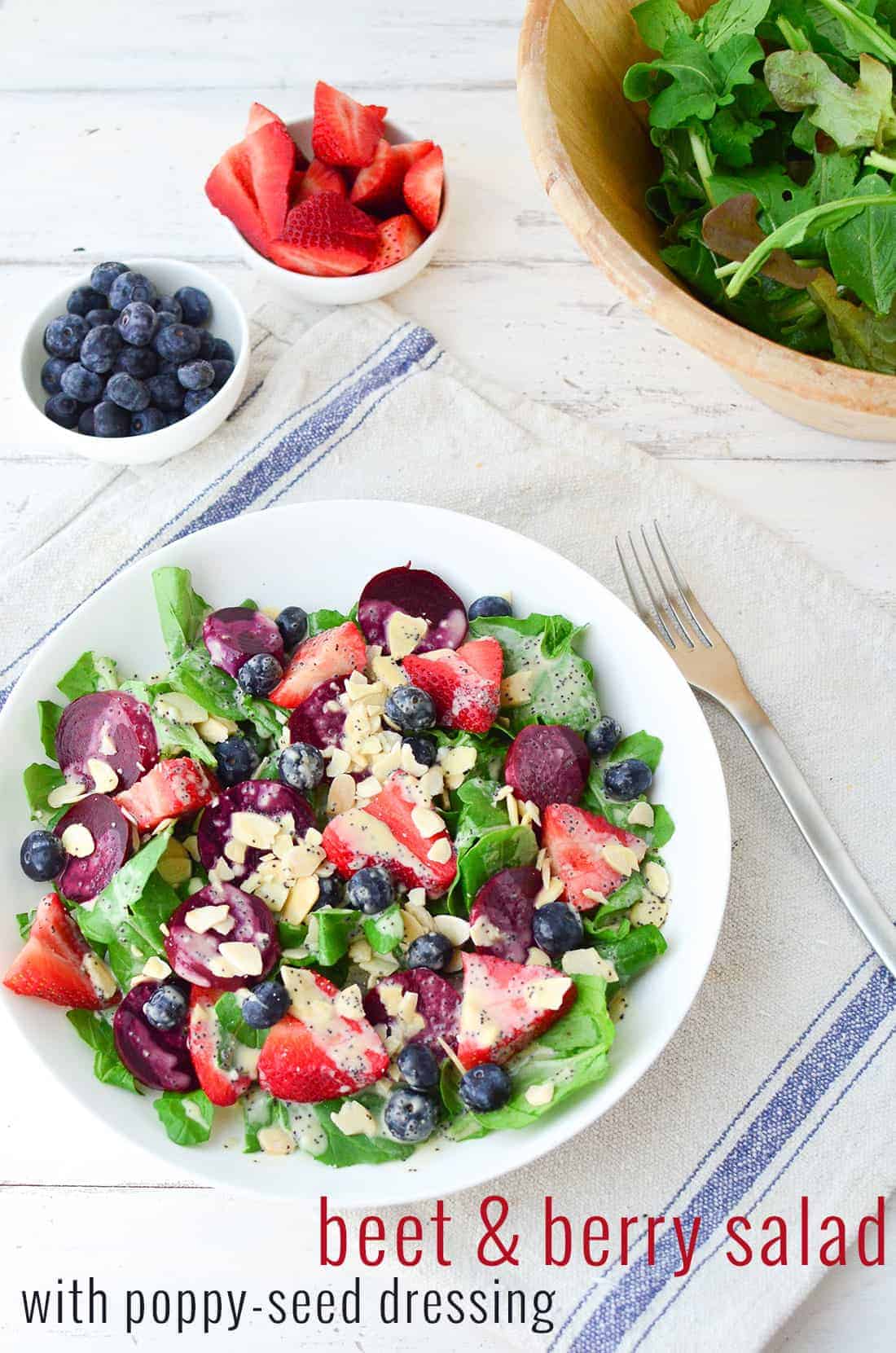 It's coming… berry season is right around the corner, and I have been doing anticipatory backflips in my kitchen. Well, not really. If I could do backflips in my kitchen, I'd probably be an internet YouTube sensation instead of a humble, dietitian blogger. You feel me?
But, here we are. Mere weeks away from the height of berry season, and I am charging full-speed ahead to summer-time produce. I know it just turned spring, but since it's felt like spring since January, I am ready for summer. #caliproblems
Bright, fresh and super simple, this salad is the perfect way to transition from the doldrums of winter to the promise of warmer days. Boston peeps, this salad is for you.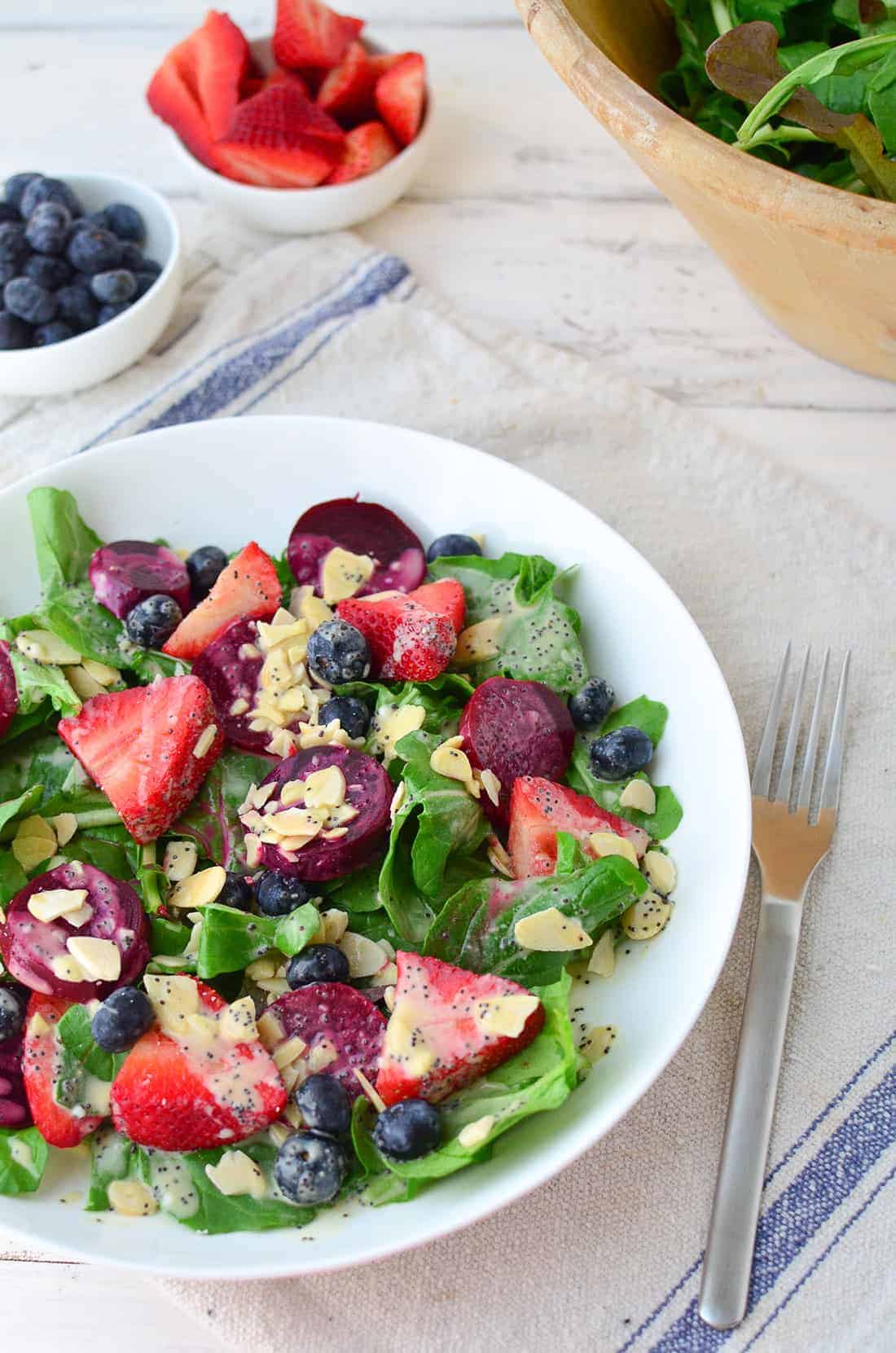 Along with berries, we have beets. Who would have thought that I would become such a beet lover? I am so in love with roasted beets that I bleed beets. Sometimes I want to go back and smack the 10 year old me on the head for turning my nose up at beets. What were you thinking, girl? These little gems are so earthy, and they pair perfectly with juicy berries and creamy dressing.
MY LATEST VIDEOS
I could say that this salad could come together in under 10 minutes, which is true if you didn't factor in the hour+ time for roasting. I know, I know, but I can honestly say that a roasted beet > steamed beet.
The good news is that the prep is very minimal. Rub off any dirt, drizzle on a little olive oil/salt and pepper and wrap in foil. That's it! Once they come out of the oven, the skins slip right off, and you are left with tender, ruby-red beets. If that whole process just made your head spin, buy them pre-cooked. Trader Joe's sells steamed beets in the produce area.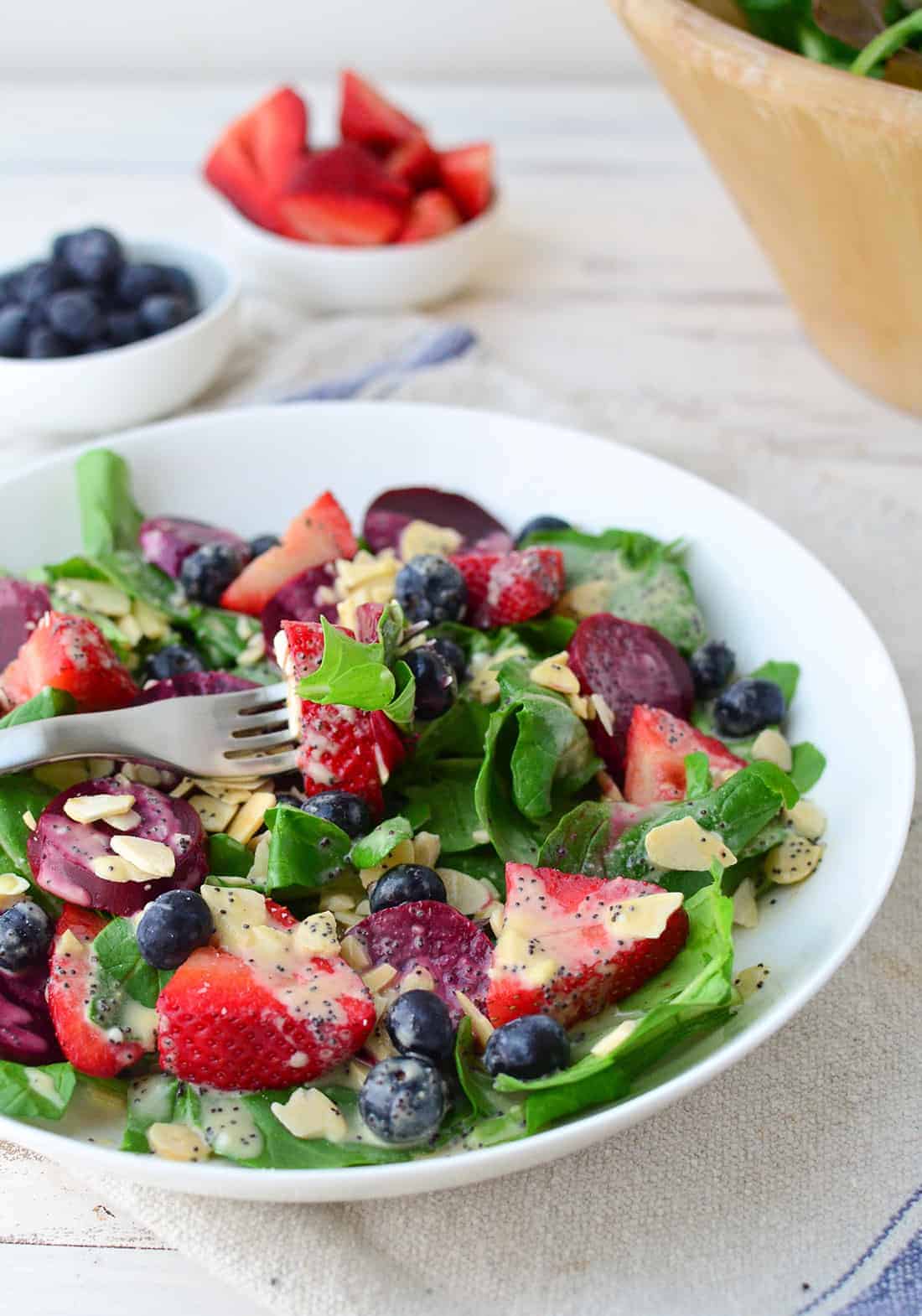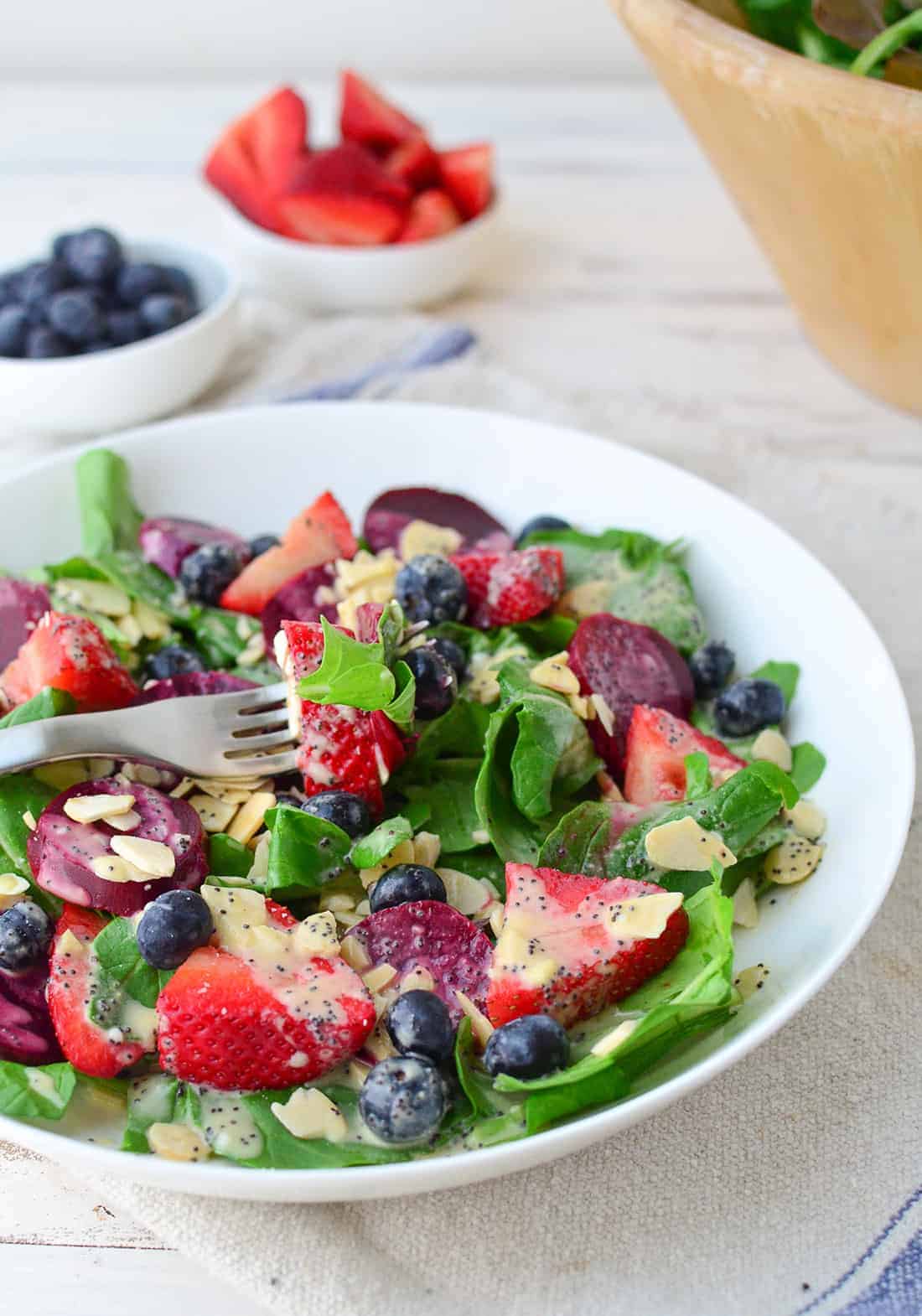 Don't you just want to drink up all that color? I swear the first time I made this, I oo'd and ahh'd over all the vibrant colors in every bite. And then I promptly made a second bowl because the first one went down in record speed.
What are the components of a perfect salad? Juicy (strawberries & blueberries), vegetable-rich (Beets!), fresh (peppery arugula), crunchy (toasted sliced almonds) and creamy (homemade poppy seed dressing). It's all there. All the flavors and textures that make up a winning salad; it's no wonder I'm so in love.
While I prefer whole almonds to snack on, I like the slivered or thinly sliced varieties for salads. Mostly, because I can generously sprinkle them on and know that every bite is going to have a little bit of crunch in it.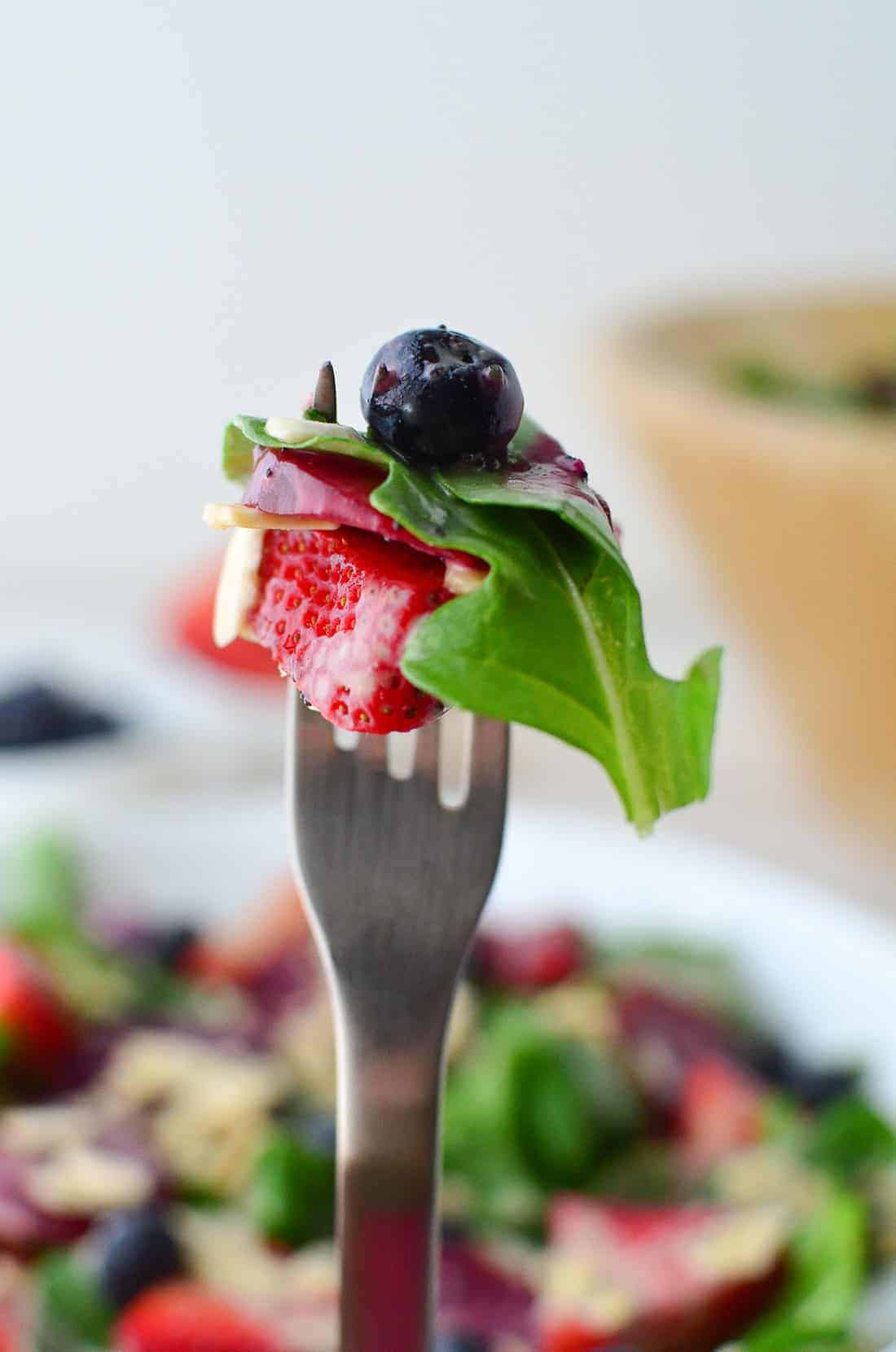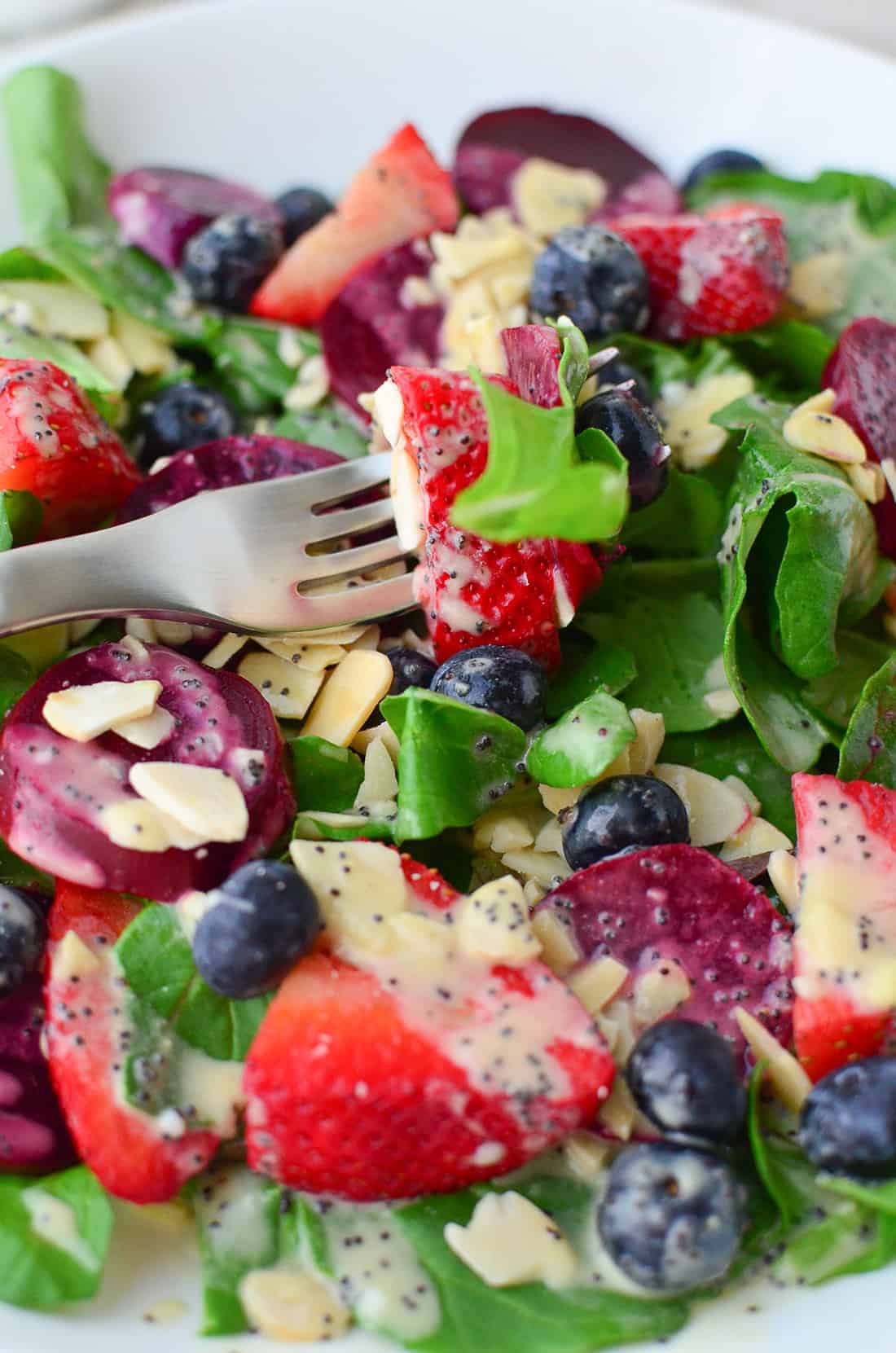 Those photos above are affectionally known as "the bite shot." (Not to be confused with the pour shot)
I wanted you to really know what each bite was going to taste like, a perfect layer of juicy –> crunchy –> creamy. I know I tend to get a little overenthusiastic about vegetables, but when they taste like this- it's hard not to. This is how we change the world! Make plants amazing and everyone will want a bite. If you cook it, they will come.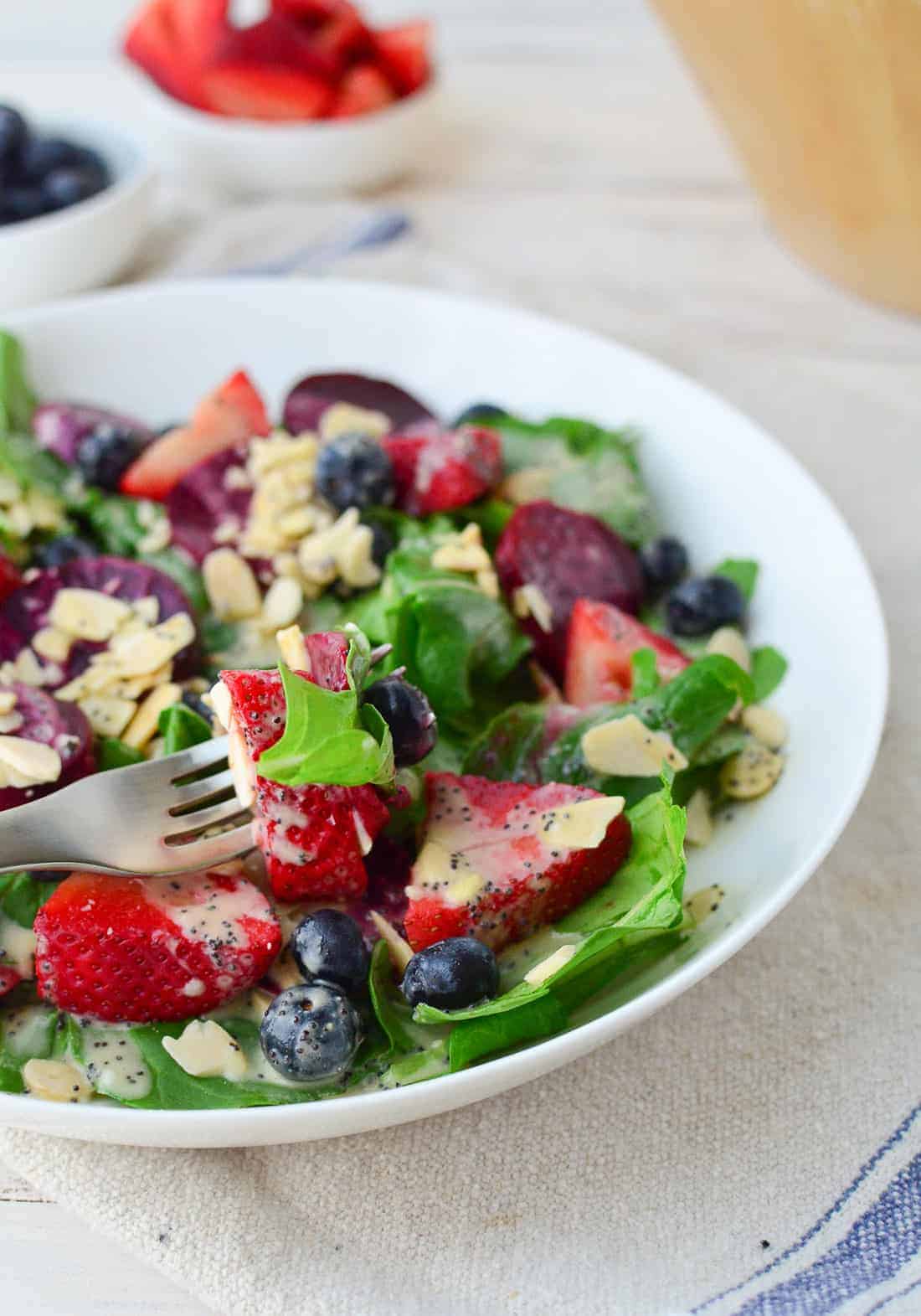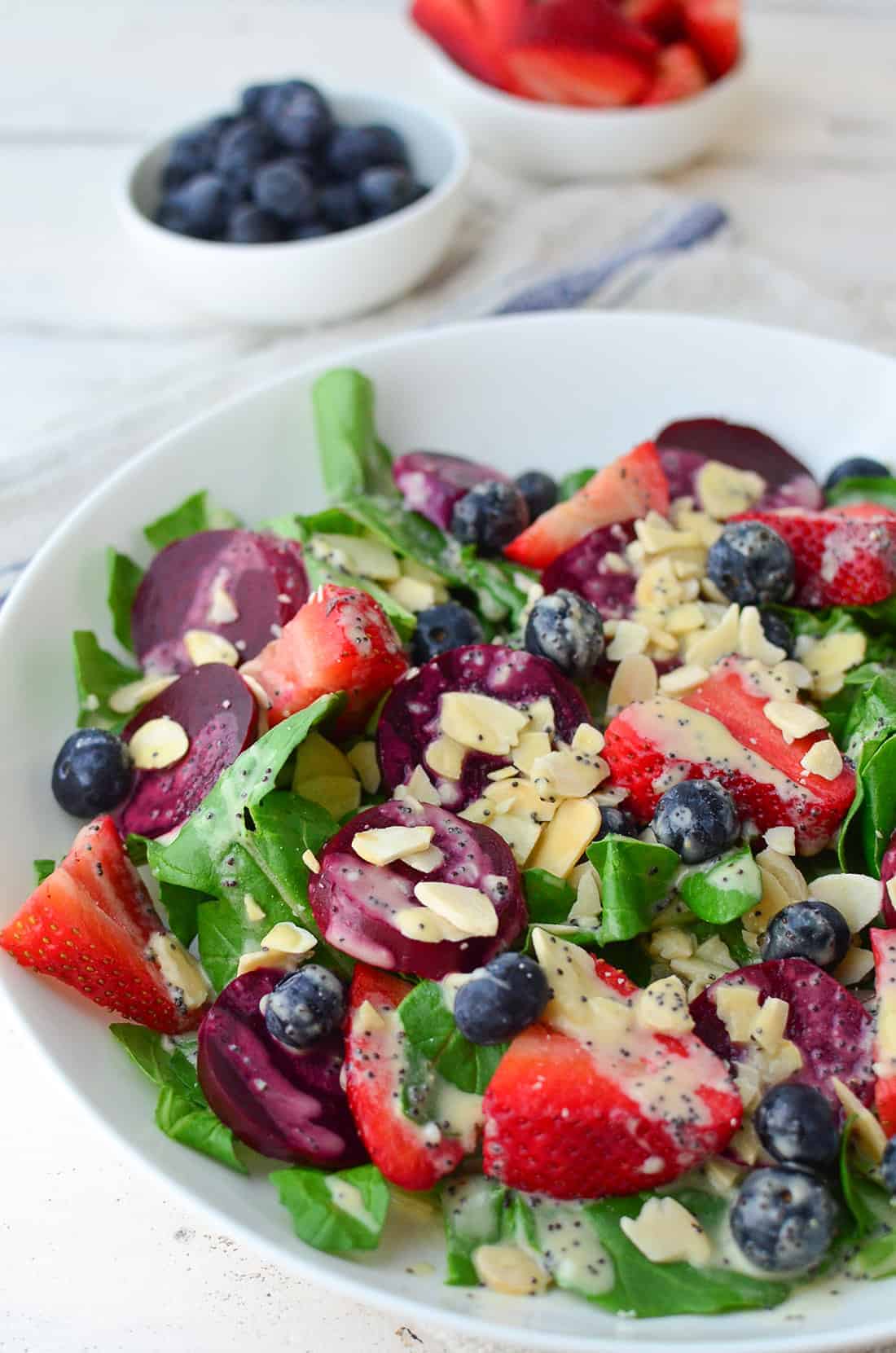 Do I really need to say anything about this dressing other than, if you make it you won't be sorry?
It's the same dressing that I used in my other favorite "Spring is HERE!" salad, kale with mango and avocado. This dressing is so creamy, you don't need anything else. I toyed with the idea of throwing in some goat cheese/feta since I tend to love the berry and cheese combination; but honestly, I think it would take away from the rich, bright dressing.
Just a few ingredients–poppy seeds and your done! Drizzle it on and enjoy. If you make this one, I would love to see! Tag me at #delishknowledge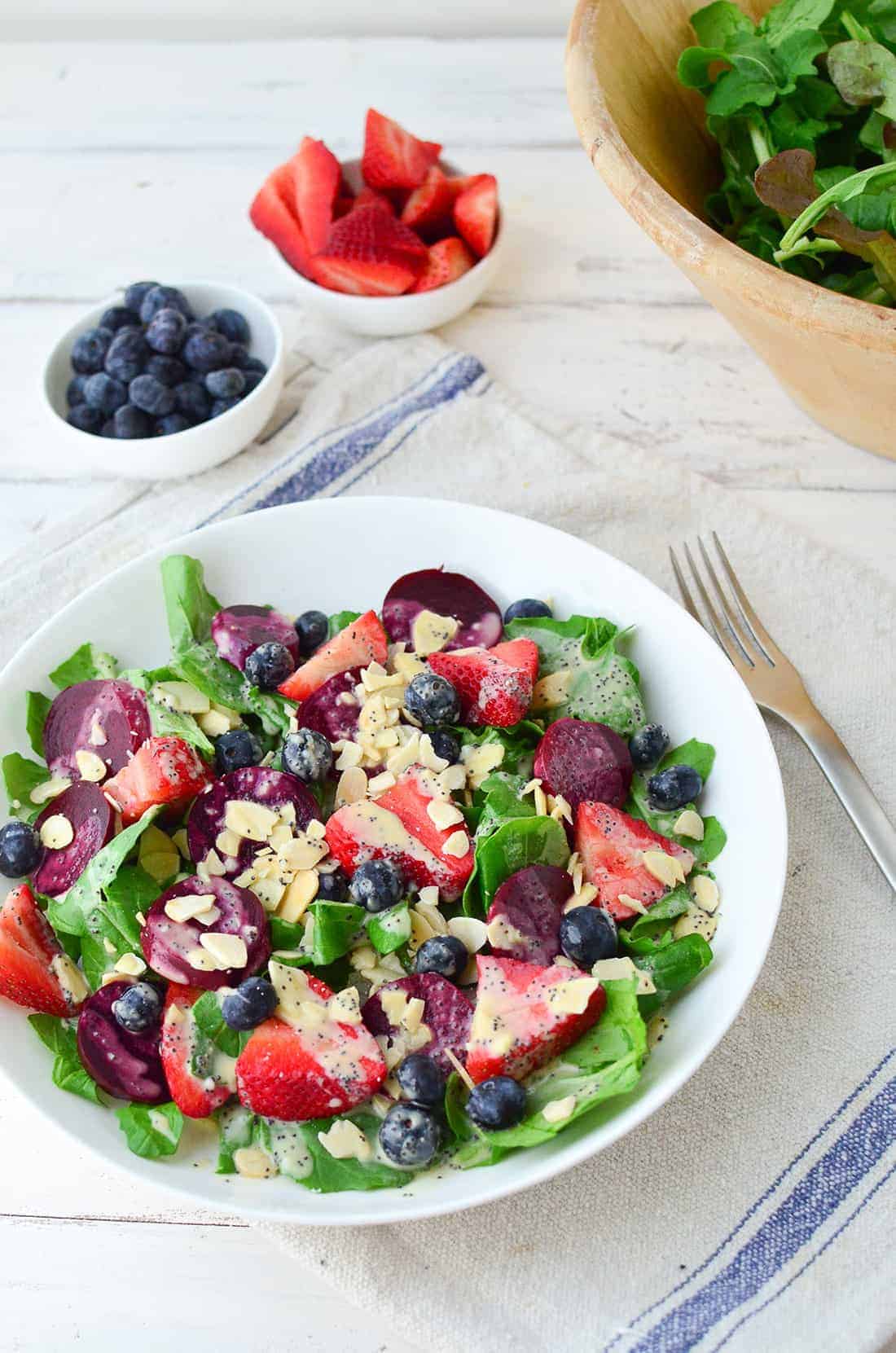 If you try this recipe, let me know! Leave a comment, rate it, and tag your Instagram photos with #delishknowledge . I absolutely love seeing your creations. Happy cooking! 
Print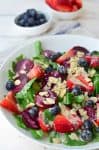 Beet and Berry Salad
Author:

Category:

salad, dinner, entree, main
---
Description
Beet and Berry Salad with dairy-free poppy seed dressing! This salad is packed with nutrients and perfect for lunch or dinner!
---
Scale
Ingredients
2

medium beets

1/2 tsp

. oil

6 cup

s arugula

1 cup

strawberries, sliced

3/4 cup

blueberries

1/3 cup

slivered almonds

3 tbsp

. mayo (Use egg-free like Veganaise for vegan version)

2 tsp

. dijon mustard

2 tbsp

. olive oil

1 tbsp

. apple cider vinegar

2 tbsp

. lemon juice

1 tbsp

. 100% pure maple syrup

1

shallot, finely minced

1 tbsp

. poppy seeds
---
Instructions
Preheat the oven to 400 degrees F.
Scrub the beets and place on a sheet of aluminum foil. Drizzle with 1/2 tsp. olive oil and sprinkle salt. Wrap completely and place in oven to roast about 1 hour until tender. Let cool, remove foil and use a paper towel to rub skin off. Set aside to cool then thinly slice. Beets can be made up to 4 days ahead of time.
Toss together arugula, sliced beets, strawberries, blueberries, and almonds.
Whisk together mayo, dijon mustard, olive oil, apple cider vinegar, lemon juice, maple syrup, shallot and poppy seed. Season to taste with salt/pepper.
Divide salad among 4 plates and drizzle on dressing.