Black Bean and Sweet Potato Tostadas! Seasoned black beans piled high with roasted sweet potatoes, covered with avocado creme. Vegan & GlutenFree.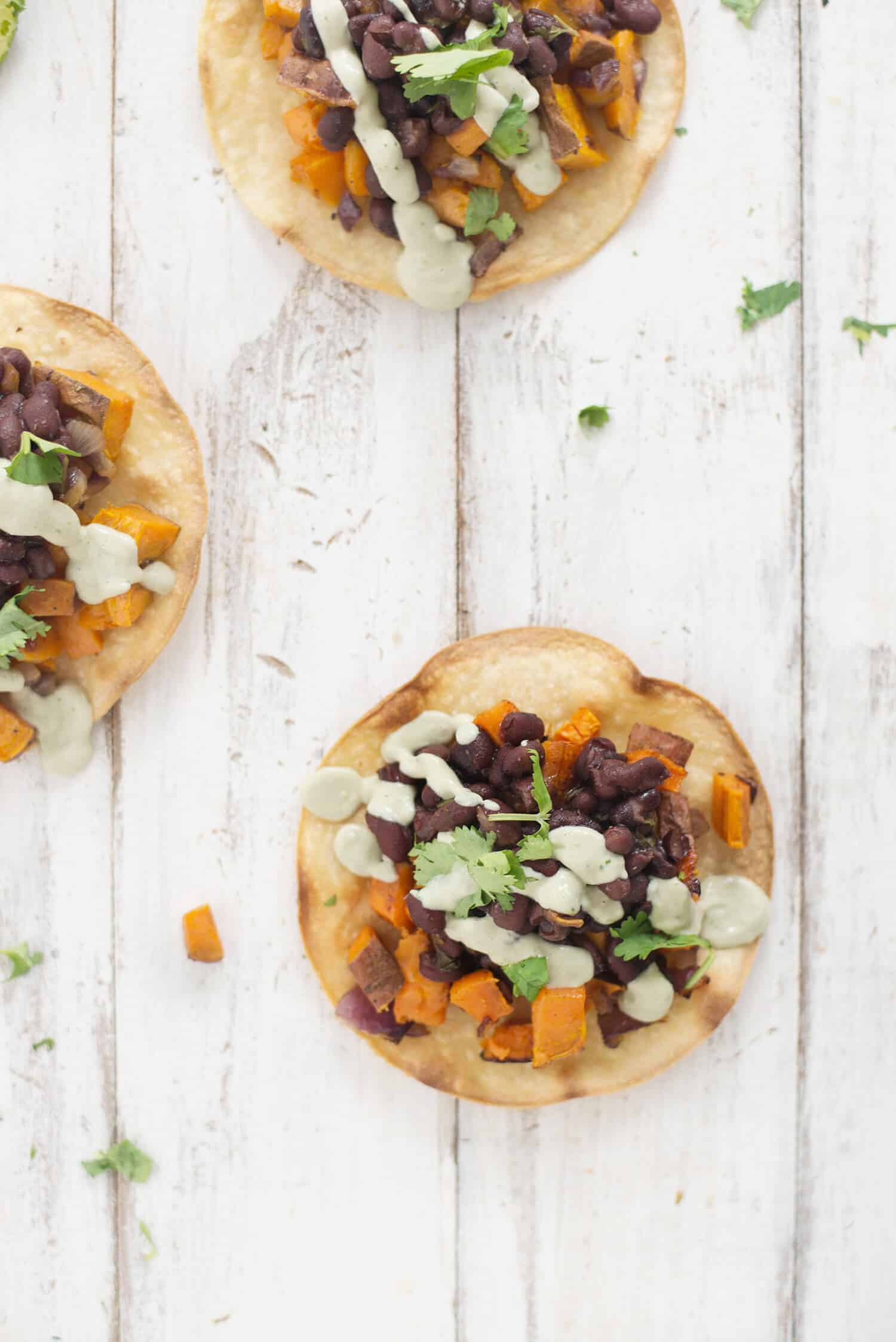 Whenever I'm looking for an easy meal, I usually start with canned beans. I've always got a stock-pile of them in my pantry and they're just so damn simple. Open, add to pretty much everything, and you are good to go. White beans in my pasta sauce, black beans in my tacos and garbanzo beans in just about everything else.
To me, beans are magical. Please forget any craziness that some communities might be saying about beans; they are so, so good for you. Low in fat, cholesterol free and high in fiber and protein, they are a perfect food. In fact, Blue Zone researchers (the longevity guys) show that those who eat beans daily can add years to their life. One study found that for every 20g intake of legumes (beans, peas, lentils), the risk of death fell by 6 percent! That's pretty powerful stuff.
The other reason I love beans so much? They are dirt cheap. I'm planning on doing a post soon on how to eat healthy on a budget, and I think beans are the cornerstone of this concept. A $1 a can, they are one of the cheapest quality sources of protein out there. However, I know that canned beans can be high in sodium, so I recommend rinsing them completely before using or purchasing no-salt added versions. In fact, I prefer to do this most of the time as I like being able to season my food as needed (it's also why I prefer low-sodium vegetable broth and canned tomatoes to regular versions).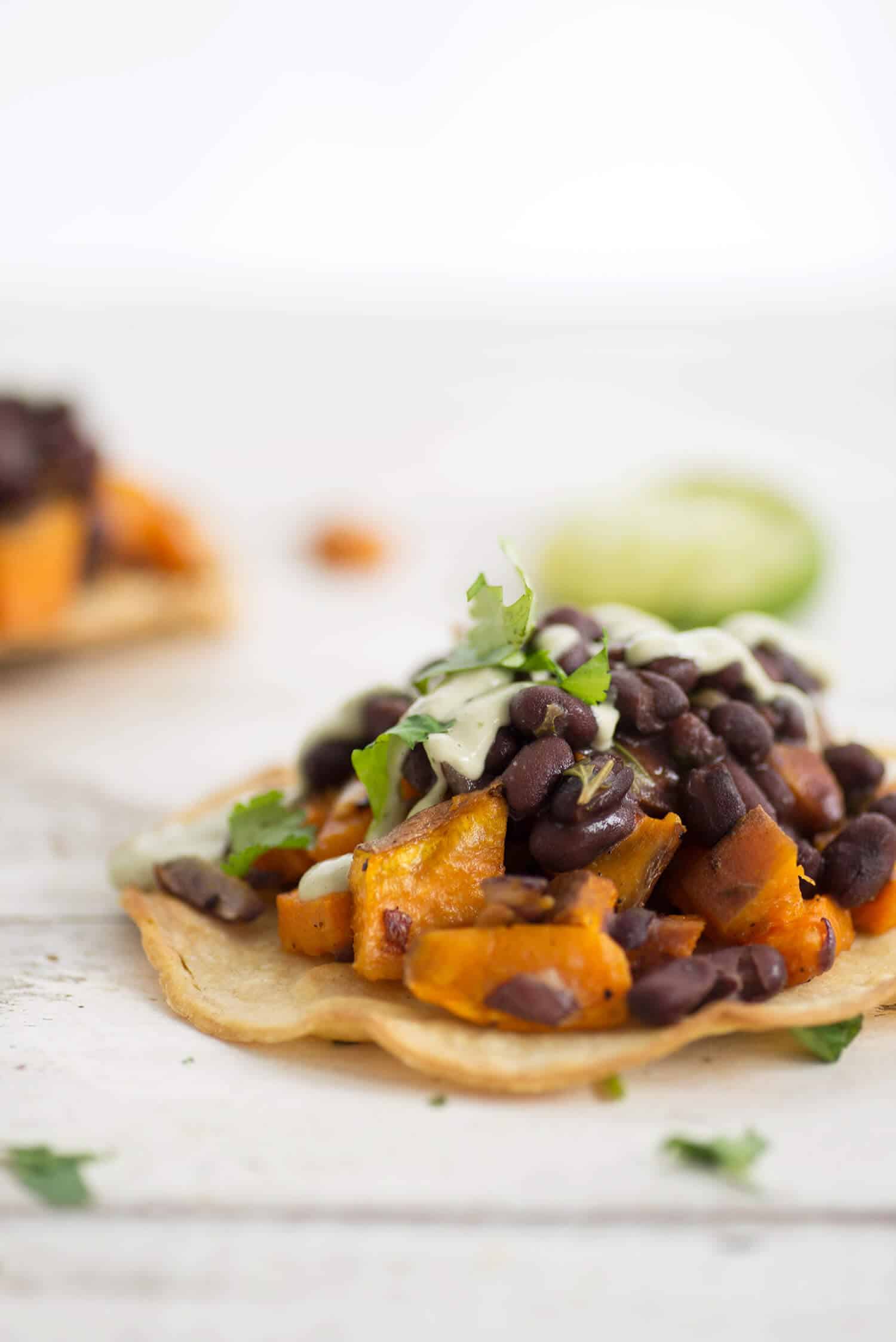 In keeping with my January theme of healthy, simple meal ideas, I present to you these tostadas. Think of tostadas as tacos fancier cousin. Just as effortless to put together, but a little more presentation value.
Black beans + sweet potatoes are one of my favorite combinations. Sautéed with a little spice, piled onto crispy tortilla shells and covered in a simple avocado creme sauce.  Make extra of the filling to use throughout the week. This stuff is pure gold in regular tacos, on lettuce for a southwest salad or added to eggs or tofu scrambles.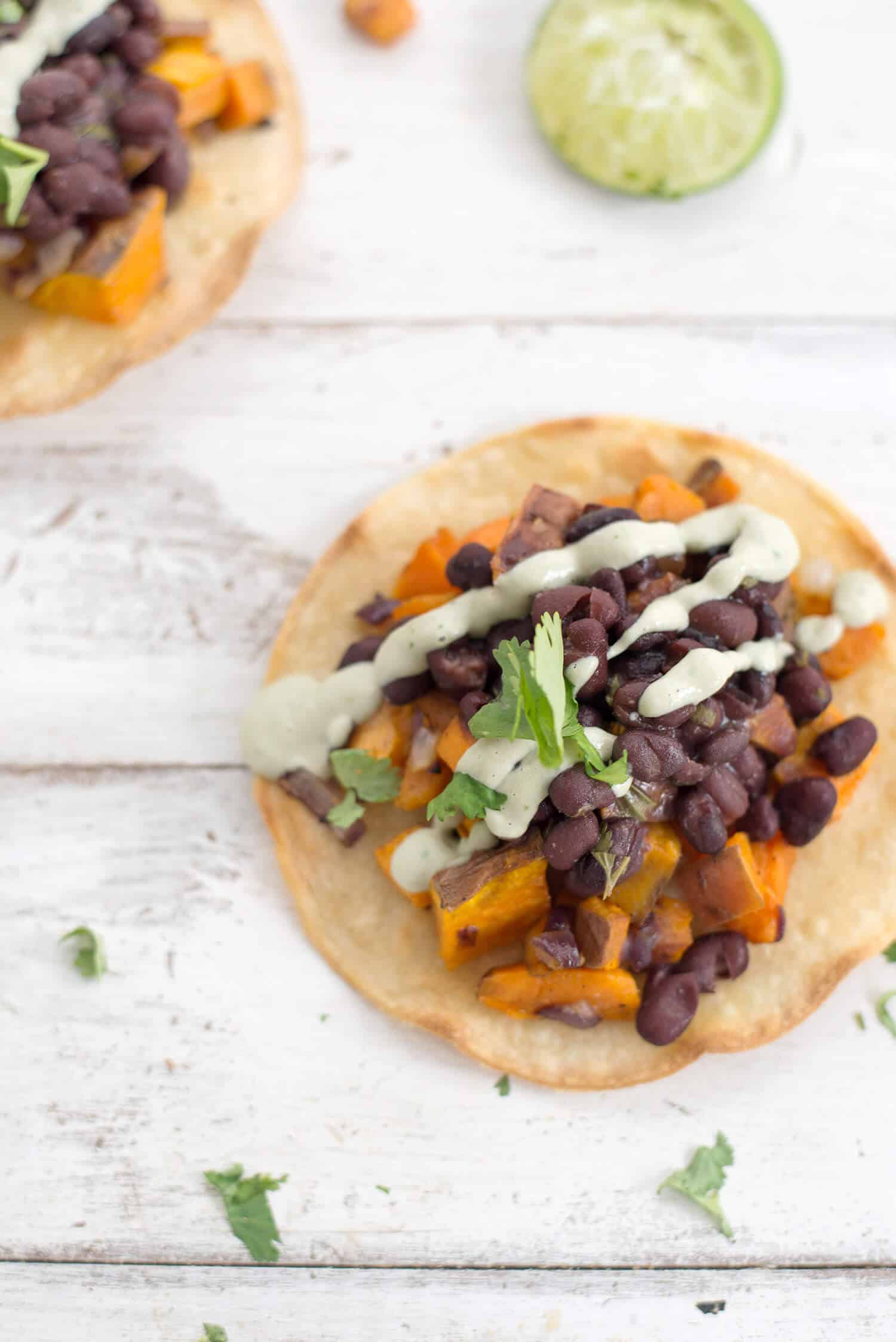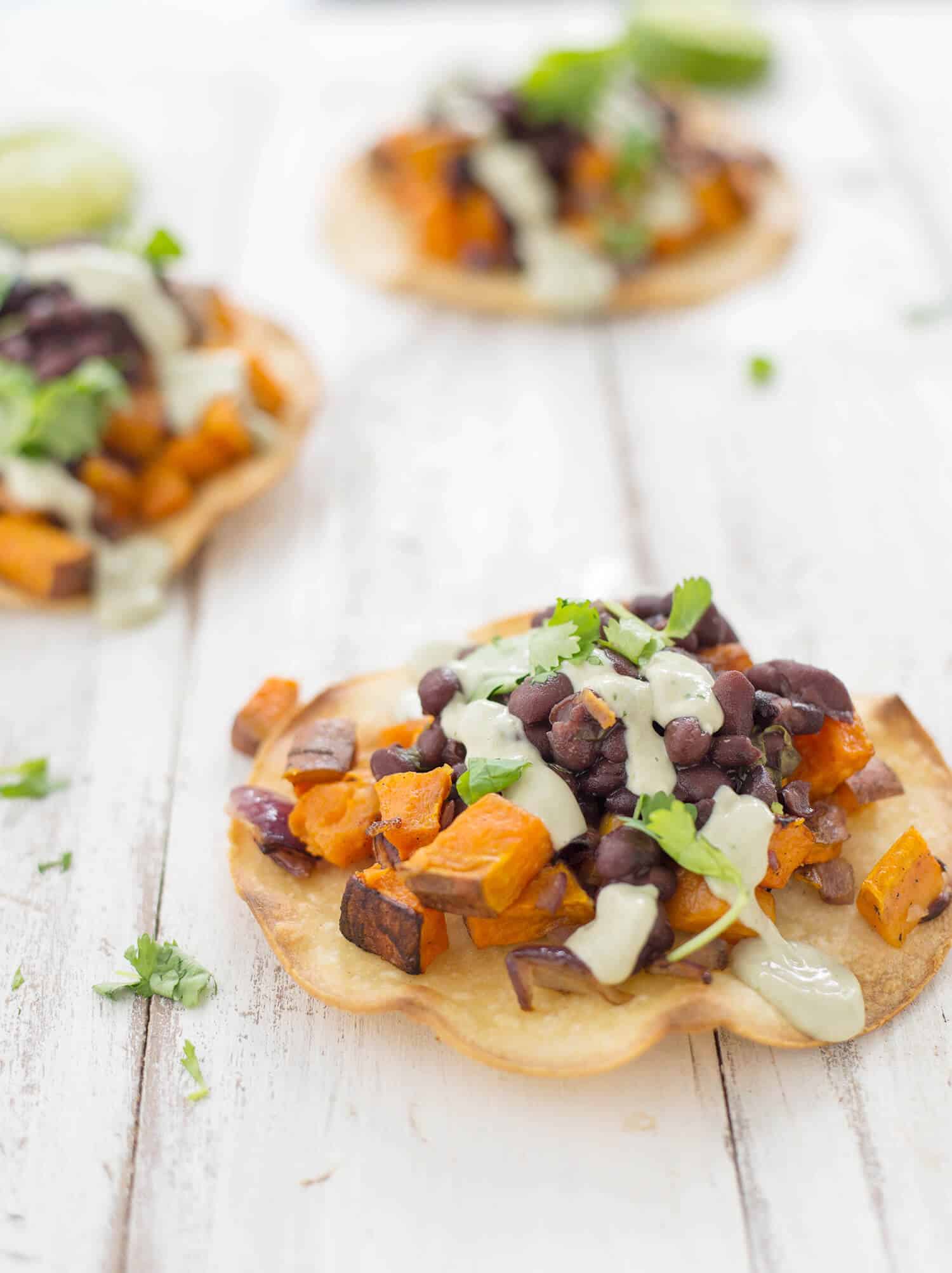 If you try this recipe, let me know! Leave a comment, rate it, and tag your Instagram photos with #delishknowledge . I absolutely love seeing your creations. Happy cooking! 
Print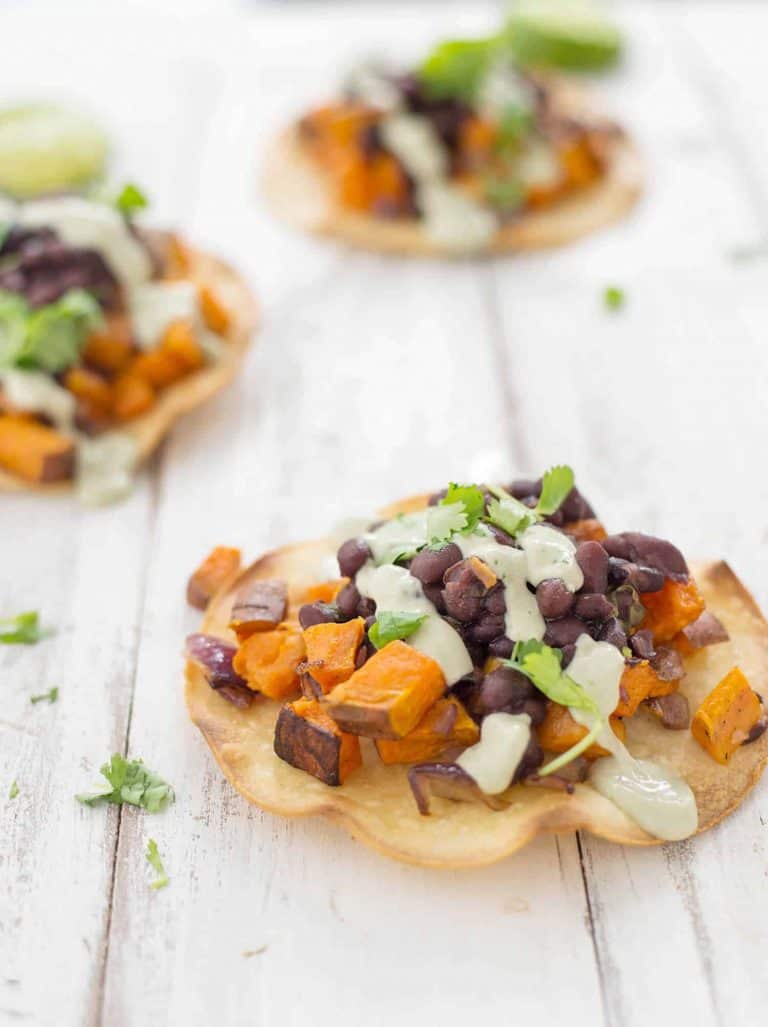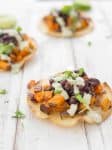 Black Bean and Sweet Potato Tostadas
Prep Time:

15 minutes

Cook Time:

35 minutes

Total Time:

50 minutes

Yield:

4 people

Category:

main, dinner, entree

Cuisine:

mexica
---
Description
Black Bean and Sweet Potato Tostadas! Seasoned black beans piled high with roasted sweet potatoes, covered with avocado creme. Vegan & GlutenFree. 
---
Ingredients
Avocado Cream Sauce:• 1/2 cup raw, unsalted, cashews, soaked for at least 1 hour*• 1/2 cup water• juice of 1 lime• 1 avocado• 1 jalapeno, seeded and slicedBlack Bean and Sweet Potato filling:• 2 cups cubed sweet potatoes (about two small potatoes)• 1/2 cup diced red onion• 1 tablespoon olive oil• 1-2 teaspoons chili powder• 1/2 teaspoon cumin powder• 1/4 teaspoon salt (may need more/less depending on what beans you use)• 1 (15 ounce) can black beans, drained and rinsed• 1 lime, juiced• 2 teaspoons maple syrup• 1/4 cup minced cilantro
8 Corn tortillas
---
Instructions
Preheat oven to 425˚ degrees F.
Place all ingredients for the creme sauce in a blender and puree until creamy and smooth. Depending on the strength of your blender, you may need to add a tablespoon or two of water to ensure creaminess. Taste and season as needed with salt/pepper.
Toss sweet potato with onion, olive oil, chili pepper, 1/2 teaspoon cumin, and salt. Spread in a single layer on a baking sheet. Roast for 20-25 minutes or until potatoes are tender and beginning to brown.
In a small sauce pan, combine black beans, lime juice, honey, and 1/2 teaspoon cumin. Cook over medium-low until warmed through. Remove from heat and stir in the cilantro.
Set aside.
Place the tortillas on a sheet tray and lightly spray with oil. Toast until crispy then divide black bean mixture evenly. Top with roasted sweet potatoes and finish with a drizzle of avocado creme sauce. Serve with a sprinkle of cilantro, if desired.
---